Belgrade est l'une des dernières capitales Européenes encore epargnée par le tourisme de masse, néanmoins, depuis quelques années, celui-ci commence à se développer.
Je vais donc essayer de vous faire découvrir les attraits de cette ville que j'ai sillonné de long en large, intéressante à bien des égards et attachante s'il en est, à l'image de ses citoyens. Belgrade, ville d'1,7 millions d'habitants, est riche en contrastes et heritages historiques divers, elle à la chance de dominer le confluent de la Save et du Danube, ce qui lui procure une situation exceptionnelle. L'atmosphère y balance en permanence entre Est et Ouest, on peut y ressentir les influences slaves, austro-hongroises, ottomanes, et avoir l'impression, suivant l'endroit, d'être dans une grande métropole européenne, ou de faire un bond plusieurs dizaines d'années en arrière à l'ère révolue du communisme. Quoiqu'il en soit, il y a très peu de chance que cette ville vous laisse indifférent. Comme le dit si bien Jean-Christophe Buisson dans son livre Histoire de Belgrade : "Belgrade envoûte le visiteur sans qu'on en comprenne le code secret". Les photos présentées sont, pour la plupart, des clichés personnels. Bonne visite !
Belgrade is one one the last European capital which is still exempted from mass tourism, however since few years, it's started to take off.
I will help you to discover this town that I know very well. Belgrade, that has around 1.7 million inhabitants, is rich in contrasts and various historical heritages, the town has a chance to dominate the confluence of Sava and Danube rivers which gives it an exceptional location. The atmosphere is something between east and west, you will feel all kinds of influences that impacted Belgrade in the past, such as slavic, austro hungarian, ottoman. It will depend on the place you are, you will have the impression, sometimes to be in a big european town or to be back several decades ago at the time of communism era. There is little possibility that this town leaves you indifferent. As Jean-Christophe Buisson said in is book History of Belgrade : "Belgrade attracts the visitor with a secret code we have yet to understand".Pictures you will find in this blog are mostly mines. Have a nice visit !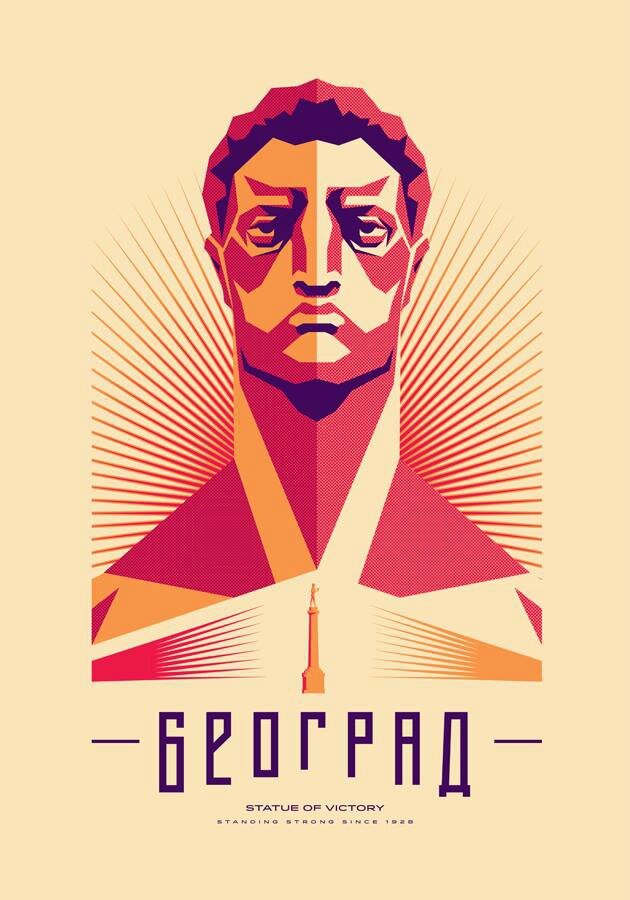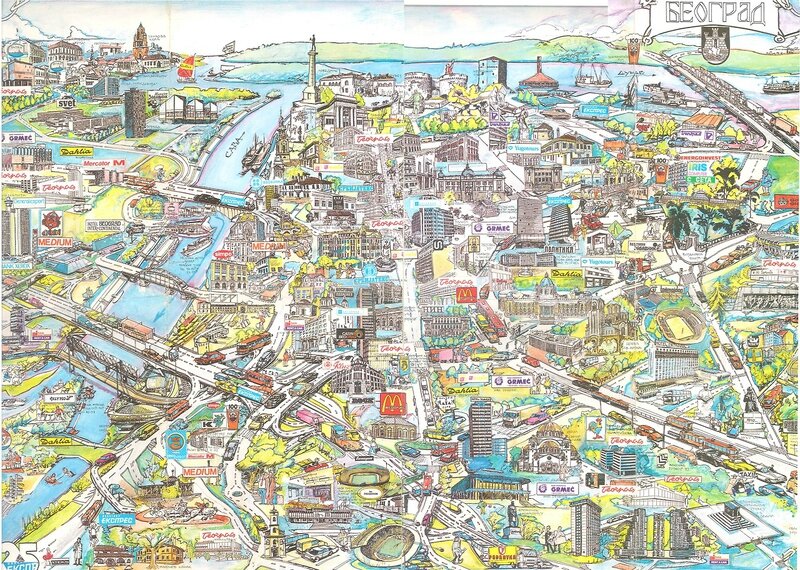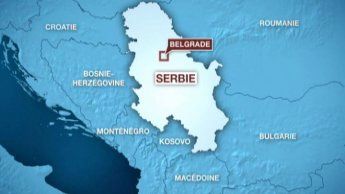 Pour vous rendre à Belgrade :
- Vols directs quotidiens depuis aéroport Charles de Gaulle : Air Serbia, compagnie aérienne nationale Serbe : https://www.airserbia.com/fr
- Vols directs quotidiens depuis aéroport Charles de Gaulle : Air France, https://www.airfrance.fr/
- Vols directs non quotidiens mais low cost Wizzair (compagnie Hongroise) au départ de Beauvais ou Mulhouse : https://wizzair.com/fr-FR/FlightSearch
Les ressortissants de l'Union européenne et de la Suisse n'ont pas besoin de présenter un passeport pour entrer en Serbie si leur séjour n'excède pas 90 jours. Une carte d'identité en cours de validité suffit.
Vous arriverez à l'aeroport Nikola Tesla (nord ouest de Belgrade), qui se situe à 10 km environ du centre ville.
To go to Belgrade, from france :
- Direct flights every day from Charles de Gaulle airport : Air Serbia, national airline of the Republic of Serbia : https://www.airserbia.com/en/welcome
- Direct flights every day from Charles de Gaulle airport : Air France, https://www.airfrance.fr/

- Direct flights, not every day but low cost : Wizzair (Hungarian airline company) from Beauvais or Mulhouse : https://wizzair.com/en-GB/FlightSearch
People from EU and Switzerland don't need passeport if their stay don't exceed 90 days. In that case identity card is enough. You will arrive at Nikola Tesla airport (north west of Belgrade) which is about 10 km from the center.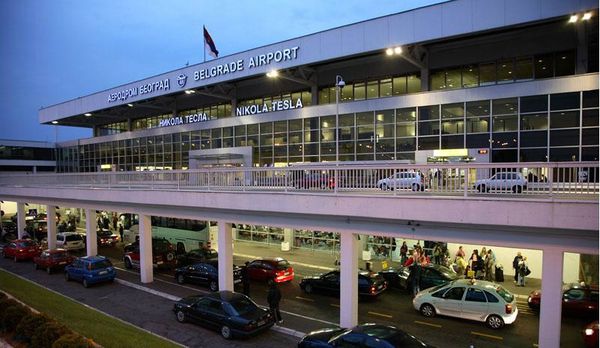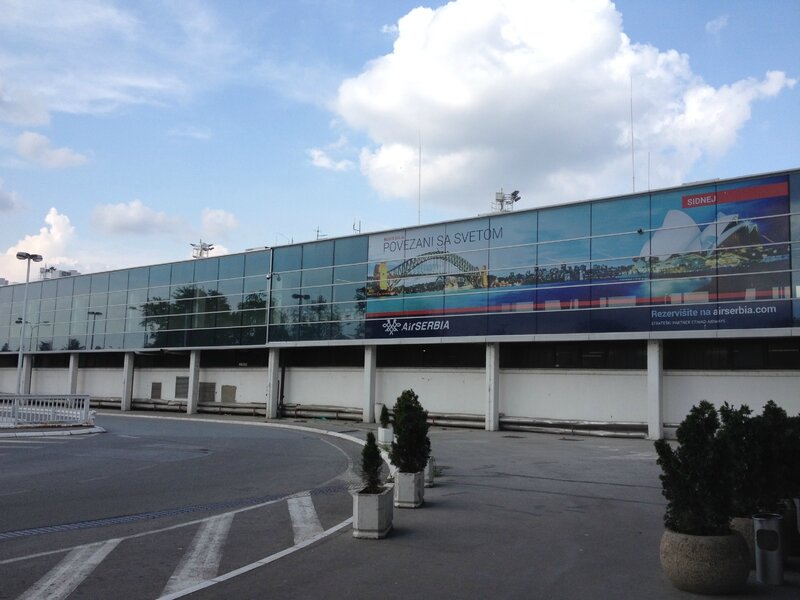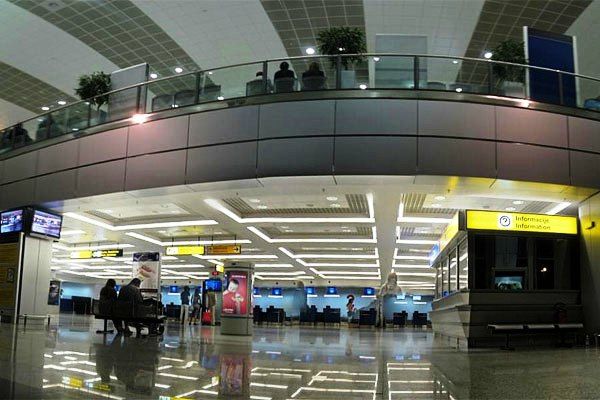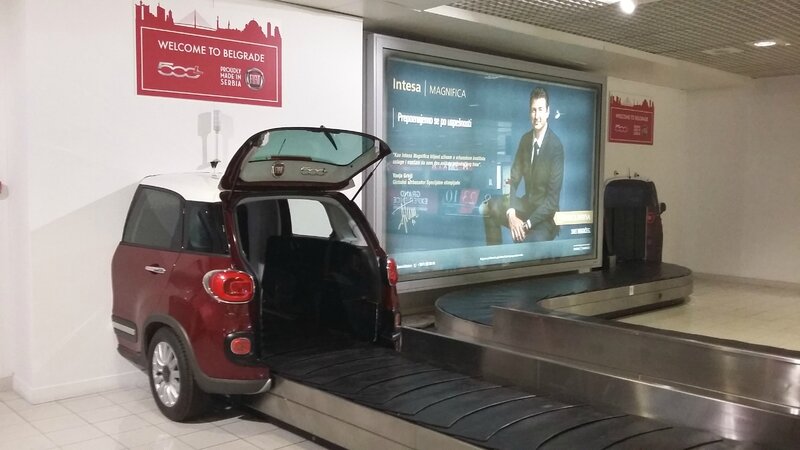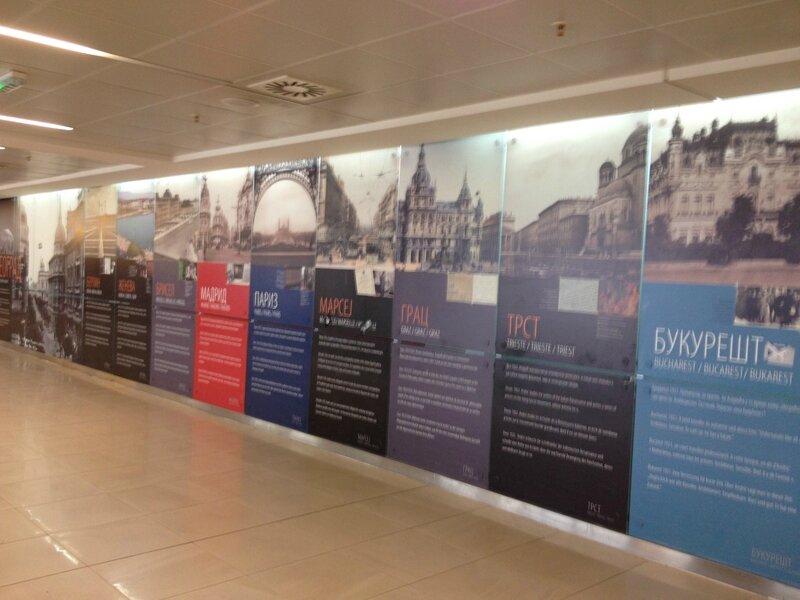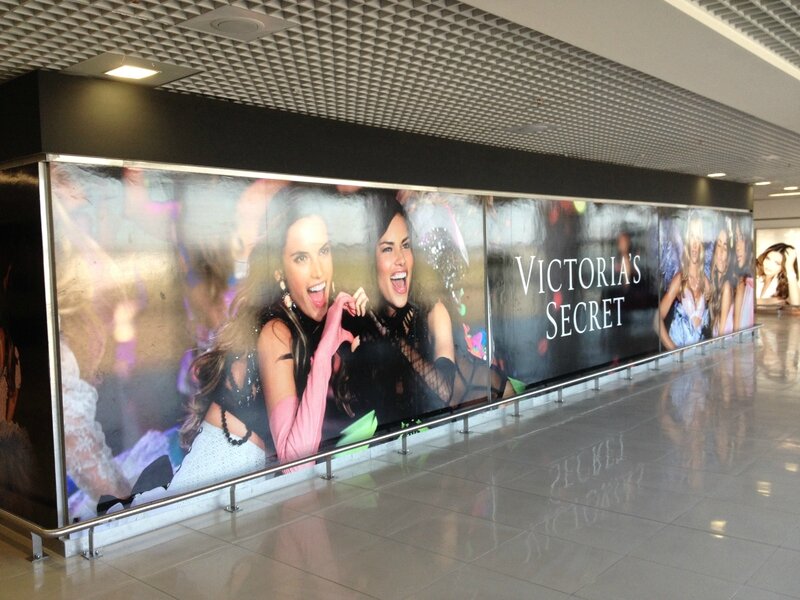 Taxi :
En arrivant, après avoir récupéré vos bagages et passé les contrôles, je vous conseille de vous rendre à une borne Taxi Info.
Une personne parlant anglais vous demandera l'adresse à laquelle vous souhaitez vous rendre et fixera le prix à l'avance sur un billet qu'elle vous remettra avant de vous accompagner à un taxi. (il y a cinq zones à Belgrade, comptez 15 euros environ pour vous rendre dans le centre, les taxis acceptent la monnaie unique européenne sans problème).
Attention aux "taxis sauvages". La plaque d'immatriculation d'un taxi doit se terminer par "TX".
Once you arrived and after you took all your luggage, the best is to go to a Taxi Info spot in the airport.
One person who speaks english will ask you where you want to go, will determine the price in advance, will write it on a ticket and will take you to a taxi in front of the airport. (there are five zones in Belgrade, will be around 15 euros to go to the center of the town, taxis accept payment with euros without any problem in case you don't have Dinars with you). Be careful to "wild taxis", a taxi car registration plate must end by "TX".
Belgrade est divisé en 6 zones tarifaires pour les taxis, se renseigner aupès du comptoir Taxi Info en arrivant à l'aéroport / Belgrade is devided into 6 zones regarding taxi prices, ask at Taxi Info desk when you arrive

Bus :
Vous pouvez également prendre le minibus A1. Départ toutes les 30 mn, au même niveau que les taxis. Le prix du billet est d'environ 300 dinars (soit moins de 3 euros), à se procurer directement auprès du chauffeur. Vous pourrez ensuite descendre à l'arrêt gare ferroviaire ou à l'arrêt Slavija, situés dans le centre de Belgrade. Temps de trajet : 30 à 40 minutes environ.
You can also take the A1 minibus. Departures every 30 mn, same level as taxis. The price of the ticket is around 300 dinars (less than 3 euros), to purchase in the bus. Then you will be able to stop at the Belgrade railway station or Slavija, located in the center of the town. Approximate travel time : 30 - 40 minutes.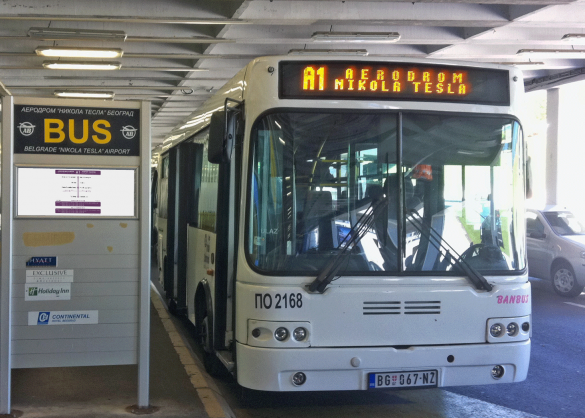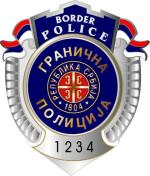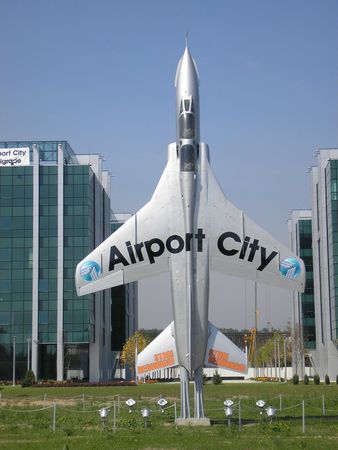 Vous êtes désormais en route vers le centre de Belgrade.
Le trajet sera plus ou moins rapide suivant le chauffeur de taxi, comptez 20 mn environ. C'est variable, certains conduisent tranquillement, d'autres à tombeau ouvert, empruntant parfois les voies d'arrêt d'urgence, ne vous inquiétez pas, c'est de coutume.
Sur la route, vous passerez normalement devant la tour Genex et devant la Beogradska Arena, là où se tiennent les grands événements sportifs et autres concerts.
You are now on the way to the center of Belgrade.
It will be more or less fast, depends on the taxi driver, let's say it will take arounde 20 mn. Some drive very fast som slowly, some will even drive in the emergency lane, don't worry, it is normal.
On the way, you will see the Genex tower and the Beogradska Arena where take place big sport events and concerts.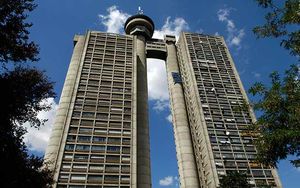 Vous traverserez ensuite la Save (Belgrade se trouve au confluent de la Save et du Danube, la plupart des ponts se situent sur la Save). A cet instant vous pourrez aperçevoir assez rapidement la cathédrale orthodoxe Saint Sava (Sveti Sava) qui domine la ville ainsi que le nouveau pont d'Ada et son unique pilier central.
Then you will cross Sava river (Belgrade is located on Sava and Danube confluent but actually most of the bridges are on Sava river). You will be able to seeorthodoxe church Sveti Sava and the new Ada bridge with its high central pylon.
Belgrade ne dispose pas de métro. Le réseau est constitué de tramways et bus (parfois éléctriques). Ticket au tarif unique de 60 dinars environ (50 cts d'euros).
Vous pouvez également, pour vous rendre d'un point à un autre, prendre un taxi. Il sont très nombreux et il ne vous faudra pas plus d'une minute pour en attraper un (il vous en coûtera 3 à 5 euros pour un trajet de quelques kilomètres).
There is no underground in Belgrade. The network consists in tramways, buses and trolleybuses. Ticket costs about 60 dinars (0,50 euros)
You can also take a taxi from one place to another. There are many of them and you will catch one in less than 1 minute (it will cost between 3 and 5 euros for fro A 10 mn drive).
Cartes des transports en commun / public transport maps :
http://www.belgrademaps.com/en/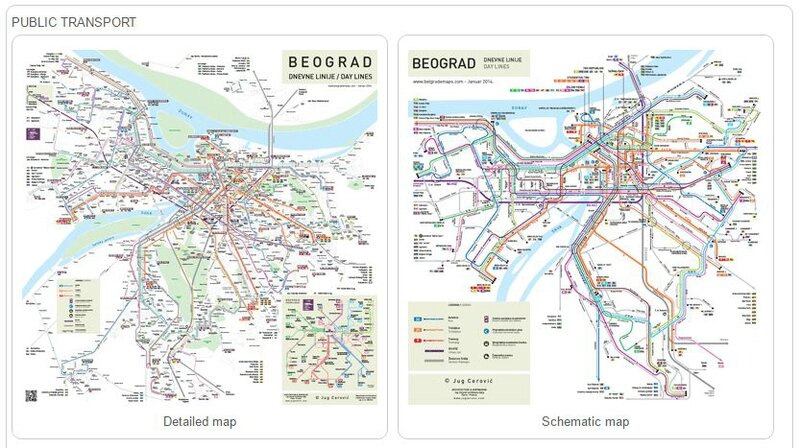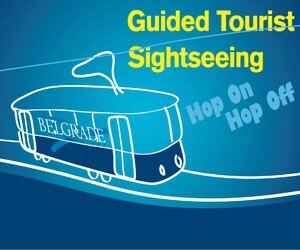 Visite de Belgrade en tramway - Durée 60 mn : s'adresser à l'office du tourisme - Knez Mihailova 5, de 9.00 à 21.00
Vendredi : 20.00 à 21.00 (visite en anglais) - Samedi : 16.00 à 17.00 (visite en anglais)
Tramway sightseeing - Duration 60 mn : tourist information center - Knez Mihailova 5, from 9.00 am to 9.00 pm
Friday : 8.00 pm to 9.00 pm (english language tour) - Saturday : 4.00 pm to 5.00 pm (english language tour)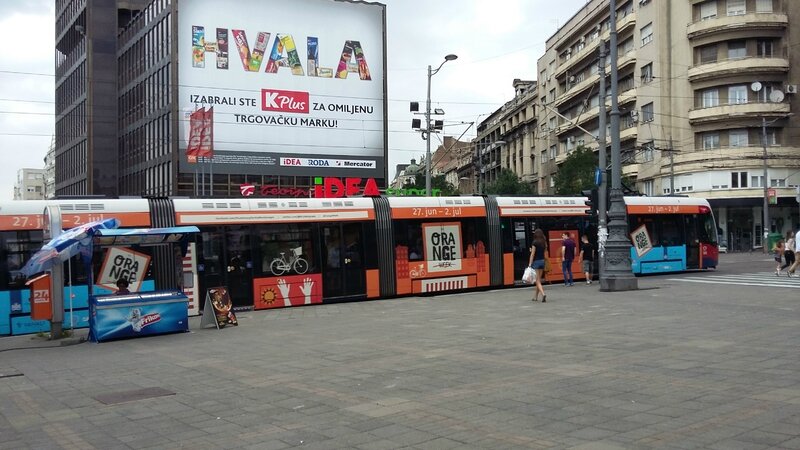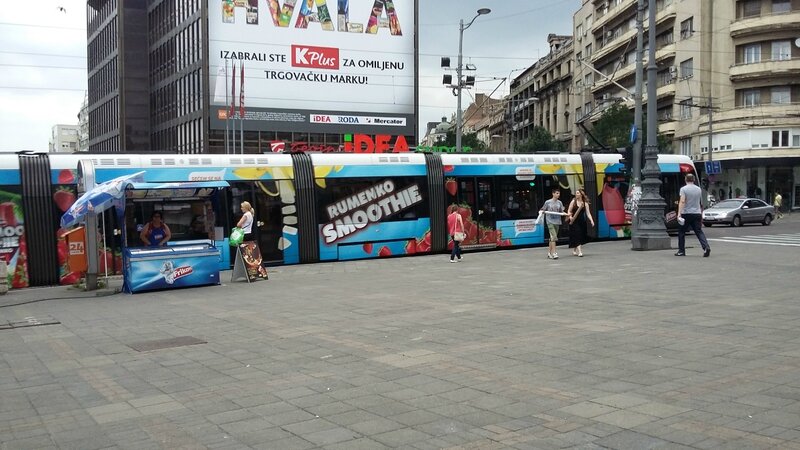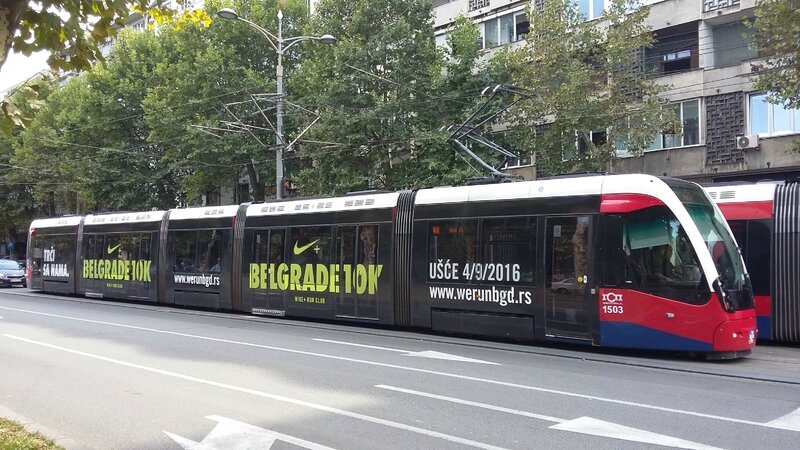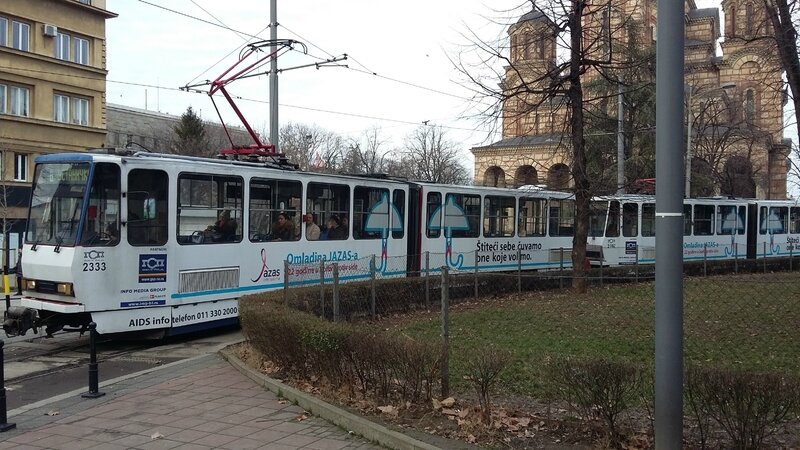 La Serbie ne fait pas partie de la zone euro. Vous devrez donc changer vos euros en dinars Serbe. Son cours est fluctuant mais on peut dire qu'il reste dans une fourchette de 110 à 120 dinars pour 1 euro. Pour la notion des prix c'est donc relativement simple, vous divisez par 100 le prix affiché et vous retranchez 20 pour cent afin d'obtenir le prix en euros.
Serbia is not in the EU. SO you will have to change euros fors dinars. Exchange rate is usually fluctuating between 110 and 120 dinars for 1 euro. So if you divide the price diplayed by 100, then subtract 20 per cent and you will have some good idea of the price it will be in euros.
Billet de 100 dinars (Nikola Tesla) / 100 dinars Note (Nikola Tesla) :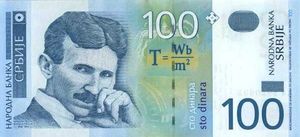 100 dinara - Nikola Tesla
Pour ce qui est du coût de la vie c'est très variable, de nombreux produits sont en effet importés.
Ne soyez pas surpris de trouver des jeans ou des chaussures de marques plus chers qu'en france. Lorsque l'on sait que le salaire moyen est de 400 à 500 euros mensuel, ça interpelle...
De nombreux tarifs sont cependant très intéressants comme les restaurants, les boissons, les cigarettes, les théatres...
Vous pouvez retirez des dinars serbes dans pratiquement tous les distributeurs avec une mastercard ou une carte visa et payer avec ce même type de carte dans les restaurants, les magasins. Attention, comme ce n'est pas la même devise, vous serez débités d'une commission par votre établissement bancaire. Commission paiement par carte, environ 3,5 %. Commission retrait espèces, peut atteindre 10 % (il vaut donc mieux prendre du cash avec vous et faire le change sur place, on trouve des bureaux de change partout).
Regarding the cost of living, it really depends because many products are imported.
Don't be surprised if you find a pair of jeans or shoes more expensive than in france for example, despite the fact that average income is between 400 and 500 euros monthly...
Nevertheless, many prices are interesting like for restaurants, drinks, cigarettes, theatres...
You can withdraw cash in dinars in almost all cash dispensers with a mastercard or visa card and pay in most shops and restaurants. You have to know that your bank will take in that case some commission for every payment or withdrawal with credit card. Around 3,5% for payment by credit card. Around 10 % for cash withdrawals (so better to take cash with you and change it when you are there, you can find exchange offices in almost every street).

La langue officielle est le serbo-croate (langue du groupe des langues slaves). La plupart des commerçants parlent relativement bien anglais.
Les serbes utilisent 2 types d'alphabets, l'alphabet latin et l'alphabet cyrillique. Les panneaux routiers comportent les deux écritures, le nom des rues apparaît la plupart du temps en cyrillique.
The official language is serbo-croatian. Most people in shops speak english quite well.
Serbs use 2 kinds of alphabets (latin and cyrillic). Panels on roads and motorways have both. Streets names are written in cyrillic most of the time.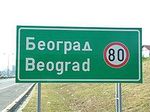 Tableau de conversion :
Beograd iz vazduha (Belgrade aerial) :
BBICC: Welcome to Belgrade :