La Serbie ne fait pas partie de la zone euro. Vous devrez donc changer vos euros en dinars Serbe. Son cours est fluctuant mais on peut dire qu'il reste dans une fourchette de 110 à 120 dinars pour 1 euro. Pour la notion des prix c'est donc relativement simple, vous divisez par 100 le prix affiché et vous retranchez 20 pour cent afin d'obtenir le prix en euros.
Serbia is not in the EU. SO you will have to change euros fors dinars. Exchange rate is usually fluctuating between 110 and 120 dinars for 1 euro. So if you divide the price diplayed by 100, then subtract 20 per cent and you will have some good idea of the price it will be in euros.
Billet de 100 dinars (Nikola Tesla) / 100 dinars Note (Nikola Tesla) :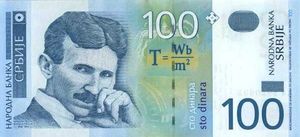 100 dinara - Nikola Tesla
Pour ce qui est du coût de la vie c'est très variable, de nombreux produits sont en effet importés.
Ne soyez pas surpris de trouver des jeans ou des chaussures de marques plus chers qu'en france. Lorsque l'on sait que le salaire moyen est de 400 à 500 euros mensuel, ça interpelle...
De nombreux tarifs sont cependant très intéressants comme les restaurants, les boissons, les cigarettes, les théatres...
Vous pouvez retirez des dinars serbes dans pratiquement tous les distributeurs avec une mastercard ou une carte visa et payer avec ce même type de carte dans les restaurants, les magasins. Attention, comme ce n'est pas la même devise, vous serez débités d'une commission par votre établissement bancaire. Commission paiement par carte, environ 3,5 %. Commission retrait espèces, peut atteindre 10 % (il vaut donc mieux prendre du cash avec vous et faire le change sur place, on trouve des bureaux de change partout).
Regarding the cost of living, it really depends because many products are imported.
Don't be surprised if you find a pair of jeans or shoes more expensive than in france for example, despite the fact that average income is between 400 and 500 euros monthly...
Nevertheless, many prices are interesting like for restaurants, drinks, cigarettes, theatres...
You can withdraw cash in dinars in almost all cash dispensers with a mastercard or visa card and pay in most shops and restaurants. You have to know that your bank will take in that case some commission for every payment or withdrawal with credit card. Around 3,5% for payment by credit card. Around 10 % for cash withdrawals (so better to take cash with you and change it when you are there, you can find exchange offices in almost every street).