La langue officielle est le serbo-croate (langue du groupe des langues slaves). La plupart des commerçants parlent relativement bien anglais.
Les serbes utilisent 2 types d'alphabets, l'alphabet latin et l'alphabet cyrillique. Les panneaux routiers comportent les deux écritures, le nom des rues apparaît la plupart du temps en cyrillique.
The official language is serbo-croatian. Most people in shops speak english quite well.
Serbs use 2 kinds of alphabets (latin and cyrillic). Panels on roads and motorways have both. Streets names are written in cyrillic most of the time.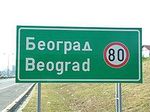 Tableau de conversion :