Situé à 4 kms du confluent entre la Save et le Danube, il s'étend sur 4 kms de long environ et 200 m de large. Ses eaux sont pompées, filtrées et rejetées dans la Save, il est donc très propre. Des dizaines de restaurants, bars et night clubs situés sur des barges bordent ses plages, l'endroit est très fréquenté dès qu'il y a un rayon de soleil.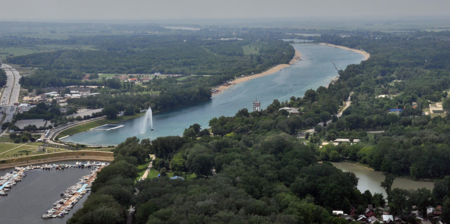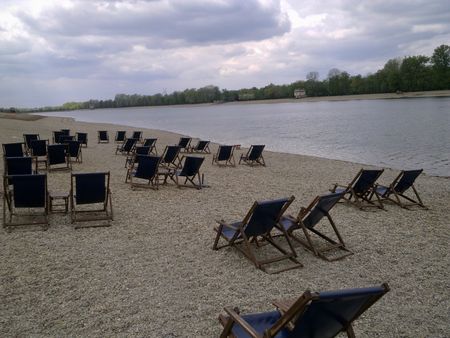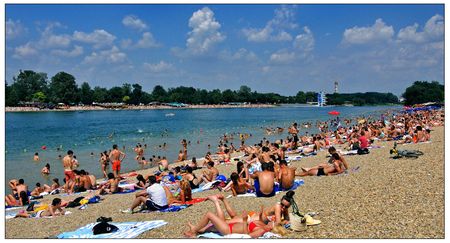 Les forces de l'OTAN ont bombardé Belgrade en mars, avril et mai 1999 lors du conflit du Kosovo. Certains bâtiments ont été conservés en l'état en mémoire de ces évenements douloureux : Ancien Etat-Major des armées et ancien ministère de la défense de Serbie et Montenegro détruit par 8 missiles Tomahawk, adresse : 33-41 rue Kneza Milosa.
Human Right Watch revendique que la campagne de bombardement a causé la mort d'environ 500 civils, d'autres sources avancent des chiffres qui excèdent 1500 morts. La Serbie estime que les degats directs effectués par les bombes et missiles ont occasionné un coût de 30 millions de dollars pour le pays. Des inquiétudes demeurent toujours sur les conséquences des dangers pour la santé des populations civiles suite à l'emploi par l'OTAN de munitions à l'uranium appauvri.
NATO forces bombed Belgrade in march, april and may 1999 during war with Kosovo. The town of Belgrade kept the aspect of a few of them to remember this painful period : General Headquarters of Serbia and Montenegro armed forces and Ministry of Defense destroyed by 8 Tomahawk missiles, adress ; 33-41 Kneza Milosa street.
Human Rights Watch claims that the civilian death due to the bombing campaign were around 500 people, some other sources mention more then 1500. Serbia estimates that it costed to the country $30 billion in direct damage caused by bombs and missiles. Health concerns also still remain about the danger to civilians from the depleted uranium weapons NATO used.
En serbe : Zgrade Generalštaba Vojske Srbije i Crne Gore i Ministarstva odbrane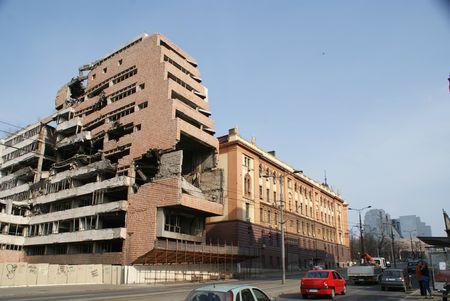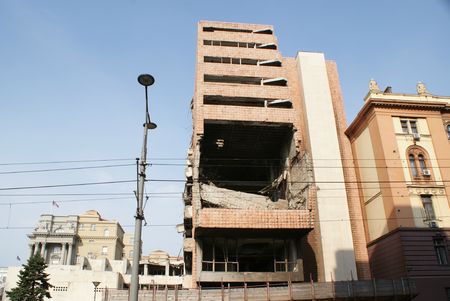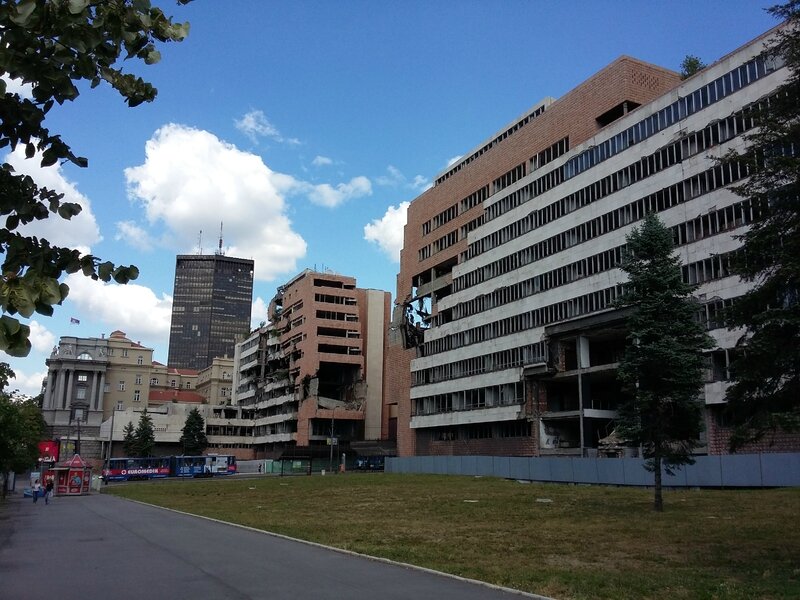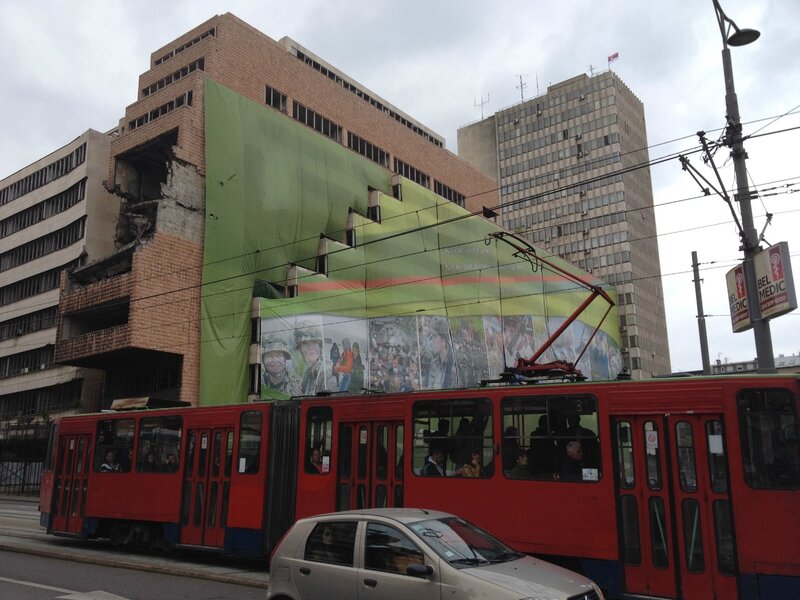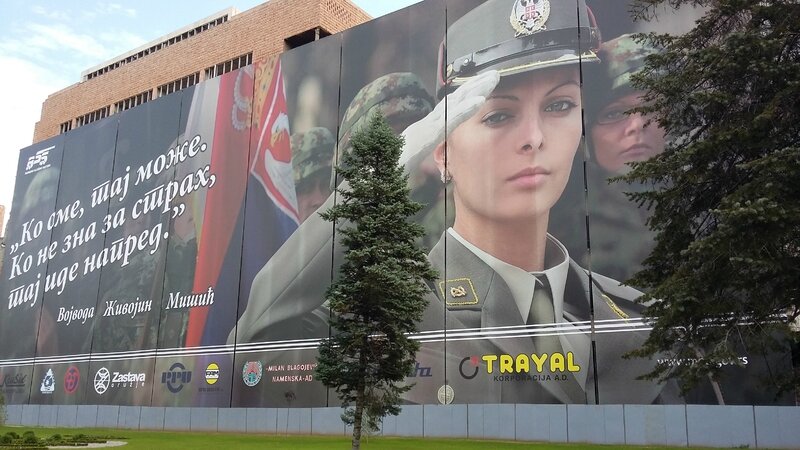 Le même bâtiment à la fin de sa construction dans les années 60 / the same building after its construction phase in the 60's :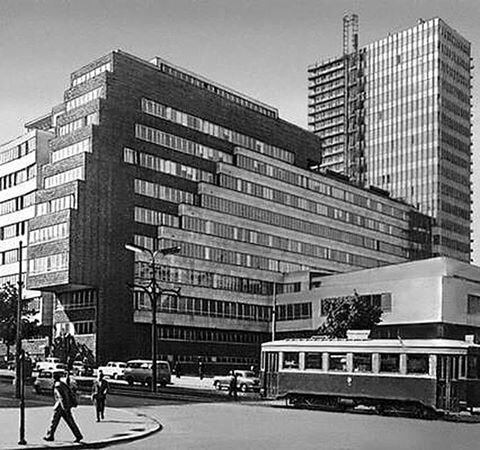 La rénovation du bâtiment débute en 2016 / renovation of the building started in 2016 :
Ancien bâtiment de la RTS (Radio- Télévision), adresse : Aberdareva, derrière l'église St Marko
Old RTS building (TV and Radio), adress : Abadareva, behind St Marko church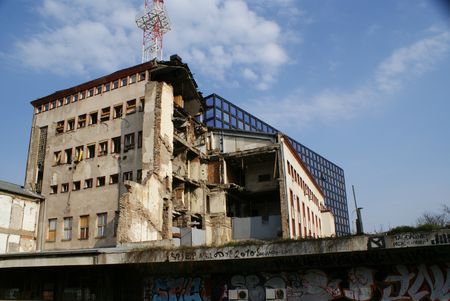 RTS 2012
RTS 1999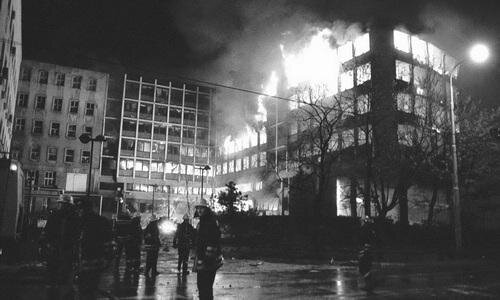 RTS 1999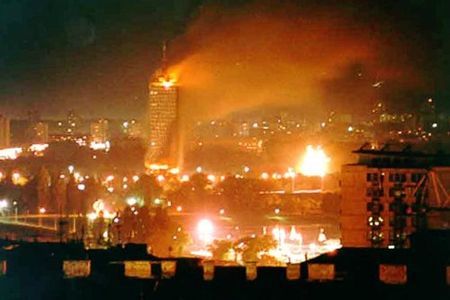 Belgrade 1999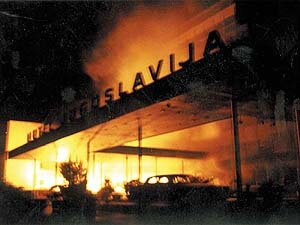 Hotel Jugoslavija frappé par 2 missiles la nuit du 7 au 8 mai 1999 / Hotel Jugoslavija hit by 2 missiles during the night of 7/8 may 1999.
Monument funéraire avec les noms des 16 employés qui ont trouvé la mort dans le bombardement de la RTS le 23 avril 1999, avec l'épitaphe : Zašto ? (Pourquoi ?)
Memorial to the 16 employees who were killed on the 23th of april 1999 during RTS bombing with incription : Zašto ? (Why ?)
Liens Video / Video links :
https://www.youtube.com/watch?v=HxDcvhH2Ypc
https://www.youtube.com/watch?v=XfpMK83VtZM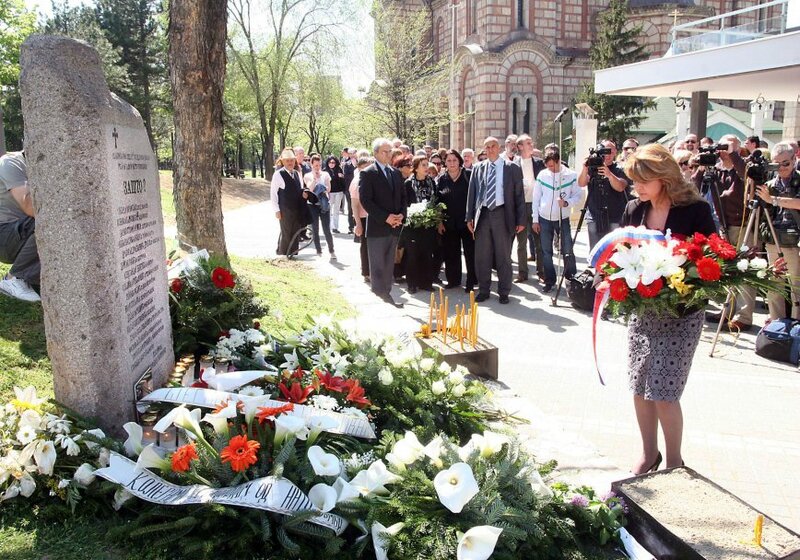 Cartes postales commemoratives / commemorative postcards :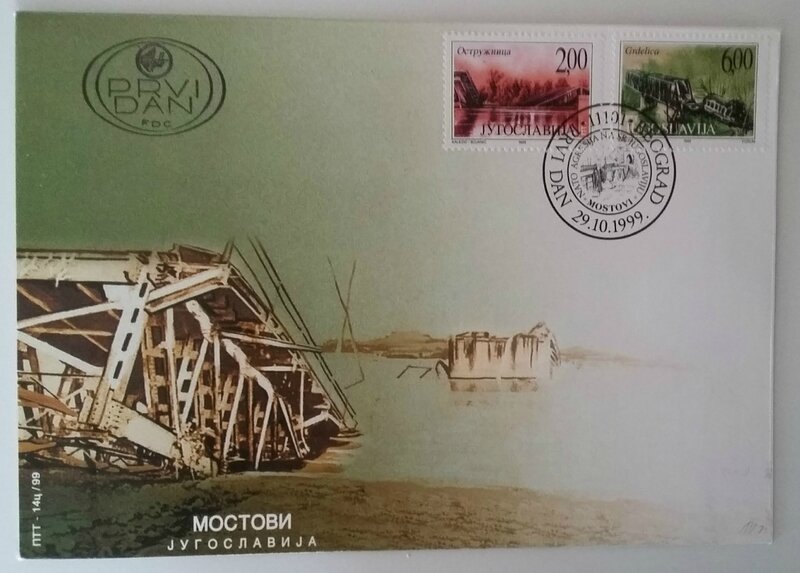 Plus communément appelé : Marakana
Inauguré en septembre 1963, sa capacité est d'environ 52 000 places. Il est le stade de l'Etoile Rouge de Belgrade (maillot en rouge et blanc) et est le siège de duels fratricides avec le club rival, le Partizan de Belgrade (maillot noir et blanc) :
Pour ressentir l'ambiance d'un match Etoile Rouge vs Partizan / to feel the atmosphere ot Red Star vs Partizan (12.09.2015) :