Ušće shopping center, de l'autre côté de la Save, juste après Brankov most (le pont Brankov). Ušće signifie en serbe "confluent", le centre commercial a été baptisé de la sorte du fait de sa position géographique, au confluent de la Save et du Danube.
Ušće shopping center, on the other side of Sava river, just after Brankov most (Brankov bridge). Ušće means "confluence" in serbian, the shopping center was entitled like that due to its geographical position at the confluence of Sava river and Danube river.
Principales marques représentées / main brands :
Accessorize, Adidas, Apple, Benetton, Bershka, C&A, Converse, Cortefiel, Guess, Lacoste, Levi's, Mango, Massimo Dutti, Nike, Parfois, Pull&Bear, Sephora, Springfield, Swarovski, Swatch, Timberland, Tomy Hilfiger, Tom Tailor, Yves Rocher, Zara, Women's Secret...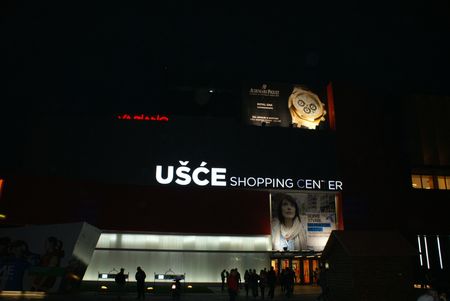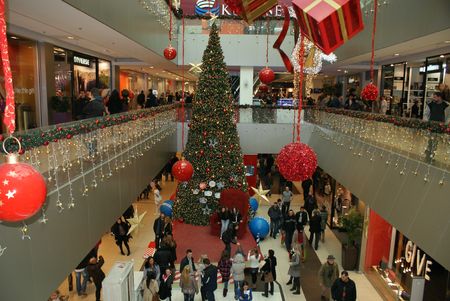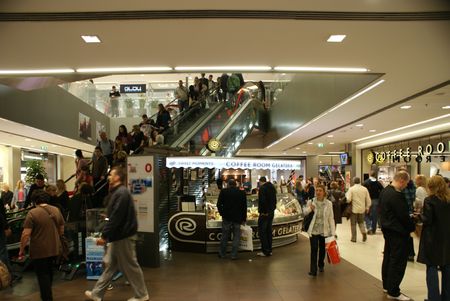 Situé à 4 kms du confluent entre la Save et le Danube, il s'étend sur 4 kms de long environ et 200 m de large. Ses eaux sont pompées, filtrées et rejetées dans la Save, il est donc très propre. Des dizaines de restaurants, bars et night clubs situés sur des barges bordent ses plages, l'endroit est très fréquenté dès qu'il y a un rayon de soleil.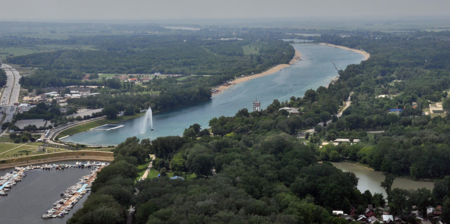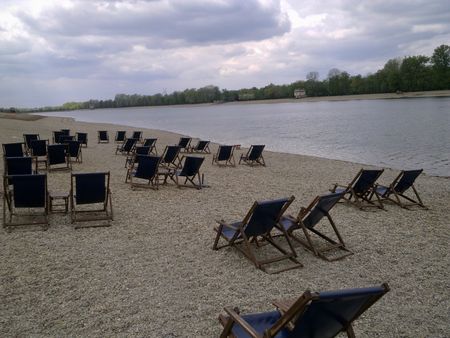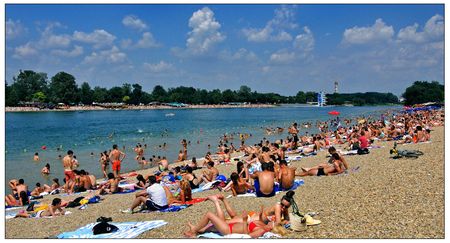 Les forces de l'OTAN ont bombardé Belgrade en mars, avril et mai 1999 lors du conflit du Kosovo. Certains bâtiments ont été conservés en l'état en mémoire de ces évenements douloureux : Ancien Etat-Major des armées et ancien ministère de la défense de Serbie et Montenegro détruit par 8 missiles Tomahawk, adresse : 33-41 rue Kneza Milosa.
Human Right Watch revendique que la campagne de bombardement a causé la mort d'environ 500 civils, d'autres sources avancent des chiffres qui excèdent 1500 morts. La Serbie estime que les degats directs effectués par les bombes et missiles ont occasionné un coût de 30 millions de dollars pour le pays. Des inquiétudes demeurent toujours sur les conséquences des dangers pour la santé des populations civiles suite à l'emploi par l'OTAN de munitions à l'uranium appauvri.
NATO forces bombed Belgrade in march, april and may 1999 during war with Kosovo. The town of Belgrade kept the aspect of a few of them to remember this painful period : General Headquarters of Serbia and Montenegro armed forces and Ministry of Defense destroyed by 8 Tomahawk missiles, adress ; 33-41 Kneza Milosa street.
Human Rights Watch claims that the civilian death due to the bombing campaign were around 500 people, some other sources mention more then 1500. Serbia estimates that it costed to the country $30 billion in direct damage caused by bombs and missiles. Health concerns also still remain about the danger to civilians from the depleted uranium weapons NATO used.
En serbe : Zgrade Generalštaba Vojske Srbije i Crne Gore i Ministarstva odbrane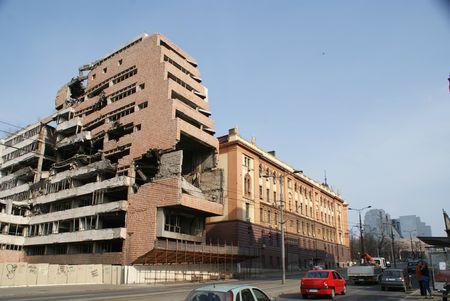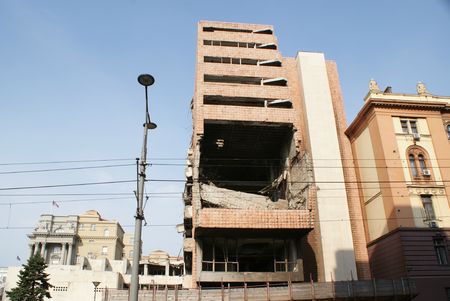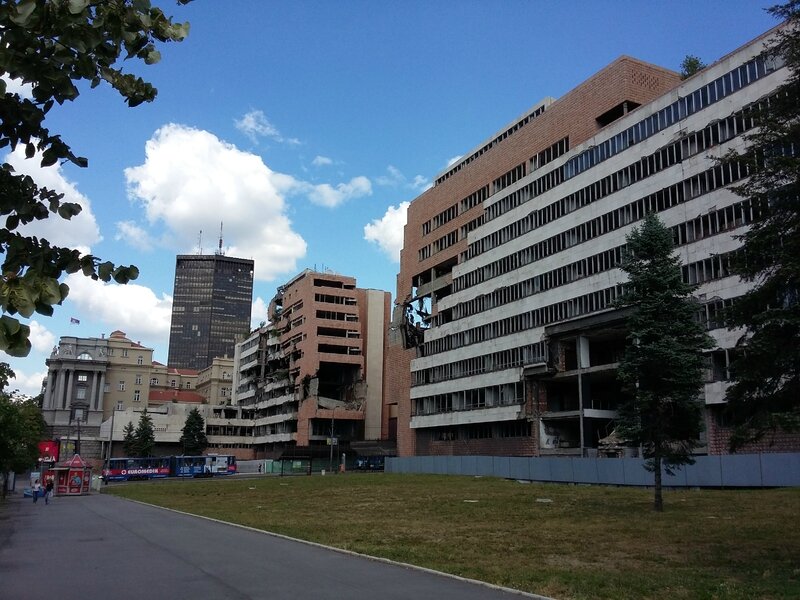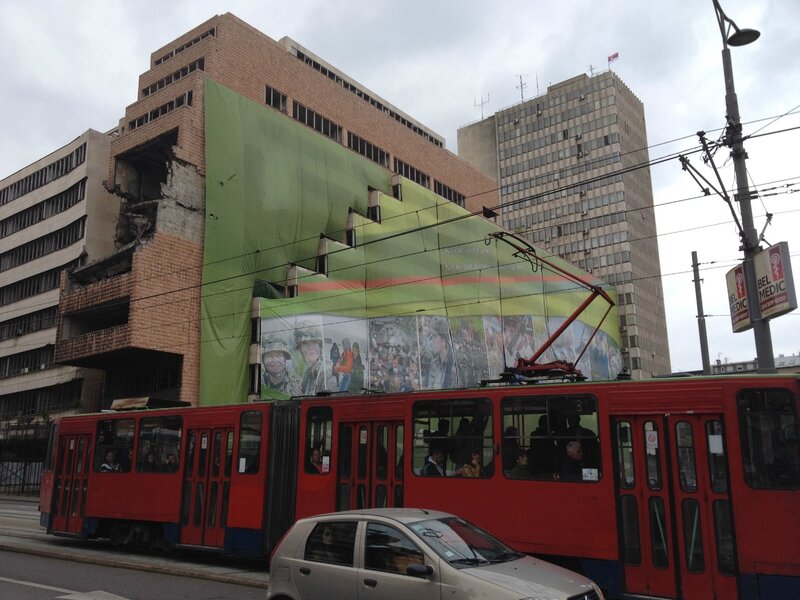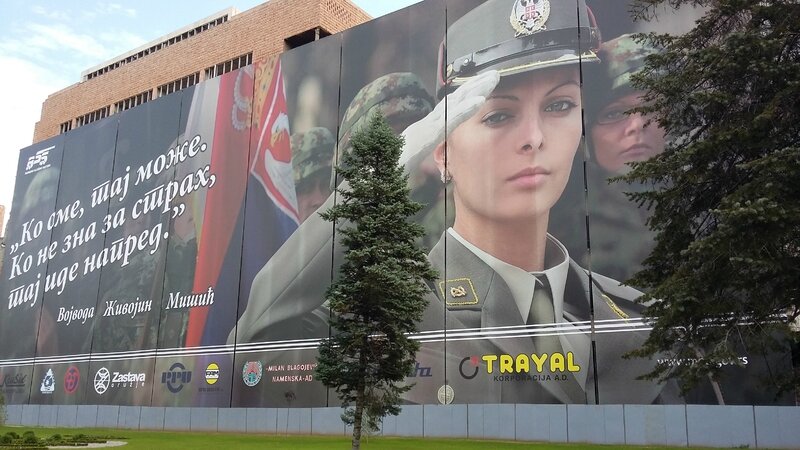 Le même bâtiment à la fin de sa construction dans les années 60 / the same building after its construction phase in the 60's :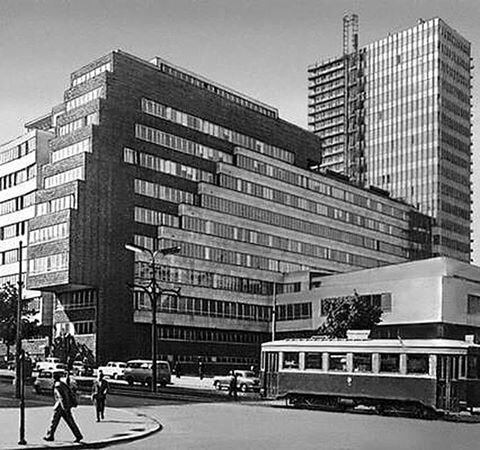 La rénovation du bâtiment débute en 2016 / renovation of the building started in 2016 :
Ancien bâtiment de la RTS (Radio- Télévision), adresse : Aberdareva, derrière l'église St Marko
Old RTS building (TV and Radio), adress : Abadareva, behind St Marko church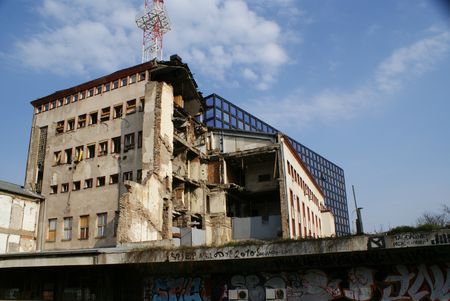 RTS 2012
RTS 1999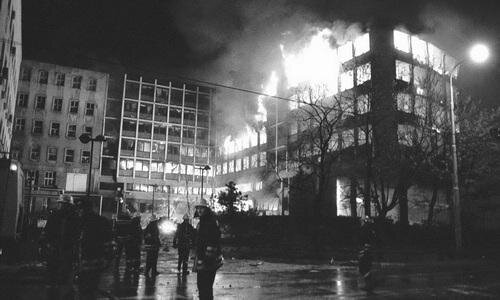 RTS 1999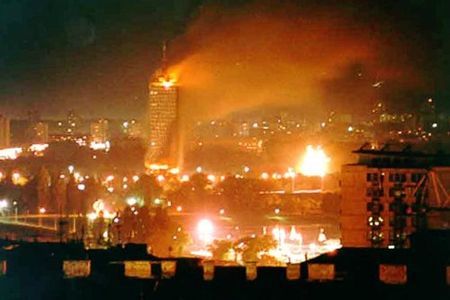 Belgrade 1999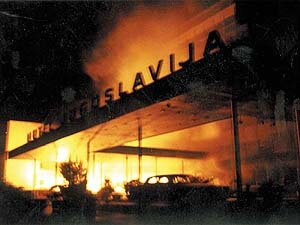 Hotel Jugoslavija frappé par 2 missiles la nuit du 7 au 8 mai 1999 / Hotel Jugoslavija hit by 2 missiles during the night of 7/8 may 1999.
Monument funéraire avec les noms des 16 employés qui ont trouvé la mort dans le bombardement de la RTS le 23 avril 1999, avec l'épitaphe : Zašto ? (Pourquoi ?)
Memorial to the 16 employees who were killed on the 23th of april 1999 during RTS bombing with incription : Zašto ? (Why ?)
Liens Video / Video links :
https://www.youtube.com/watch?v=HxDcvhH2Ypc
https://www.youtube.com/watch?v=XfpMK83VtZM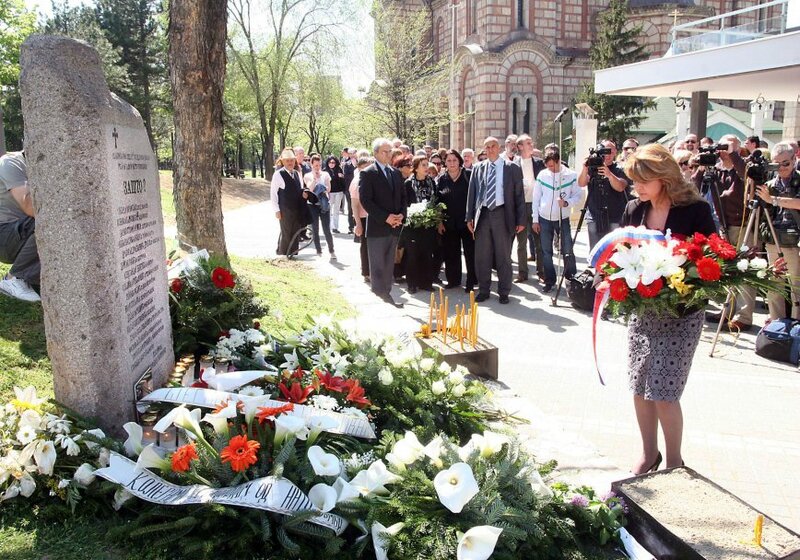 Cartes postales commemoratives / commemorative postcards :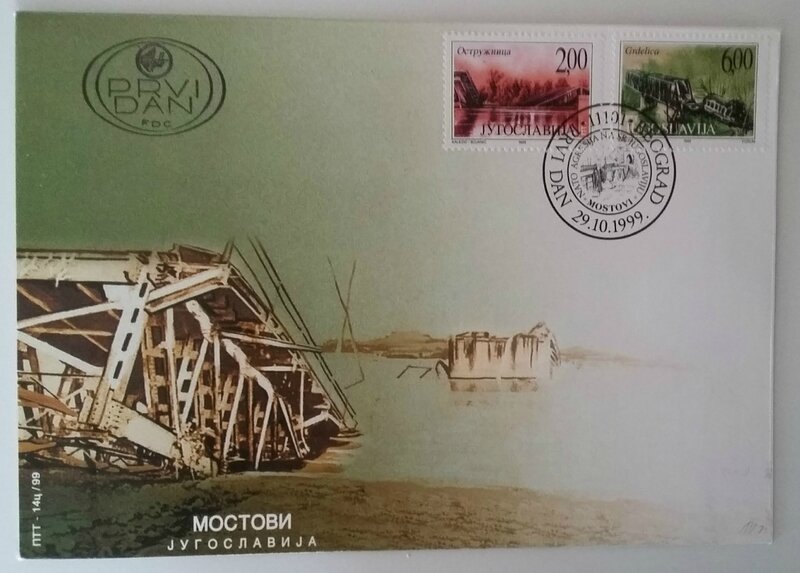 Plus communément appelé : Marakana
Inauguré en septembre 1963, sa capacité est d'environ 52 000 places. Il est le stade de l'Etoile Rouge de Belgrade (maillot en rouge et blanc) et est le siège de duels fratricides avec le club rival, le Partizan de Belgrade (maillot noir et blanc) :
Pour ressentir l'ambiance d'un match Etoile Rouge vs Partizan / to feel the atmosphere ot Red Star vs Partizan (12.09.2015) :
Kombank Arena : inaugurée en 2004, elle est le siège de compétitions sportives et de concerts. Capacité 20 000 à 25 000 places. En 2009, lors d'un match opposant le Partizan Belgrade au Panathinaïkos d'Athènes, l'Arena a battu le record d'Europe du nombre de spectateurs en salle pour un match de basket indoor avec 22 567 personnes.
Kombank Arena : opened in 2004 to host big sports events and concerts, with 25 000 seats capacity. In 2009, 22 567 people assisted to a basket ball match Belgrade Partizan vs Athens Panathinaikos, it became the european record regarding the audience for an indoor event.
Programmes / Events : http://www.kombankarena.rs/en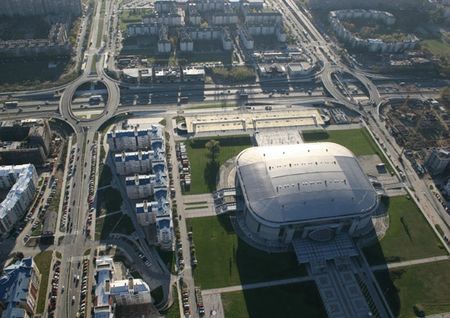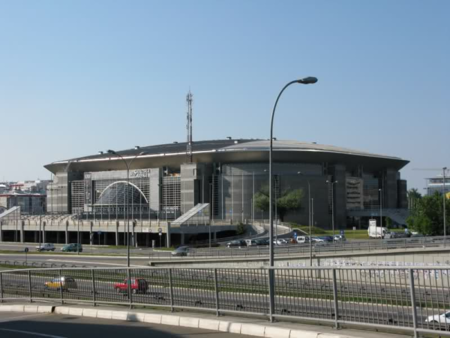 Video du match de basket Euroligue 2014 Partizan Belgrade vs Lokomotiv Kuban (Russie) auquel j'ai pu assister / Video of a Euroleague 2014 basket ball match that I could see Belgrade Partizan vs Lokomotiv Kuban (Russia) :
https://www.youtube.com/watch?v=VQOHjqwsuws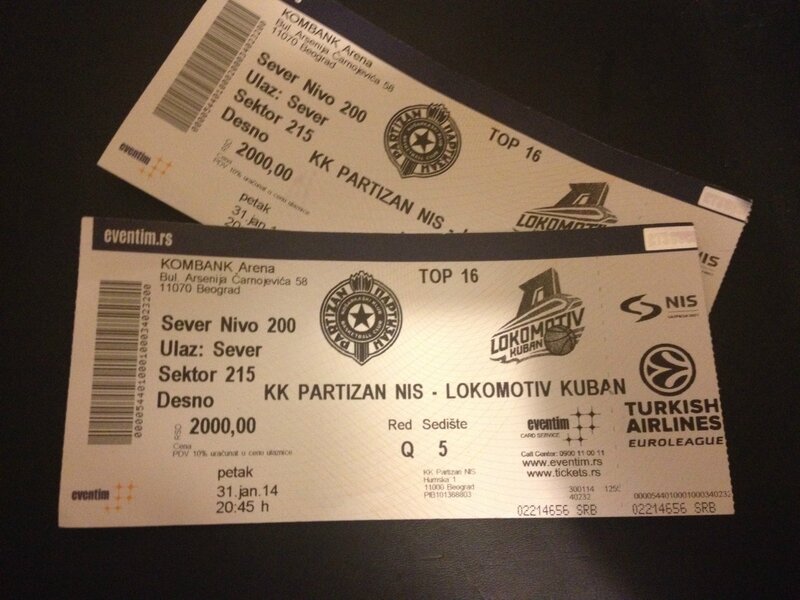 Championnats d'Europe de water-polo à Belgrade en janvier 2016. A cette occasion, l'Arena fût transformée en configuration 16 000 places avec piscine centrale. Résultats : 1. Serbie (or), 2. Monténégro (argent), 3. Hongrie (bronze) / European Water Polo Championship was held in Belgrade in january 2016, on this occasion the Arena was transformed in a 16 000 seats configuration with swimming pool. Results : 1. Serbia (gold), 2. Montenegro (silver), 3. Hungary (bronze) :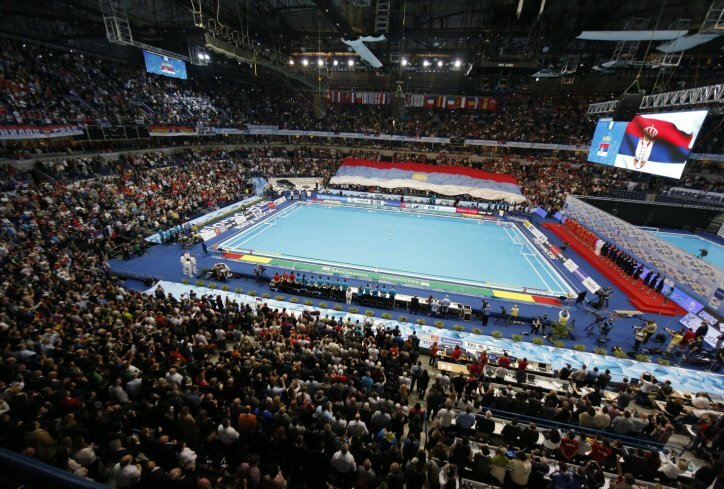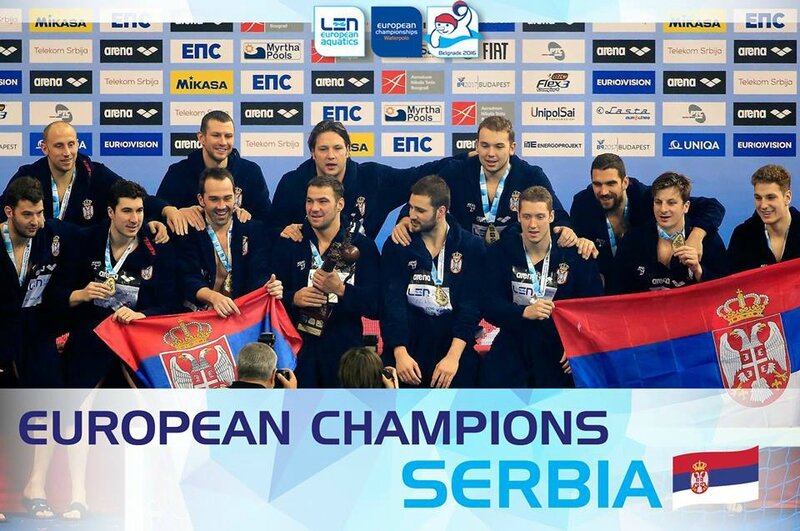 Lien video / video link : https://www.youtube.com/watch?v=FLKXSgXNl8w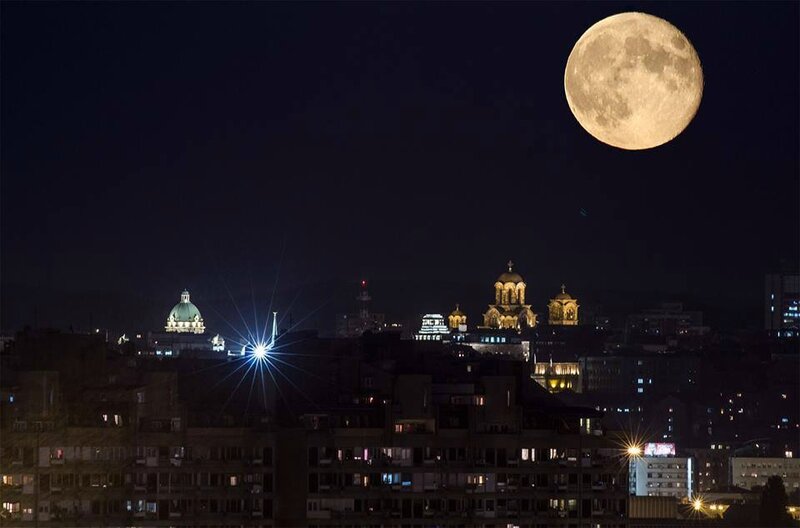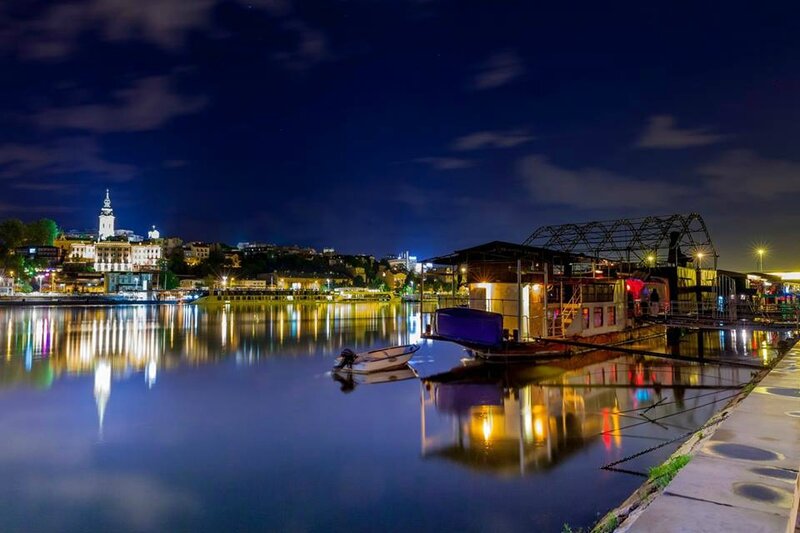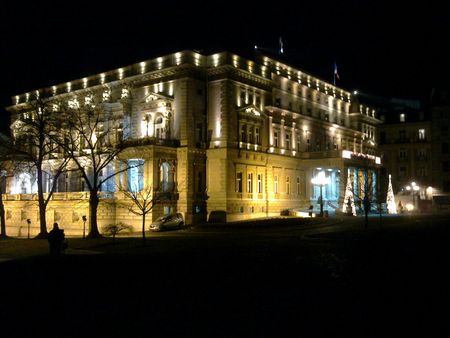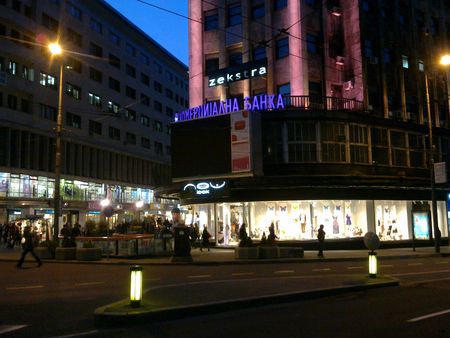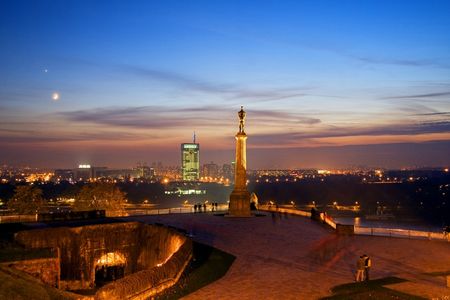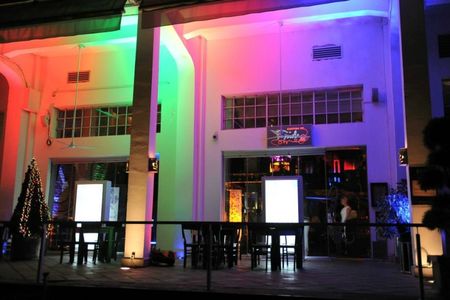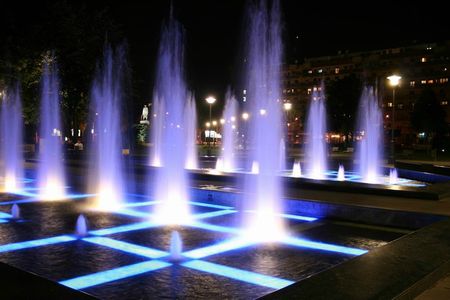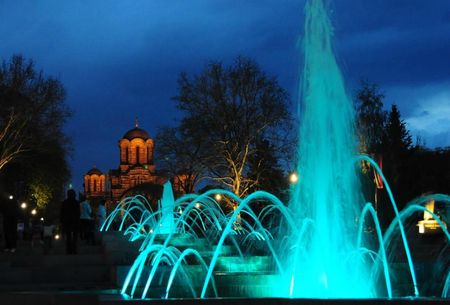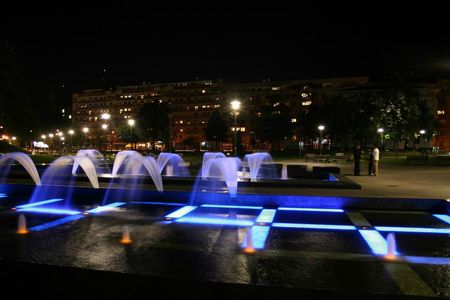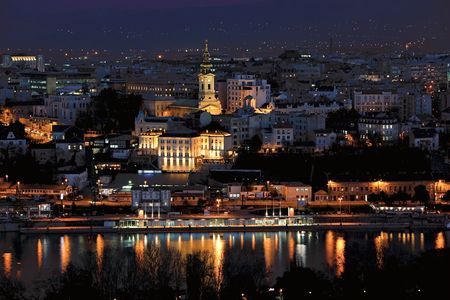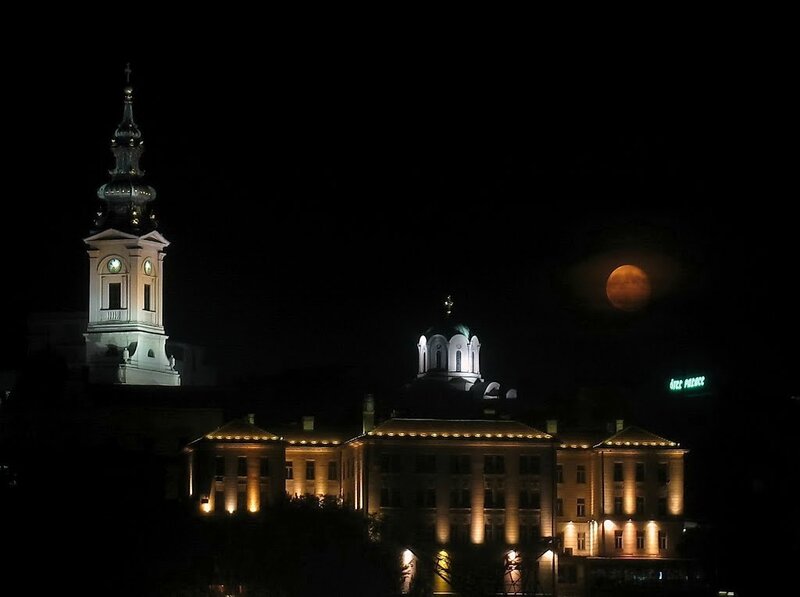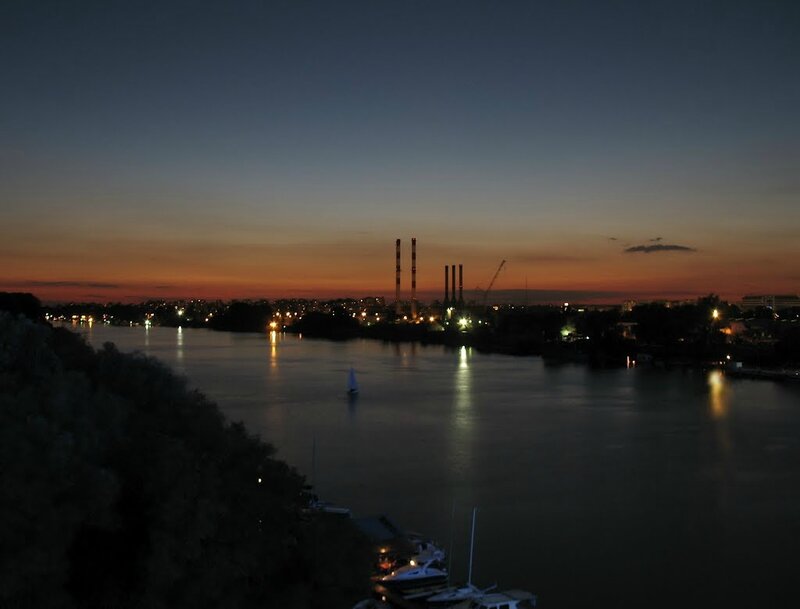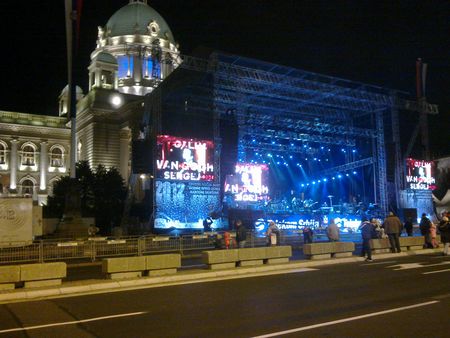 Ambassade de France à Belgrade, avec son style Art-Déco, conçue dans les années 30 par l'architecte Roger-Henri Expert (adresse : Pariska 11, Belgrade) / French embassy in Belgrade with its Art-Déco style built in the 30s by architect Roger-Henri Expert :
Web site : http://www.ambafrance-srb.org/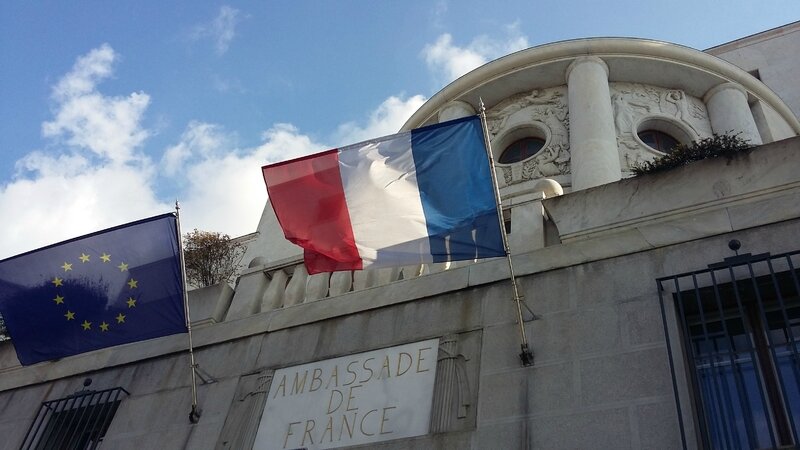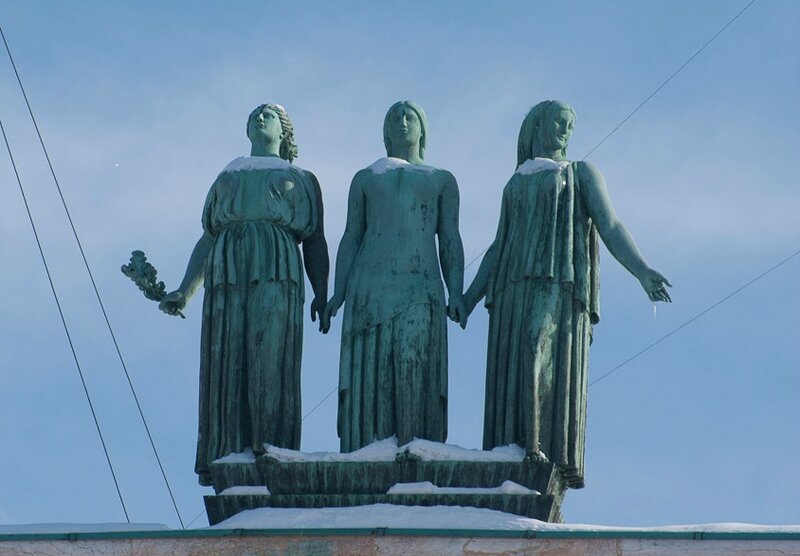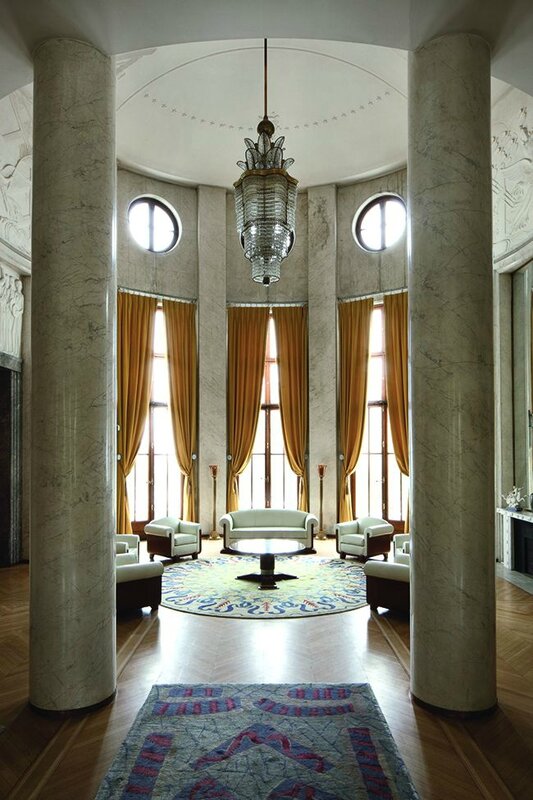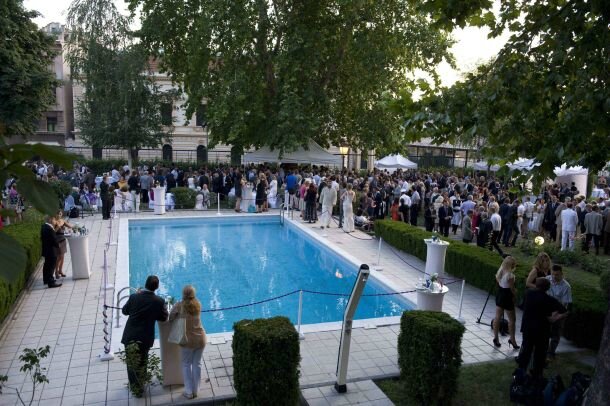 Francuski Kulturni Centar / Centre Culturel Français (adresse : Knez Mihailova 31), avec son hall d'exposition, sa bibliothèque.
Site web : http://www.institutfrancais.rs/fr/01a.html
Video : http://www.youtube.com/watch?v=1h2S5SsjjbY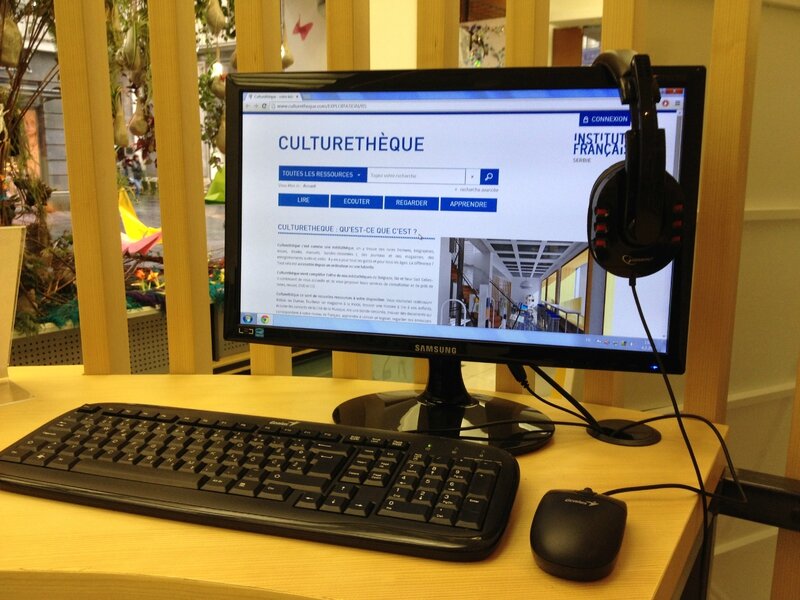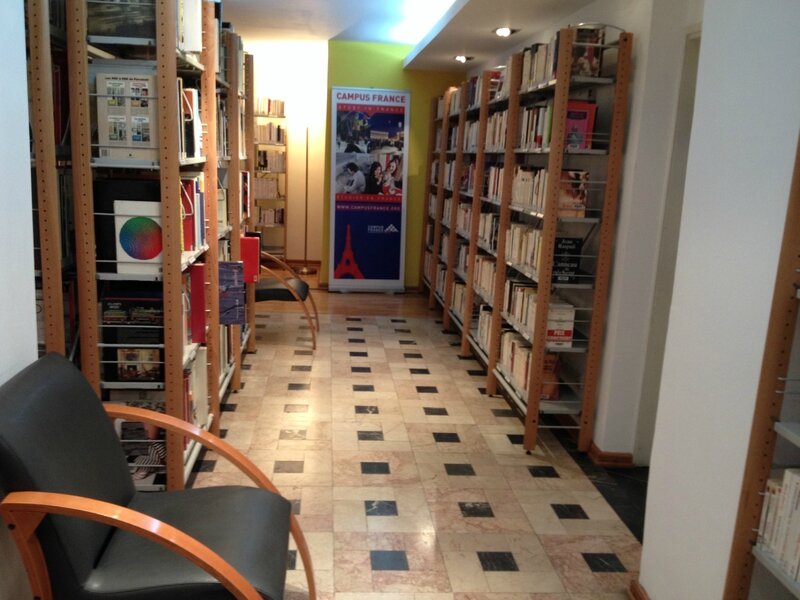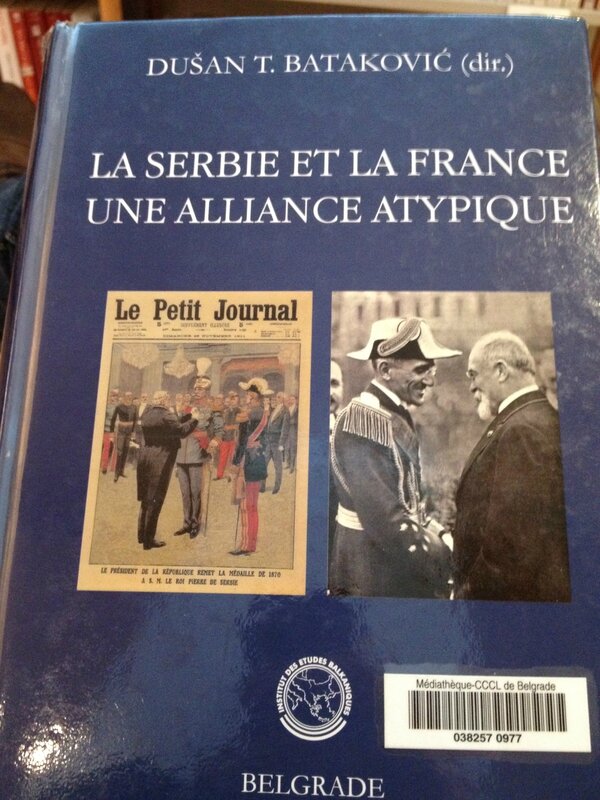 Monument à la France (Parc Kalemegdan). " Волимо Француску као што је она нас волела" ("Nous aimons la france comme elle nous a aimés"), en hommage à la fraternité des soldats serbes et français durant la première guerre mondiale / Monument of gratitude to France (Kalemegdan park). " Волимо Француску као што је она нас волела" ("We love France as she loved us"), in tribute to the brotherhood between French and Serbian soldiers during the WW1.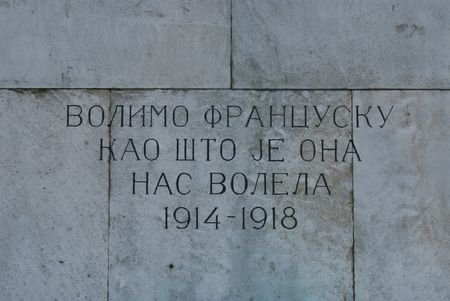 Inauguration du monument le 11 novembre 1930 / unveiling of the monument on 11 november 1930 :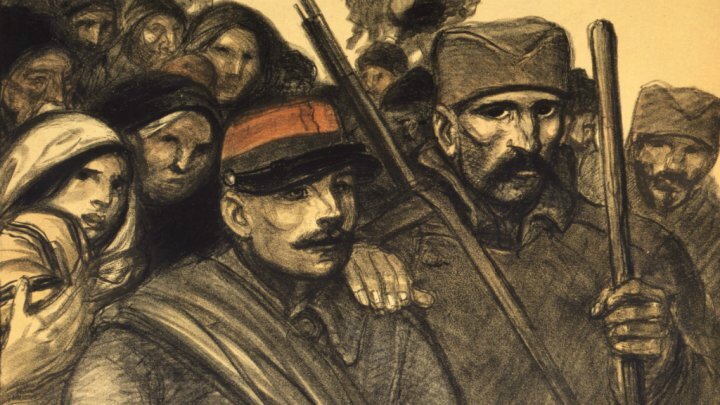 En 1916, le journal Le Matin, relate le sauvetage de l'armée Serbe par l'armée Française. Il s'agissait de porter secours à 125 000 soldats Serbes qui battaient en retraite à travers l'Albanie, sous la pression des armées Allemande et Bulgare / In 1916, the daily paper Le Matin reported the rescue of the Serbian Army by the French Army. The french saved 125 000 soldiers retreating through Albania under pressure of German and Bulgarian armies :
Statue du Maréchal Louis Franchet-d'Esperey. Méconnu en France et véritable héro en Serbie. Chef des Armées alliées à Salonique (26 divisions dont 9 grecques, 6 françaises, 6 serbes, 4 anglaises et 1 italienne) il lance une grande offensive en septembre 1918 contre l'armée germano-bulgare, d'abord à travers la Macedoine, puis à travers la Serbie. Le 1er novembre, il entre dans Belgrade en libérateur avec le prince Alexandre. Il sera nomé Voïvode de l'armée de Serbie et fait Grand-Croix de l'Ordre de Karageorges avec épées. Un grand boulevard porte également son nom.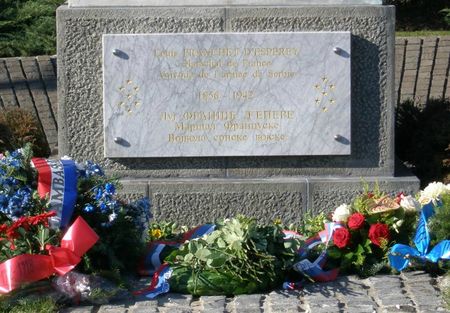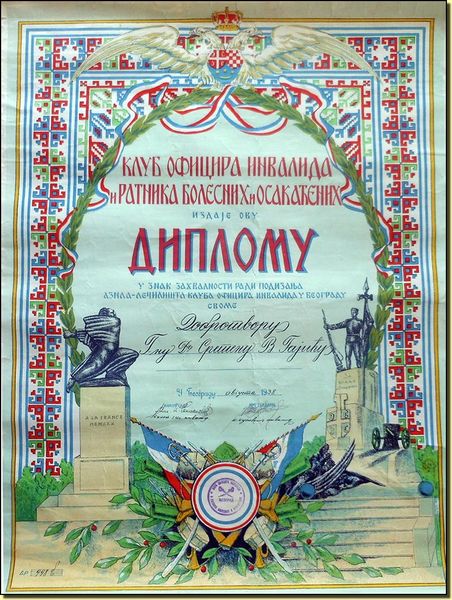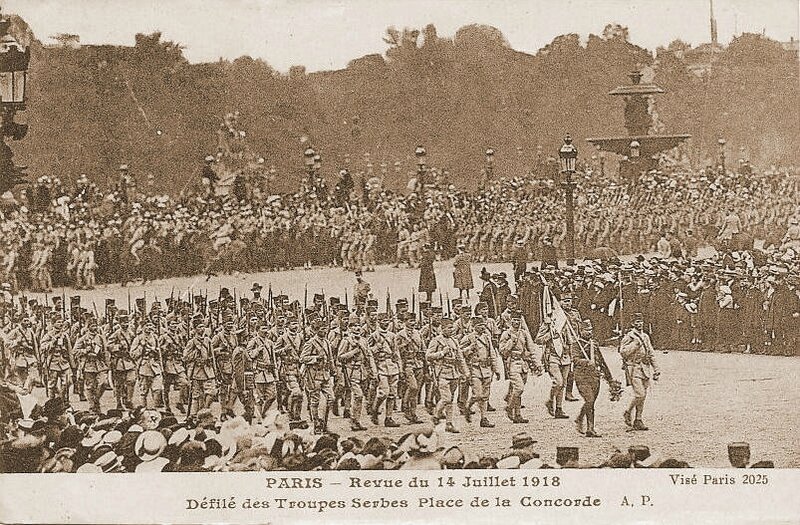 En dehors de villes françaises, il n'y a que six villes dans le monde a avoir eu le privilège d'être décorées de la Légion d'honneur. C'est le cas de Belgrade qui reçut cette distinction le 28 décembre 1920 pour son courage heroïque durant la Première Guerre Mondiale. Une plaque commémorative de l'évènement est visible à l'Hôtel de Ville de Belgrade (Stari Dvor).
Apart French cities, only six cities in the world have had the privilege of being decorated with the Legion of Honor. This is the case of Belgrade which received this distinction on December 28, 1920 for its heroic courage during the First World War. A plaque commemorating the event is visible at the Belgrade City Hall (Stari Dvor).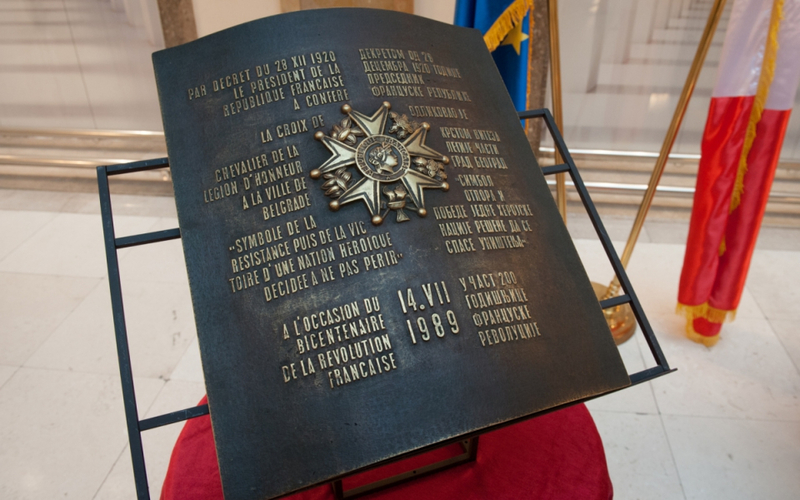 Journal de guerre du Roi Pierre Ier de Serbie, rédigé en français (Fondation Pierre Ier - Topola - Serbie) / War diary of King Petar I, written in french (Foundation of King Petar I - Topola - Serbia) :
Cimetière militaire français de Belgrade dans lequel repose 375 soldats tués lors de la Première Guerre Mondiale. Chaque année une cérémonie commémorative a lieu en novembre en l'honneur de ces soldats tombés sur le front d'Orient / French WWI cemetery where 375 french soldiers lie. Every year takes place in november a commemorative ceremony in honour of those soldiers who fell on the Eastern front :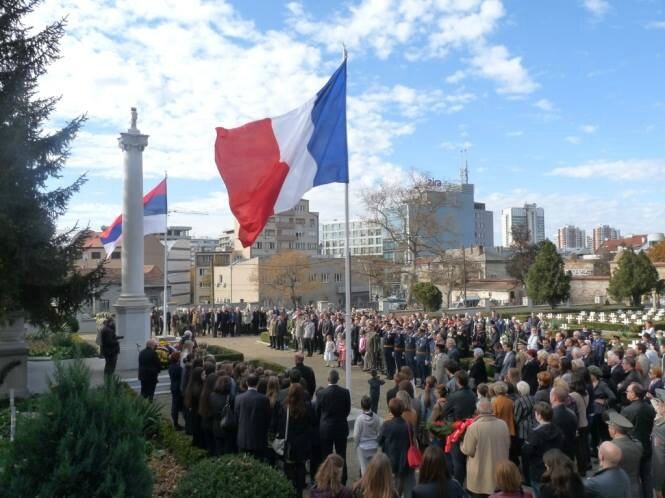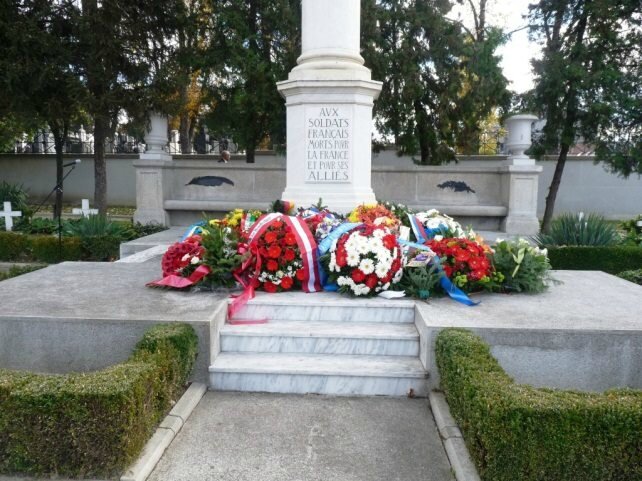 Pavillon de la Serbie à l'Exposition Universelle de 1900 à Paris / Serbian pavilion at the Exposition Universelle held in Paris in 1900 :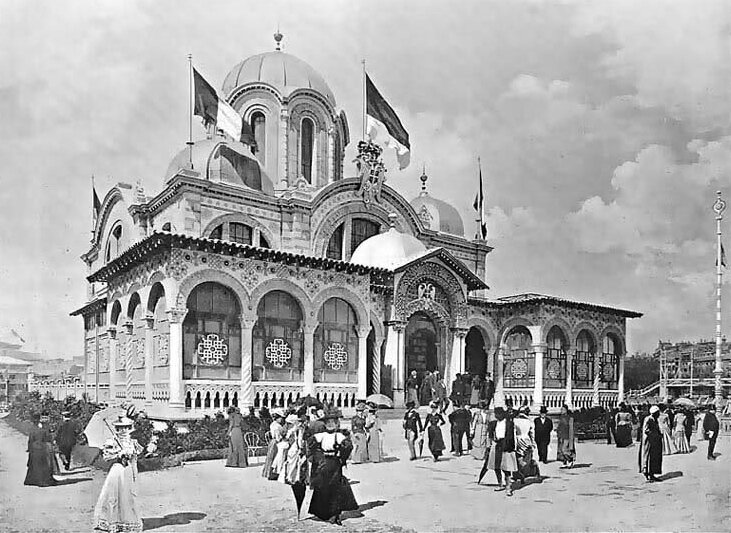 Ulica Francuska (pronnoncer Oulitsa Frantsouska) : Rue de France / Street of France :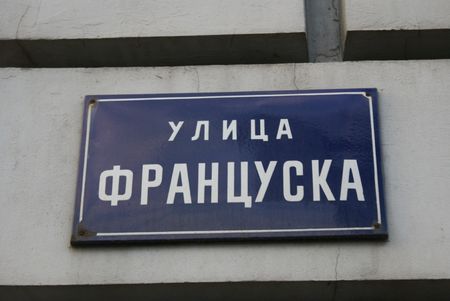 Boulangerie Française : La Petite Cantine - Dobračina 19, 11000 Belgrade :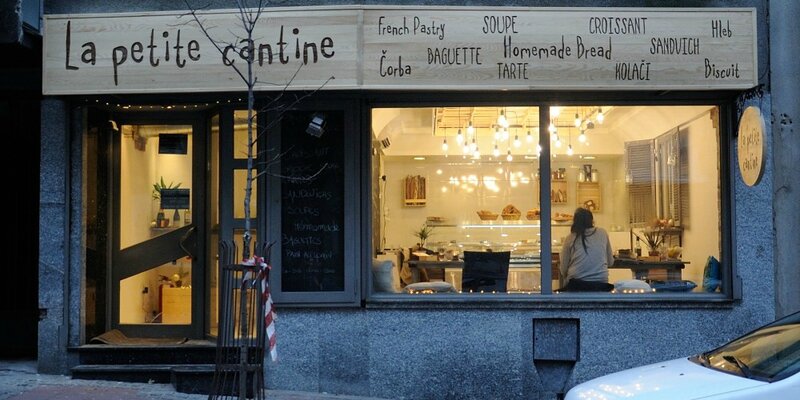 La France à Belgrade, c'est aussi des bars, des restaurants...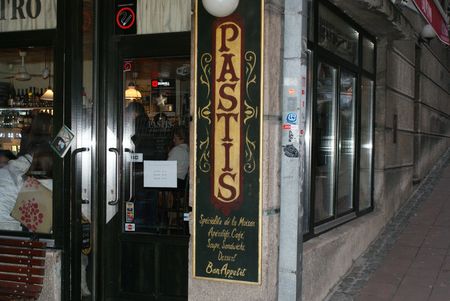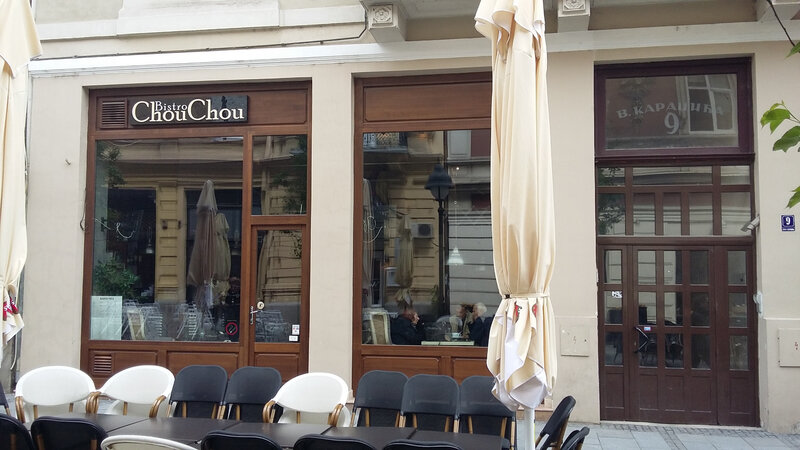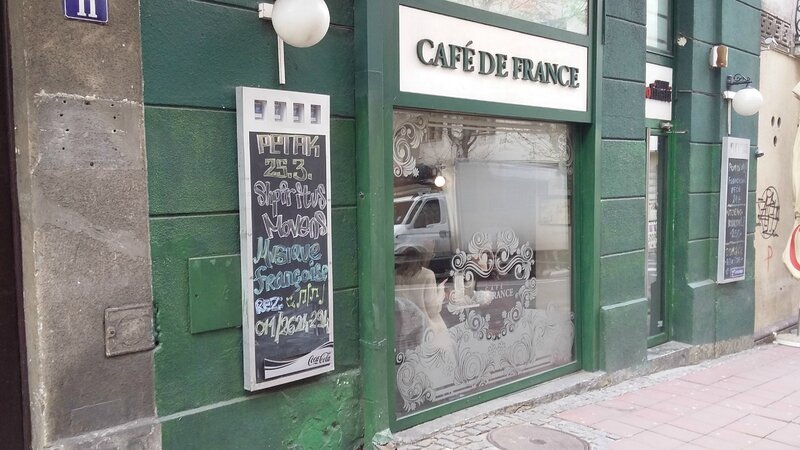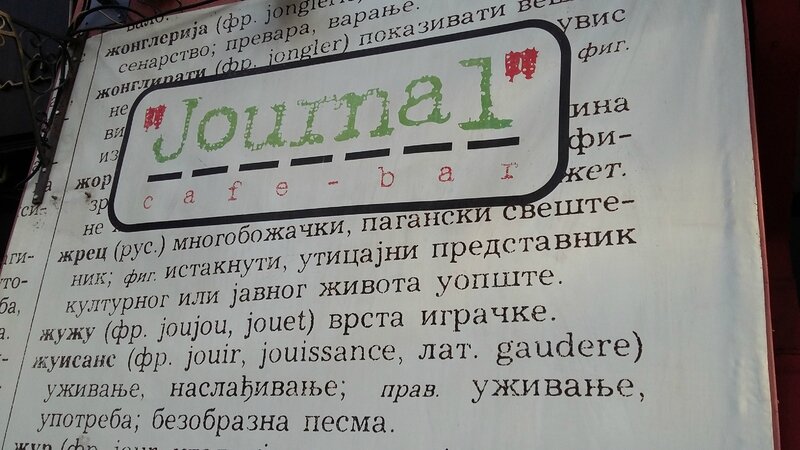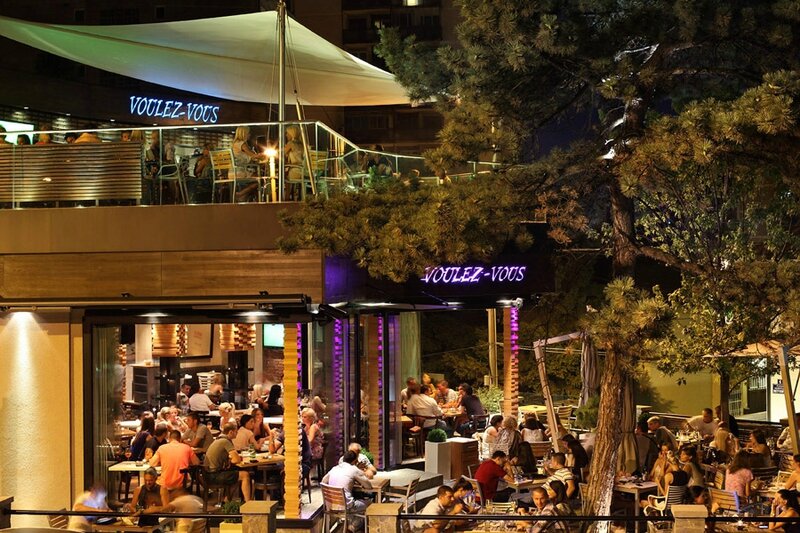 Salon du livre francophone / French-language book fair :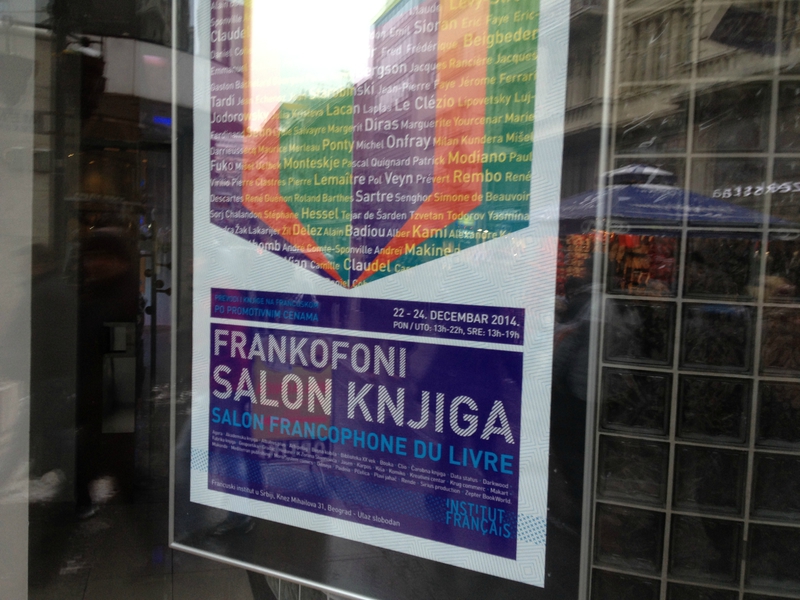 Chambre de commerce Franco-Serbe. 10 Kosovska - 11000 Belgrade / Franco-Serbian chamber of commerce :
Web site : http://www.ccfs.rs/
A l'image du Tour de France, La Serbie aussi a son "TOUR" :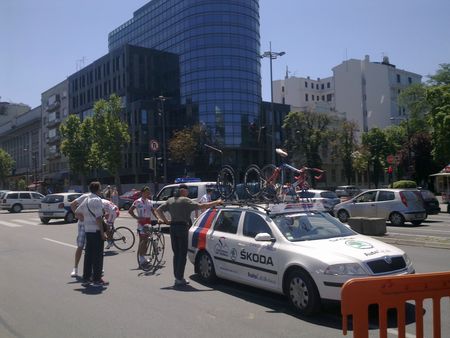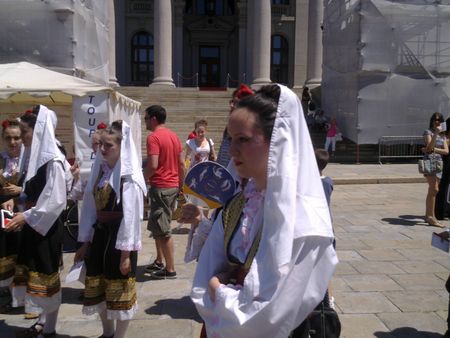 Mai 2014, inondations en Serbie. Sapeurs sauveteurs de la Sécurité Civile de Nogent-le-Rotrou en action dans la région de Kostolac, à l'est de Belgrade / May 2014, flodds in Serbia. French rescuers from Nogent-le-Rotrouin action in Kostolac area, eastern Belgrade :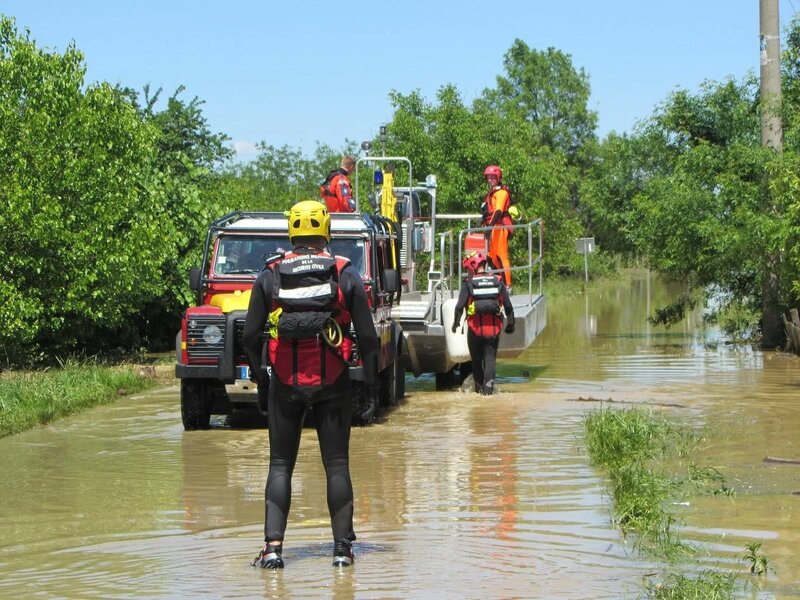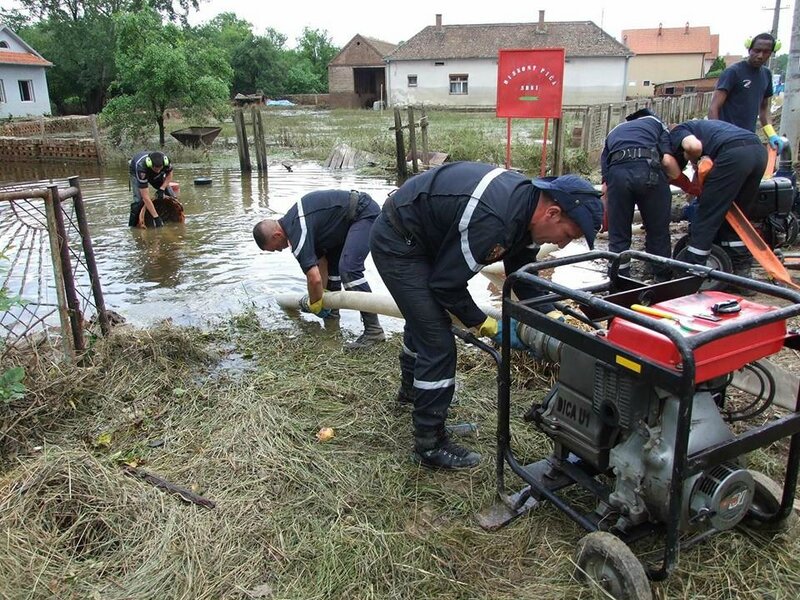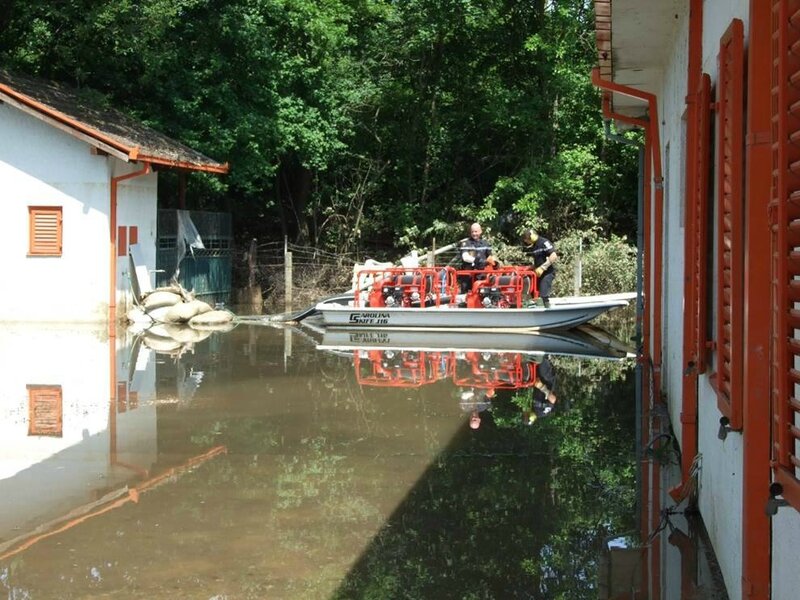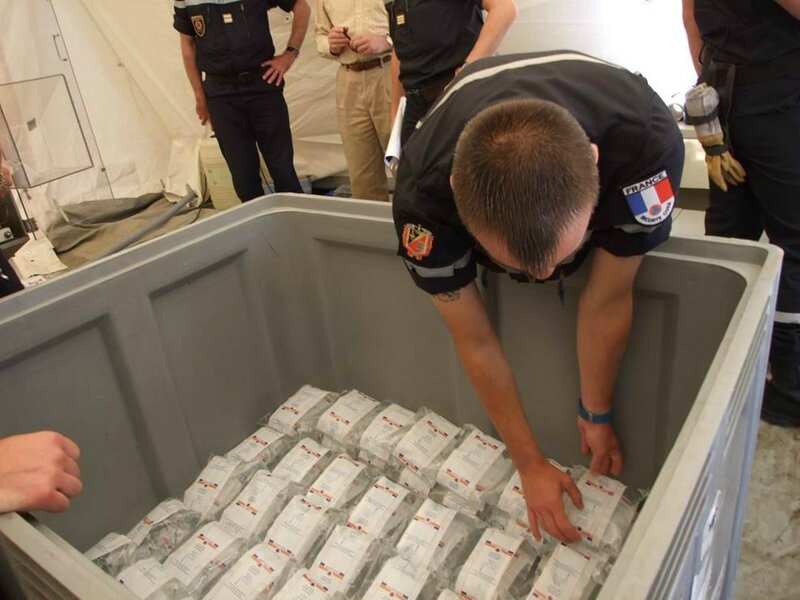 Septembre 2014 : visite de Gerard Depardieu à Belgrade / Gerard Depardieu visit Belgrade :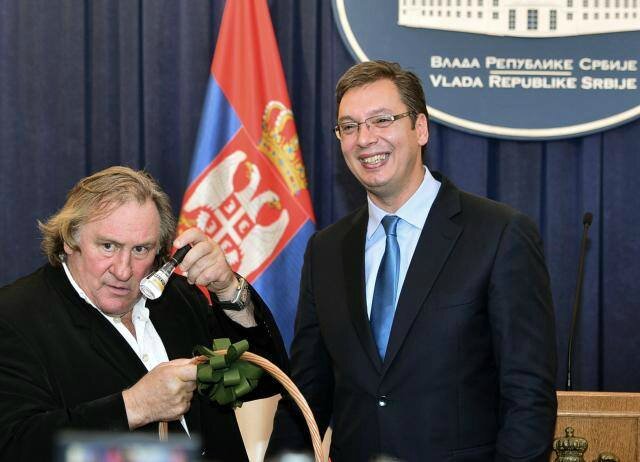 Charles Aznavour, premier concert à Belgrade le 17 janvier 1969 / 19.01.1969, first concert of Charles Aznavour in Belgrade (Dom Sindikata) :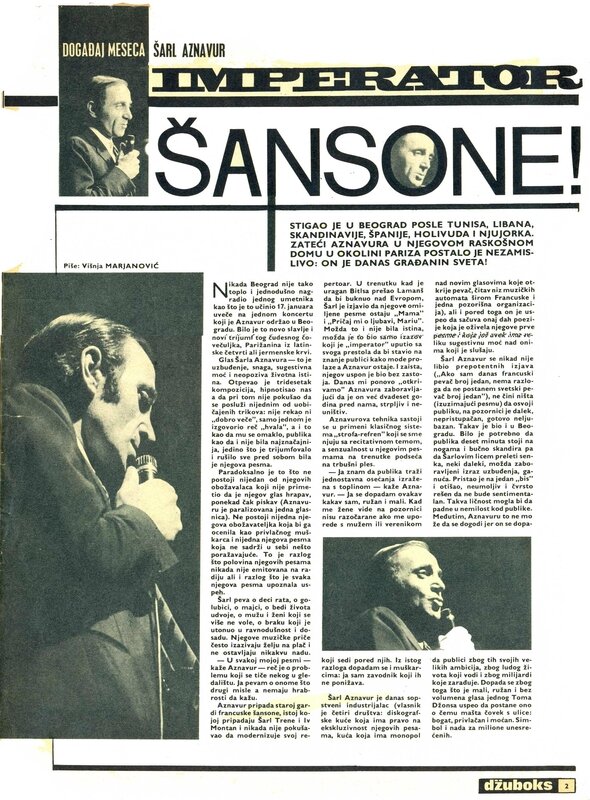 7 et 8 novembre 2014 : Visite officielle du premier ministre Manuel Valls en Serbie. Visite des sinistrés d'Obrenovac suite aux inondations, rencontre à Belgrade avec le premier ministre Alexandar Vucic, discours devant le monument "A la France" au parc de Kalemegdan, dépôt de gerbes.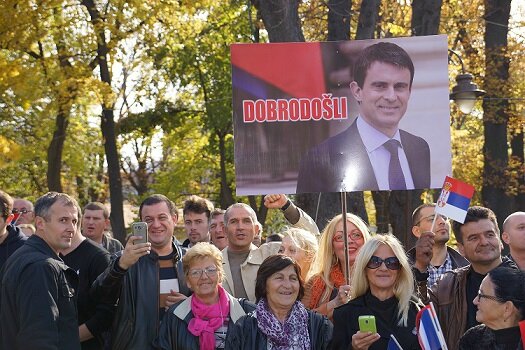 Veilles voitures Citroën / old Citroën cars :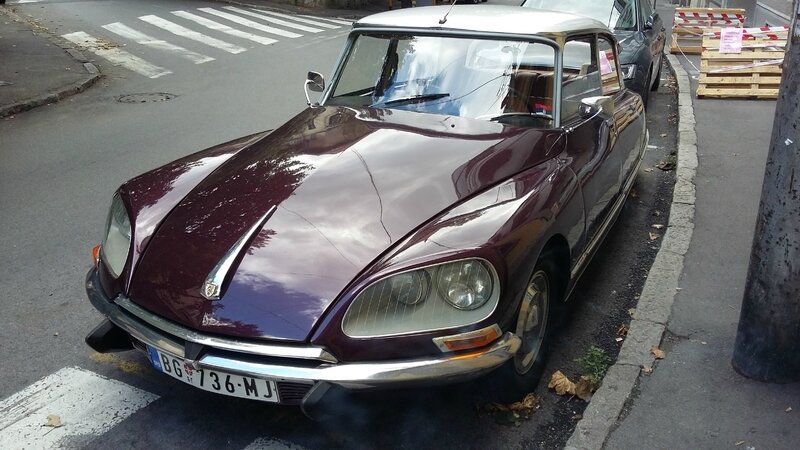 Pain blanc français ( Француски хлеб бели /Francuski hleb beli) :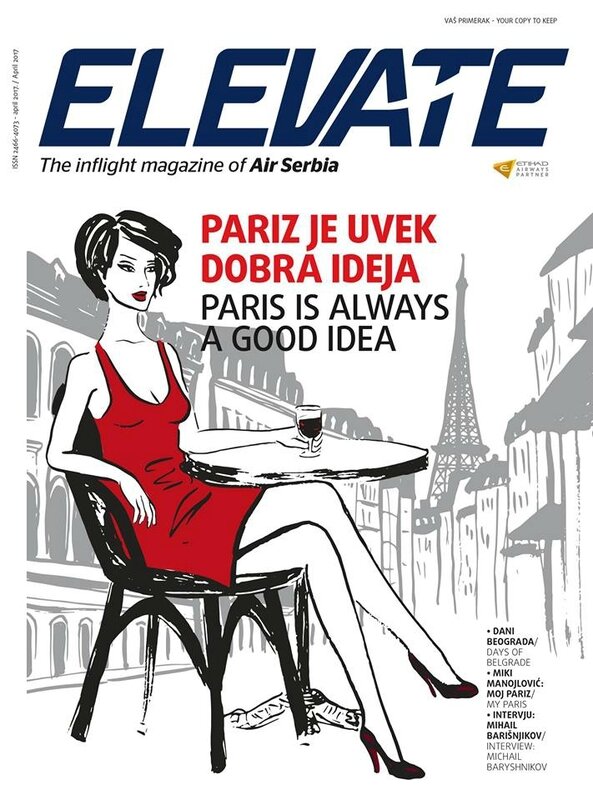 La langue Serbe a emprunté un certain nombre de mots à la langue Française à travers les siècles, en voici quelques exemples / The Serbian language has borrowed a significant number of words from the French language throughout the centuries, here are some examples :
Galicizam / Gallicismes :
abažur / abat-jour
afiša / affiche
ambalaža / emballage
ambasada / ambassade
amortizer / amortisseur
angina / angine
ansambl / ensemble (artistique)
apartman / appartement
atelje / atelier
ataše / attaché (dipl.)
azil / asile
bajonet/ baïonette
bareljef / bas-relief
bataljon / bataillon
beretka / béret
bicikl / bicyclette
biro / bureau
bizaran / bizarre
bižu / bijou
bižuterija / bijouterie
bonbone / bonbon
brošura / brochure
buket / bouquet
butik / boutique
komesar / commissaire
deviza / devise
drenaža / drainage
ekran / écran
egoist / egoïste
emisija / émission
epoha / époque
epoleta / épaulette
eskadra / escadre
ešarpa / écharpe
ešelon / échelon
eskadrila / escadrille
espadrile / espadrille
fakultet / faculté
fotelja / fauteuil
friteza / friteuse
frižider / frigidaire
galantan / galant
galon / galon (mil.)
garnitura / garniture
garnizon / garnison
giljotina / guillotine
grimasa / grimace
gurman / gourmand
guvernal / gouvernail
kabare / cabaret
Kadet / cadet (mil.)
Kalambur / calambour
kamion / camion
kamuflaža / camouflage
kanal / canal
karabin / carabine
karamela / caramel
karton / carton
karusel / carrousel
kasarna / caserne
katastrofa / catastrophe
katedrala / cathédrale
klinika / clinique
kliše / cliché
klošar / clochard
koketa / coquette
komentar / commentaire
kompot / compote
konkubinat / concubinage
kondukter / conducteur
košmar / cauchemar
krem / crème
krep / crêpe
kreten / crétin
krupije / croupier
kulisa / coulisse
lavabo / lavabo
liker / liqueur
loža / loge
luksuz / luxe
luster / lustre
maketa / maquette
makro / maquereau
mansarda / mansarde
marioneta / marionnette
marka / marque
marš / marche (mil.)
masaža / massage
masakr / massacre
meni / menu
metro / metro
milijarda / milliard
milijarder / milliardaire
minijatura / miniature
mitraljez / mitrailleuse
moda / mode
montaža / montage
nonšalantno / nonchalant
novator / novateur
pantalone / pantalon
papirmaše / papier mâché
parfem / parfum
parket / parquet
pasaž / passage
paspartu / passe-partout
paž / page
pejzaž / paysage
perika / perruque
pire / purée
pidžama / pyjama
pikantan / piquant
plafon / plafond
platan / platane
plaža / plage
portret / portrait
reglaža / réglage
reklama / réclame
remorker / remorqueur
repertoar/ répertoire
revanš / revanche
revolt / révolte
rezerva / réserve
rezime / resumé
režiser / régisseur
rezultat / résultat
rubrika / rubrique
šal / châle
šampanjac / champagne
šansone / chanson
šansonijer / chansonnier
šarada / charade
šarlatan / charlatan
šarmantna / charmante
šef / chef
šifon / chiffon
šifra / chiffre
šik / chic
šofer / chauffeur
stereotip / stéréotype
sufle / soufflé
tapiserija / tapisserie (beaux-arts)
tekstil / textile
tranša / tranche
trotoar / trottoir
uzuelan / usuel
vinjeta / vignette
vitraž / vitrail
vitrina / vitrine
voal / voile
vodvilj / vaudeville
žandarmerija / gendarmerie
žanr / genre (film)
žardinjera / jardinière
žargon / jargon
žeton / jeton
žurnal / journal
žurnalizam / journalisme
Prononciation :
| | |
| --- | --- |
| š = ch comme : chambre | |
| č = ć = tch comme : match | |
| đ = dž = dj comme : jean (le pantalon) | |
| ž = j comme : jaune | |
| j = y de yoga | |
| s = s même s'il est entre 2 voyelles | |
| u = ou | |
| c = ts comme : tsar | |
| g = g comme : garage | |
Centre Novak Djokovic comprenant : courts ouverts et fermés, restaurant, shopping area, spa, salle des trophées etc...Adresse : Tadeausa Koscuska 63a (le long du Danube)
Novak Djokovic Tennis Center : outdoor and indoor tennis courts, restaurant, shopping area, spa, trophy room etc... Adress : Tadeausa Koscuska 63a (along Danube river)
http://www.teniskicentarnovak.com/en/#/HOME-01-00/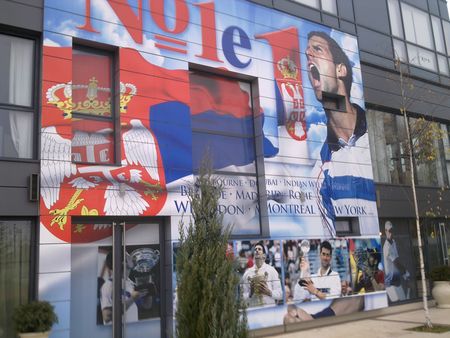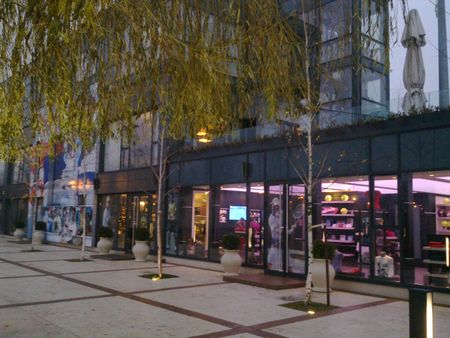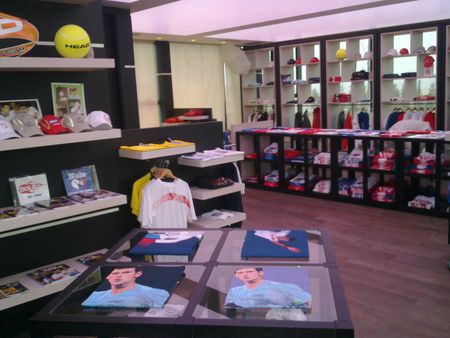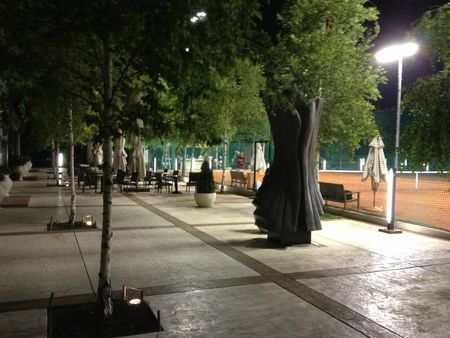 Musée / Expo Tehnika Narodu
Présentation de l'évolution des techniques et des produits manufacturés dans la Yougoslavie des années 50 à 70.
Museum / Exhib Tehnika Narodu
Exhibition about improvements in techniques and products manufactured in Yugoslavia in the 50's till the 70's.
Adresse : Botićeva 6, Belgrade
Heures d'ouverture / Working hours :
Tous les jours, sauf le lundi, de 10.00 à 18.00 / from 10.00 a.m. to 6.00 p.m. every day except Mondays.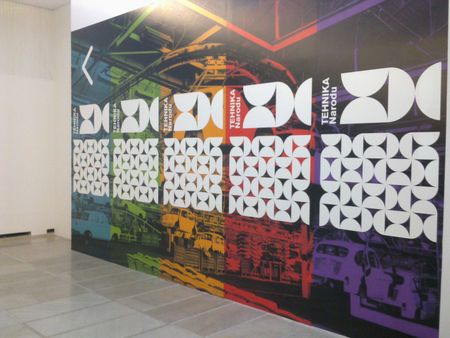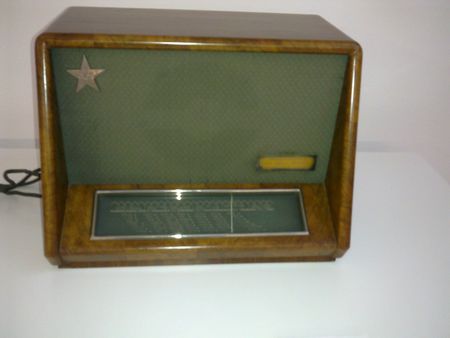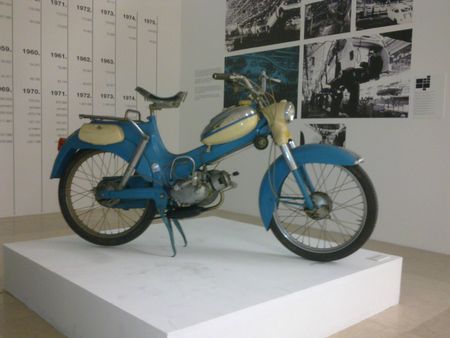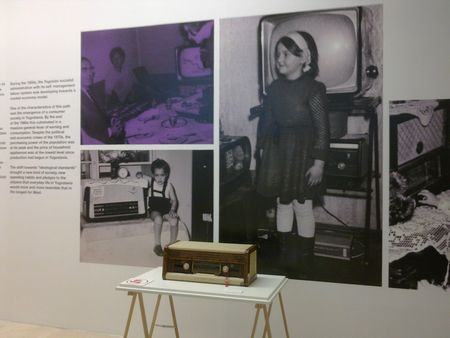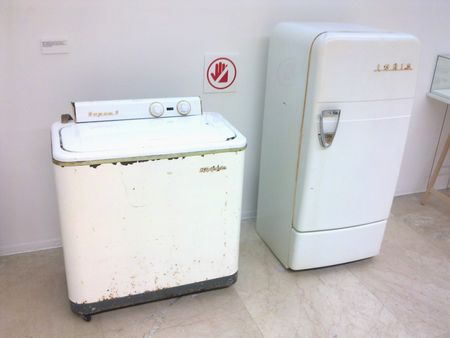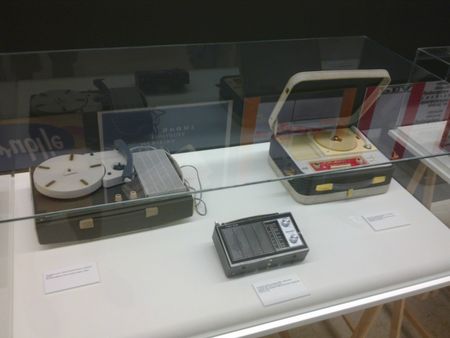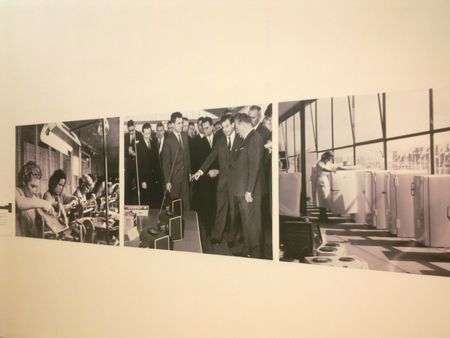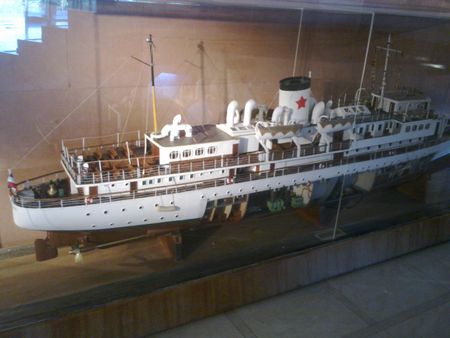 Belgrade se trouve au conluent du Danube et de La rivière Save, frontière entre Belgrade historique et Nouveau Belgrade (Novi Beograd). Vous trouverez sur Dundavski Kej (quai du Danube), des bars et restaurants sur l'eau, des pistes cyclables, des chemins de promenade.
Belgrade is at the confluence between Danube and Sava river, frontier between old Belgrade and new Belgrade (Novi Beograd). You will find on Dunavski Kej (Danube quay), bars and restaurants on the river, roads for cycling or for a walk.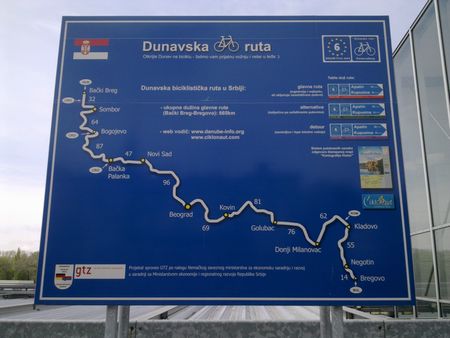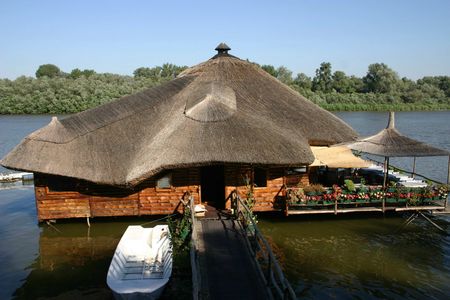 Couché de soleil sur le Danube /Sunset on Danube river :
Pecheurs sur la Save /Fishermen on Sava river :