FLATS .
Belgrade est riche en appartements à louer de qualité et entièrement équipés, à la nuité ou pour des séjours plus longs. Vous pouvez par exemple en trouver chez / Belgrade offers many fully equipped and high quality apartments to rent for a short or a long stay, for example at :
Autres adresses / other addresses :
http://www.rentbeograd.com/en/
http://www.sanapartmani.com/apartman.php?code=FLL029
HOTELS .
Vous trouverez facilement sur internet de nombreux hotels d'un très bon niveau à Belgrade. Les tarifs sont abordables pour une capitale. Le plus célèbre est certainement l'Hotel Moskva (hotel Moscou) qui a plus de 100 ans :
You will easily find on internet good standard hotels. Prices are not so expensive for a main town. The most famous is probably the Hotel Moskva, it was built more than 100 years ago.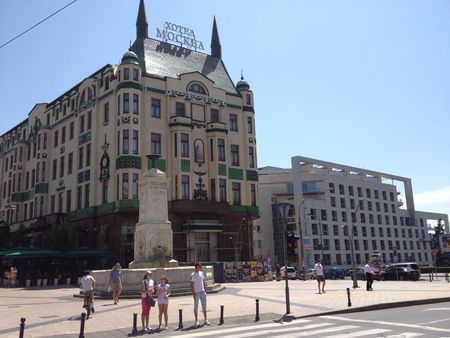 B & B .
Bed and breakfast :
Smokvica B & B : Molerova 33 - 11000 Belgrade. Tel +381 0694446403 (www.smokvica.rs)
Restaurants :
Ce qui m'a le plus surpris à Belgrade, c'est la qualité de la restauration. Par ailleurs, le service est toujours impecable. Il n'est pas rare d'y croiser un orchestre de 2 ou 3 personnes avec violon et accordon pour assurer l'ambiance sur des musiques traditionnelles, surtout dans le quartier de Skadarlija. N'oubliez pas de laisser un pourboire de 100 ou 200 dinars minimum (soit 1 ou 2 euros).N'oubliez pas de goûter les célèbres Ćevapčići, rouleaux de viande de boeuf hachée et grillée. N'hésitez pas à demander un menu en anglais.
Restaurants :
I was surprised with the great quality of food and restaurants in Belgrade, also, the staff is always very nice and friendly. You can easily find in those restaurants 2 or 3 people playing traditional music with violin and accordion, especially in Skadarlija street. Don't forget to leave a 100 or 200 dinars tip minimum. Don't forget to taste the famous Ćevapčići, rolls of beef meat minced and grilled. Do not hesitate to ask a menu in english.
Quelques bonnes adresses / some good restaurants :
. Mala Fabrika Ukusa / La petite fabrique des saveurs (Nebojsina 49a, Beograd) - Cuisine Serbe nouvelle et originale. Mention spéciale pour ce restaurant de qualité qui dispose également d'une magnifique terrasse avec jardin clos pour les enfants. Very nice restaurant, new serbian cuisine with nice terrace and garden for children.
. Lorenzo & Kakalamba (Cvijiceva 110 - Beograd) - Cuisine serbe et italienne, ambiance kitsch / Italian and serbian food, kitsch atmosphere
. Comunale (Karadjordjeva 2-4 - Beograd) - Cuisine serbe et italienne / Italian and serbian food
. Smokvica (Kralja Petra 73 - Beograd) - Cuisine soft et actuelle, ambiance cosy / soft and modern food, warm and cosy atmosphere
. Cantina de Frida (Karadjordjeva 2-4 Beograd) - Cuisine Méditerranéenne / Mediteranean food
. Iguana (Karadjordjeva 2-4 - Beograd) - Cuisine fine et actuelle / modern and fine cuisine
. Dva Jelena (Skadarska 32 - Beograd) - Traditionnelle Serbe / serbian traditional
. Gusti Mora (Radnička 27 - Beograd) - Spécialités de poissons / fish and seafood specialities
. Pomodoro (Hilandarska 32 - Beograd) - Italien / Italian food
. Cubura (Mačvanska 1 - Beograd) - Traditionnelle Serbe et pour les gros mangeurs / serbian traditional
. Franš (Bulevar Oslobodjenja 18a - Beograd) - Grande cuisine traditionnelle / serbian traditional
. Monument (Čika Ljubina 9 - Beograd) - Cuisine Serbe et Méditerranéenne / Serbian and Mediteranean food
. Potkovica (Golsvordijeva 20 - Beograd) - Spécialités de viande de cheval / great horse meat
. Manufaktura (Kralja Petra 13-15 - Beograd) - Cuisine Serbe et Méditerranéenne / Serbian and Mediteranean food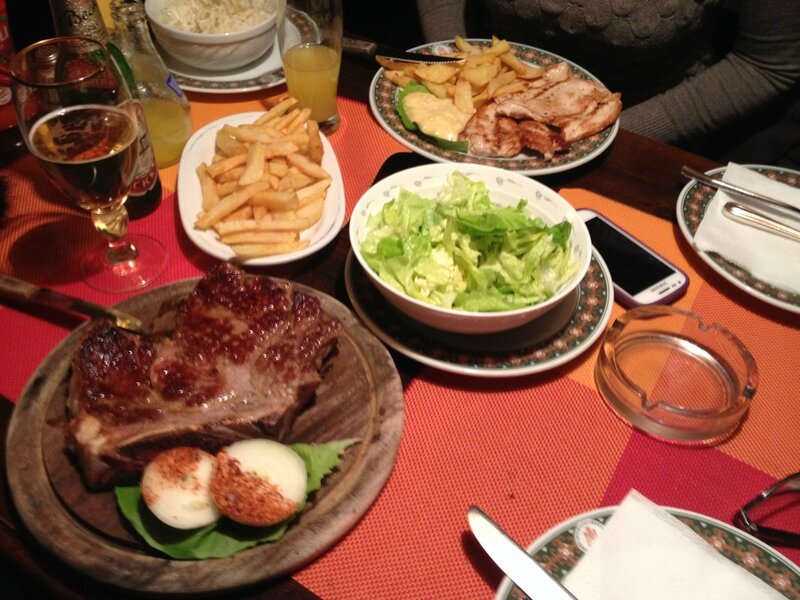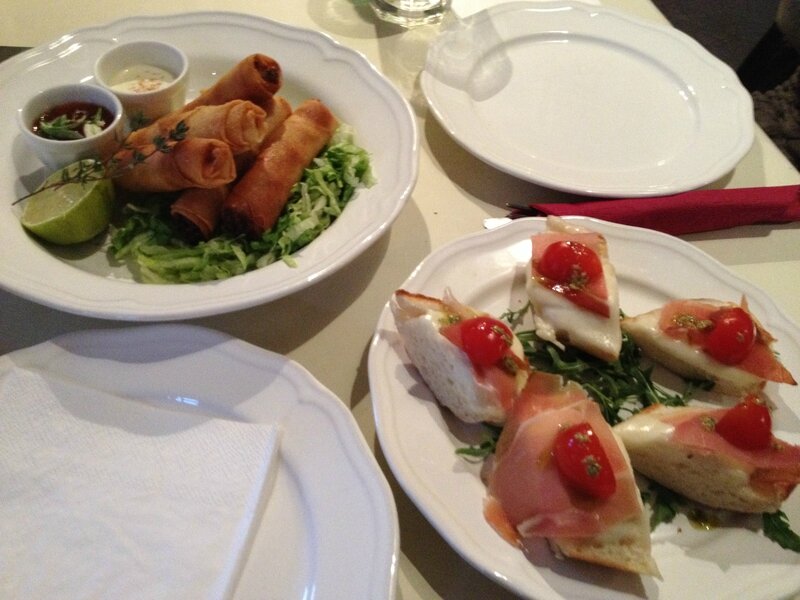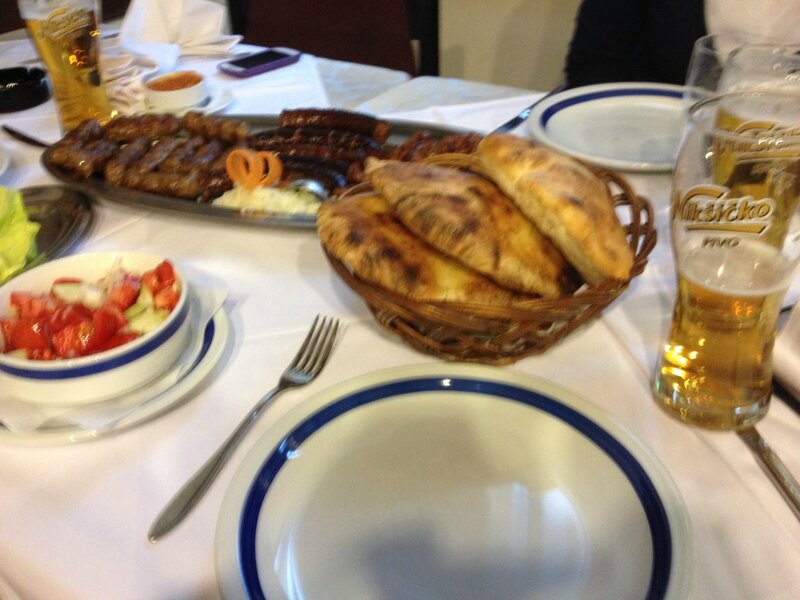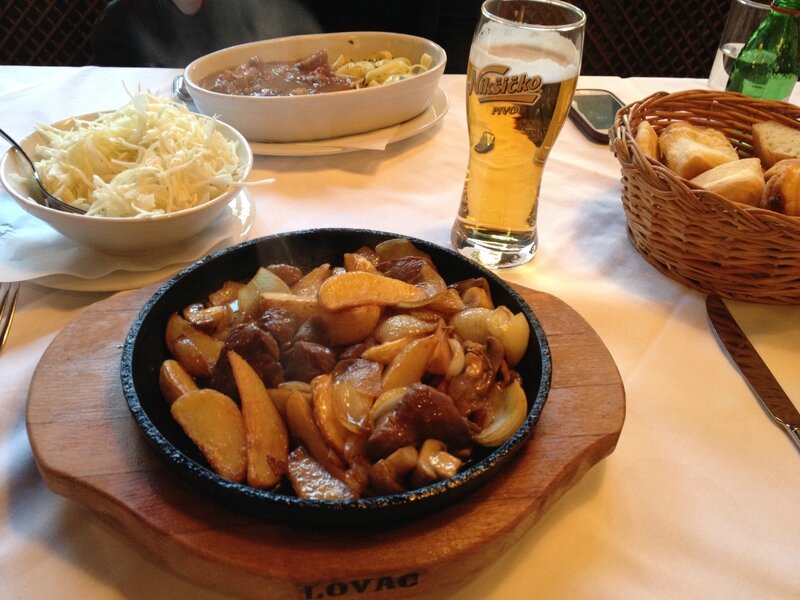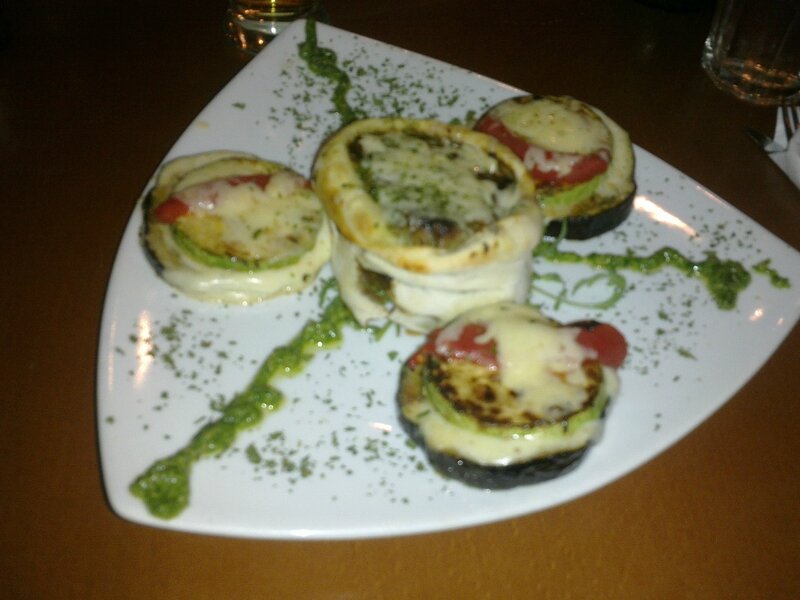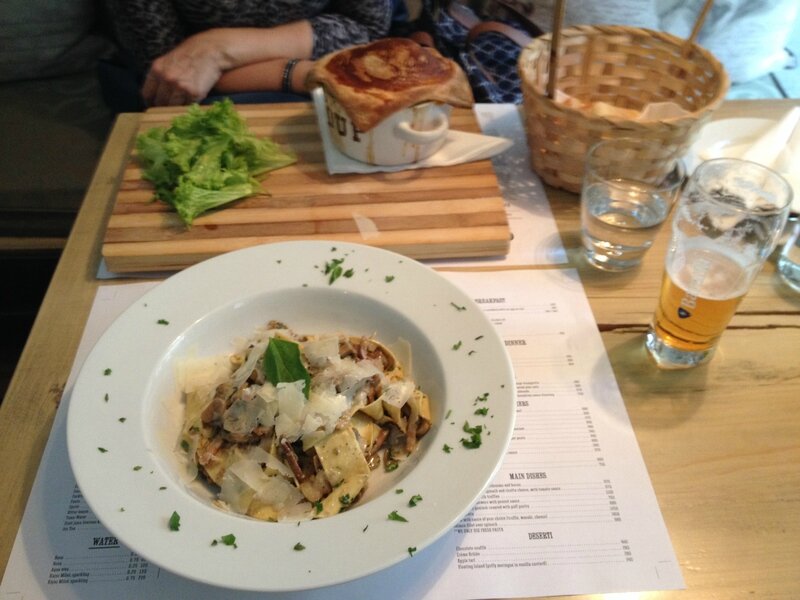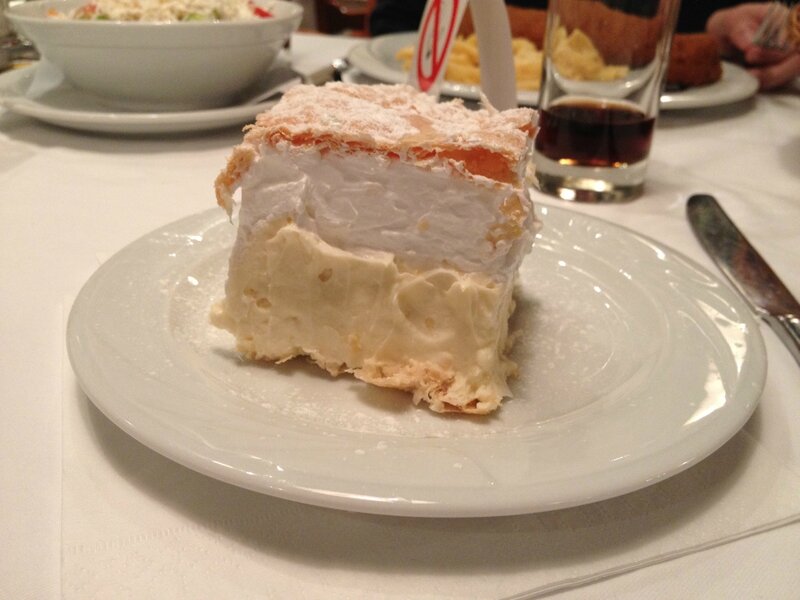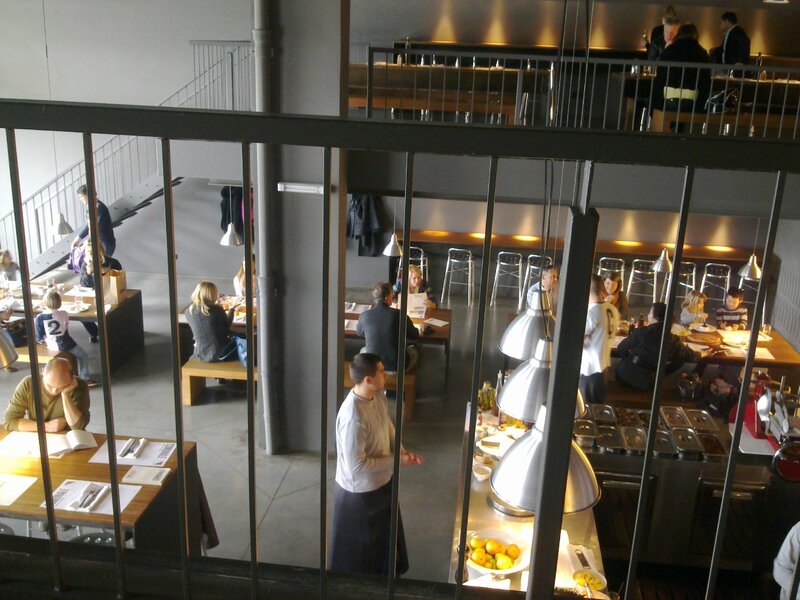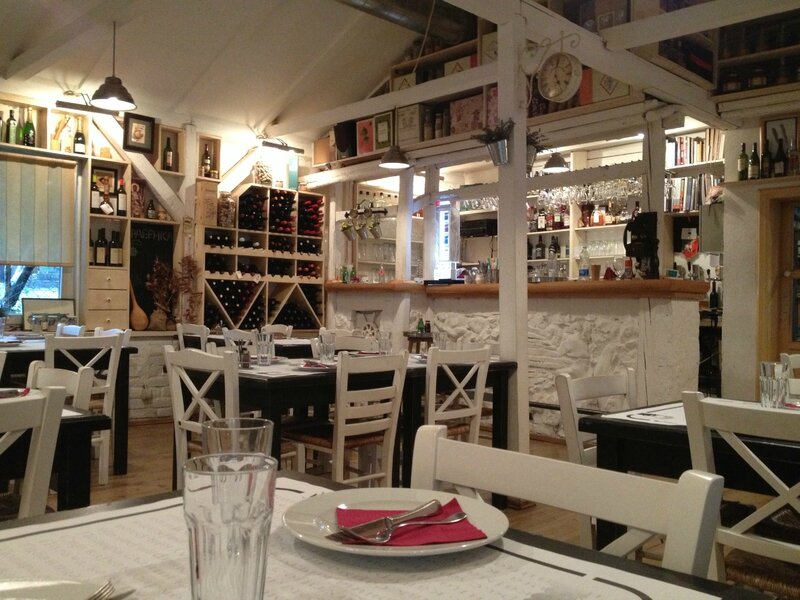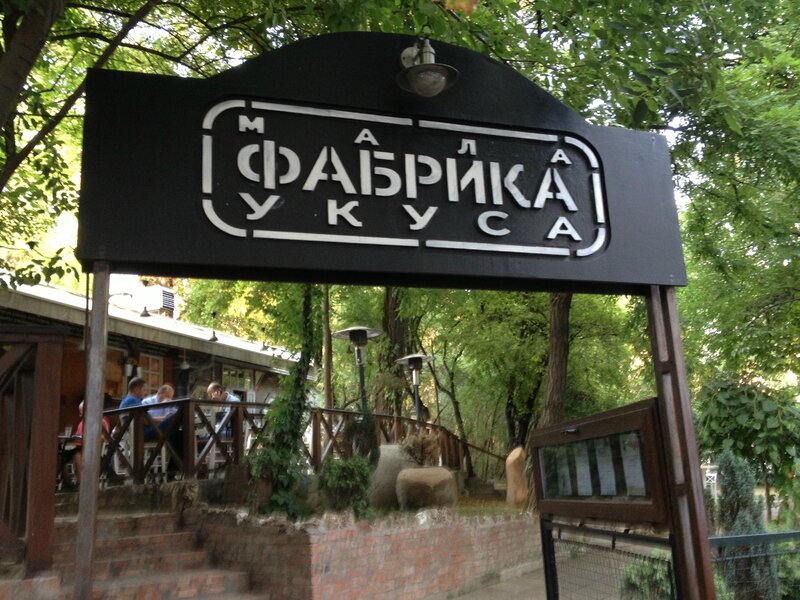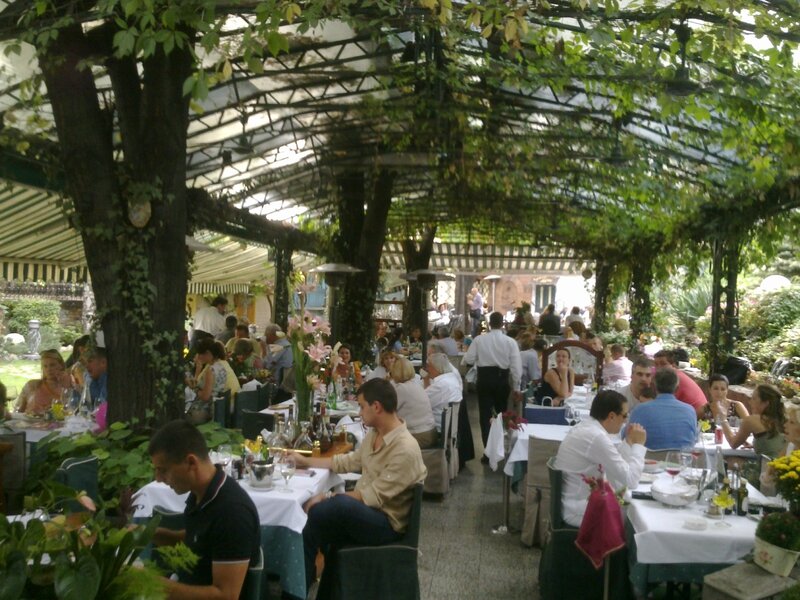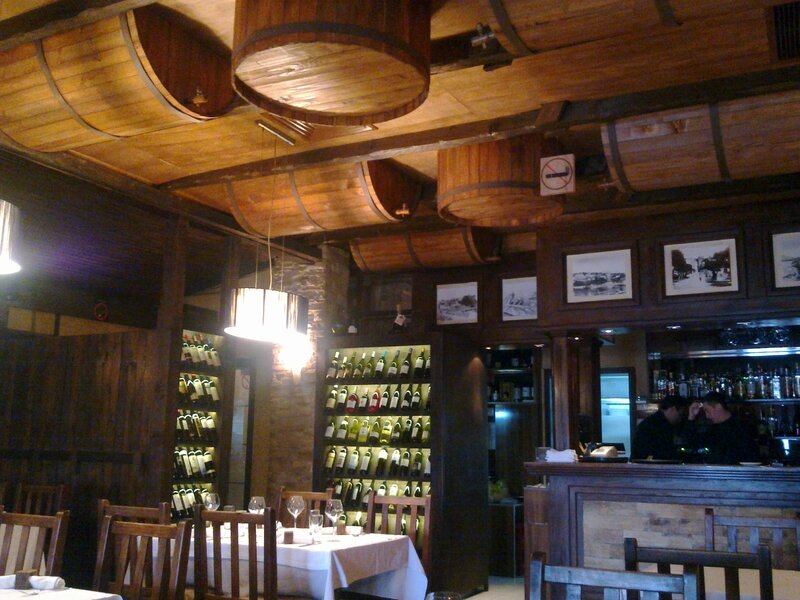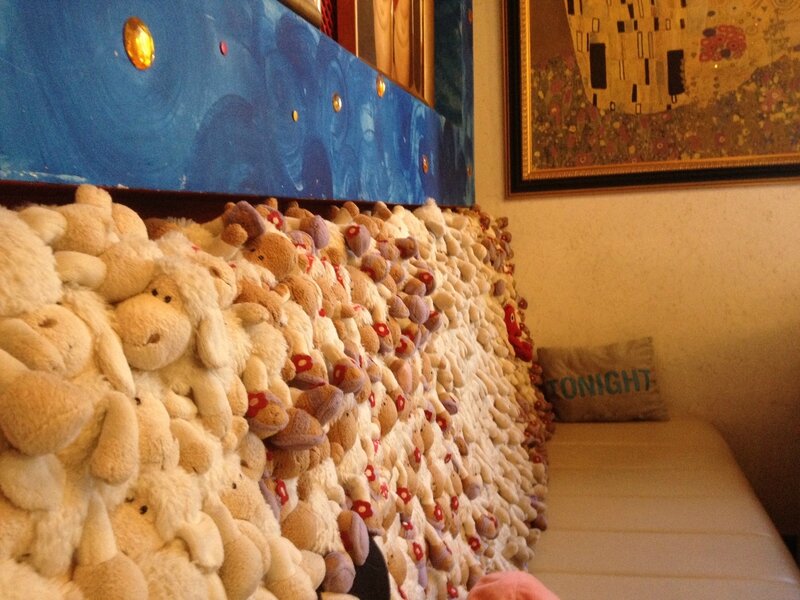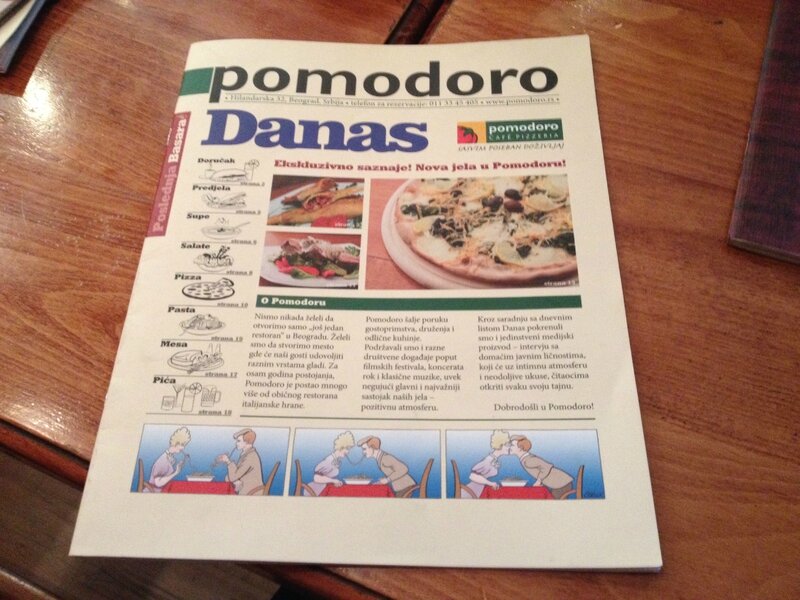 Pour déguster les meilleures patisseries de Belgrade / the best cakes in Belgrade:
. Mali Princ (Palmoticeva 27 - 11000 Beograd)
. Koki (Makenzijeva 66 - Vracar - 11004 Beograd)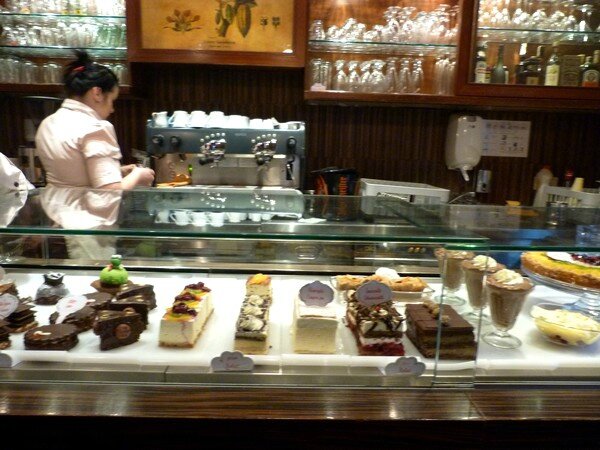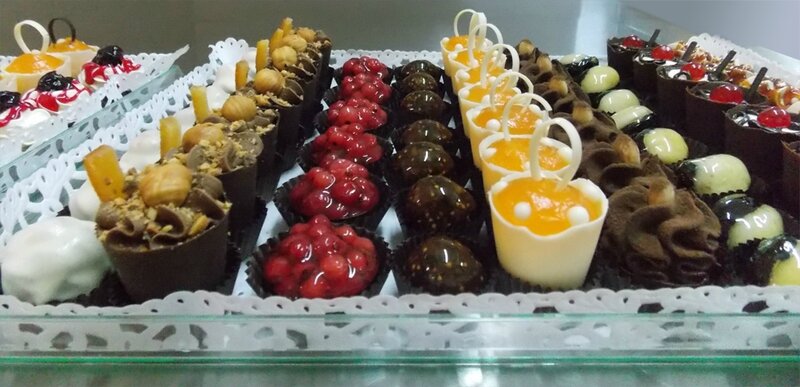 Bars :
Pour boire un bon café / To drink a good coffee :
. Speakeasy (Resavska 34 - Beograd), vous bénéficierez en plus d'une connection Wifi gratuite / with free internet access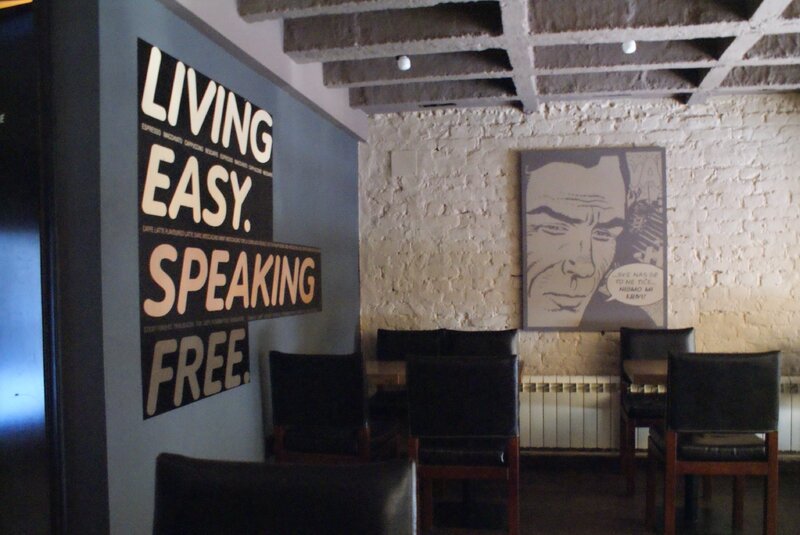 Coktail bar :
Vesele domaćice : Njegoševa 7, I sprat , 11000 Beograd, Vračar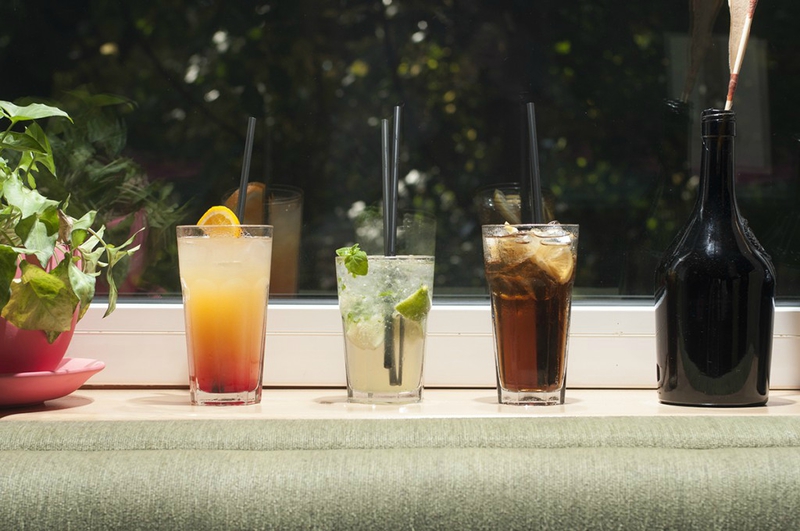 L'architecture des édifices est très contrastée à Belgrade. D'une rue à l'autre, vous pouvez passer d'une architecture de l'époque Austro Hongroise, à une architecture de l'époque communiste, et croiser de temps à autre un immeuble ultra moderne, c'est aussi ce qui fait le charme de cette ville :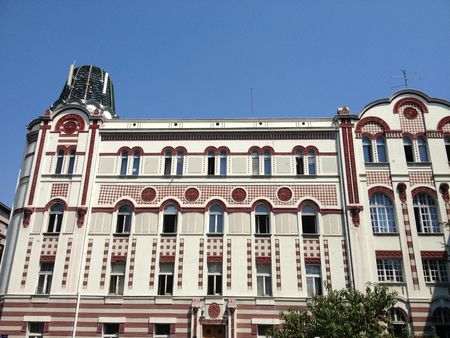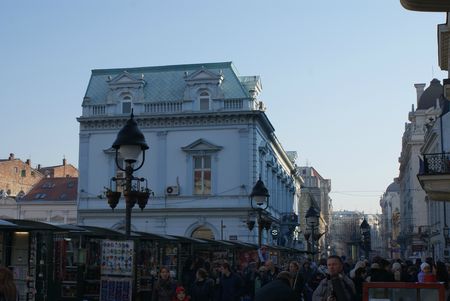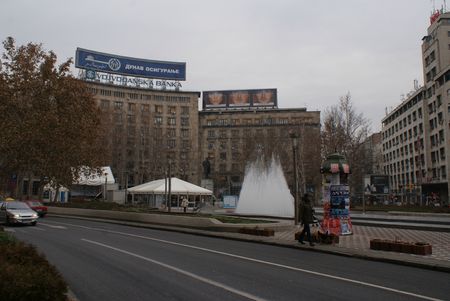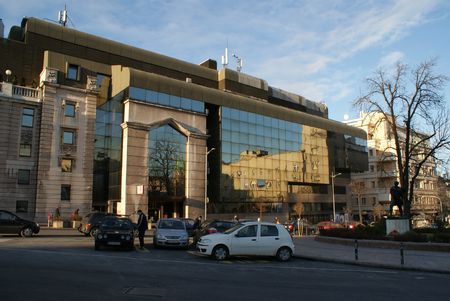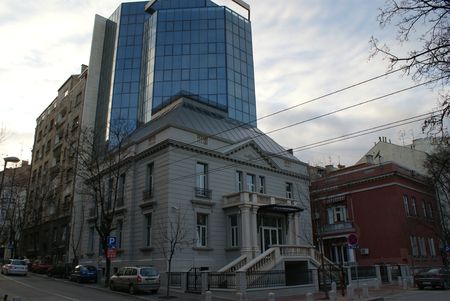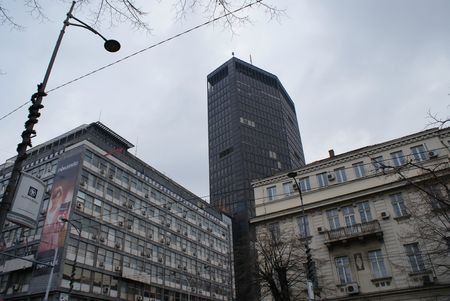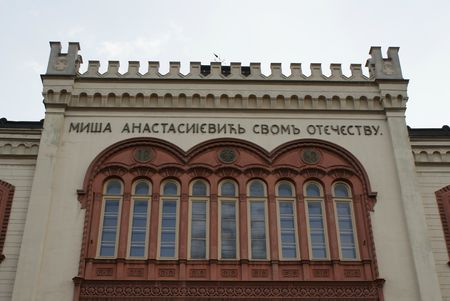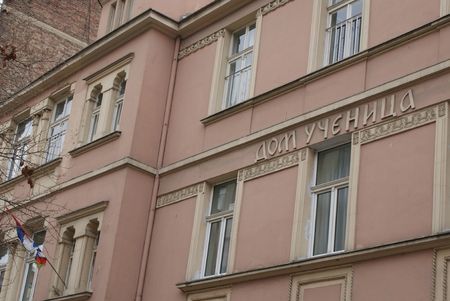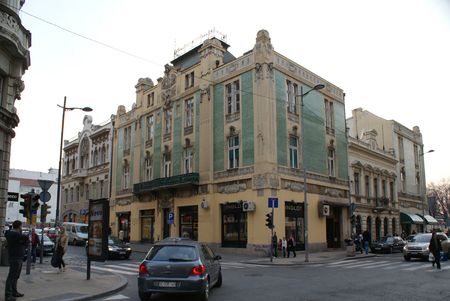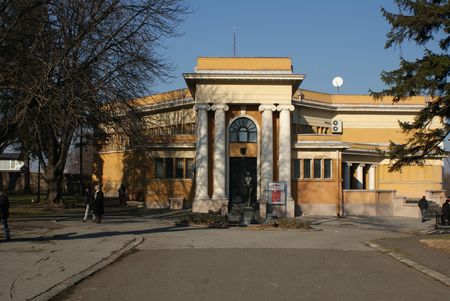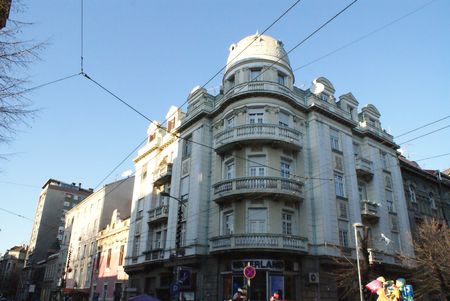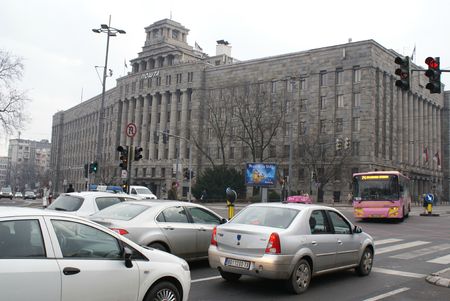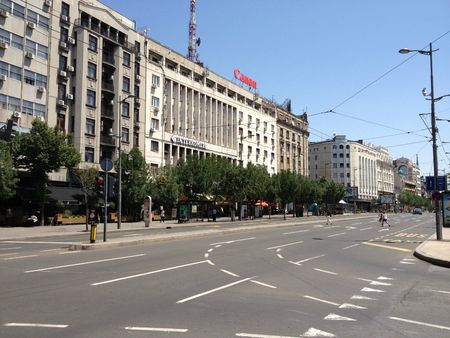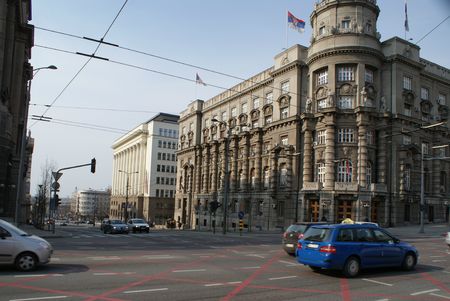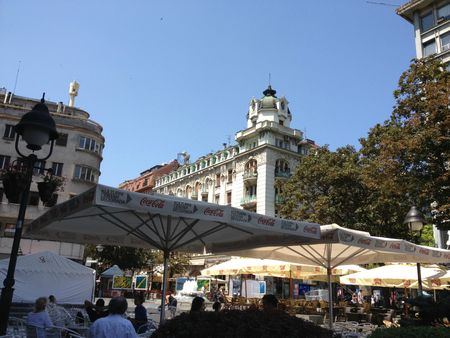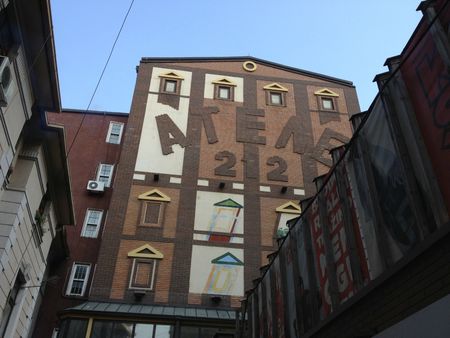 Commencée en 1935, sa construction fût arrêtée sous l'ère Tito. Sa construction et sa décoration ont repris en 2000. Elle peut contenir 10 000 personnes. Très impressionnate de l'extérieur avec sa coupole haute de 70 mètres.
Started in 1935, its construction was stopped during Tito's time. The construction and decoration started again in 2000. 10 000 people can go inside. The cupola stands at the height of 70 meters and makes it very impressive from outside.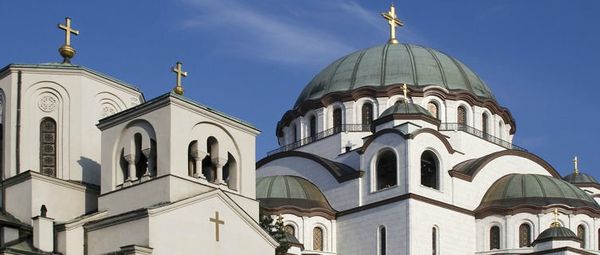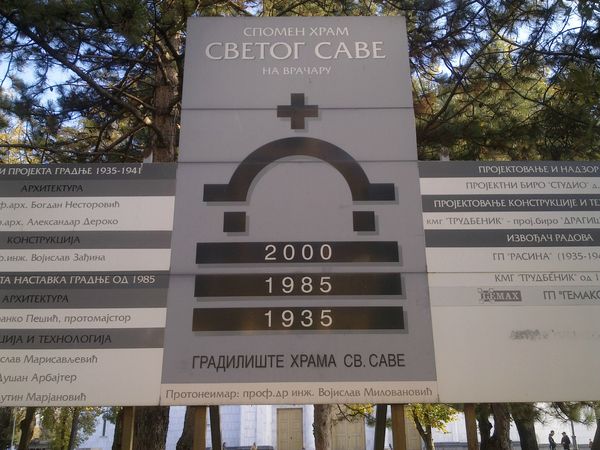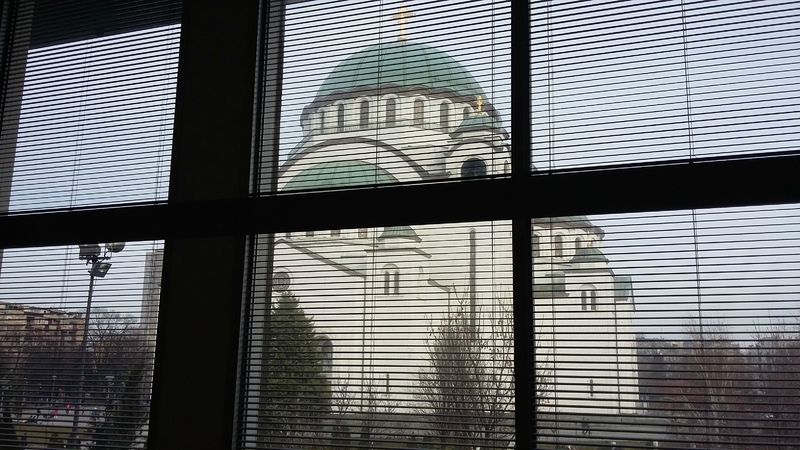 Devant la Cathedrale, la nuit / In front of the Cathedral at night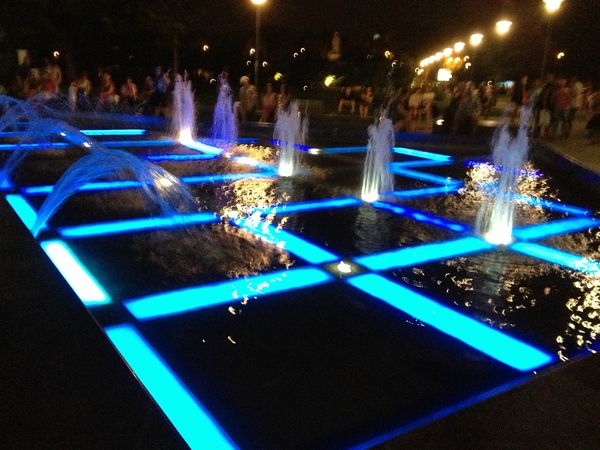 Crypte de la cathédrale Saint-Sava. Sa surface de 2000 m2, ses peintures de style byzantin, ses voûtes recouvertes de feuilles d'or, son immense lustre central, impressionnant ! / Saint-Sava crypt. 2000 m2 surface, paintings in the Byzantine style, vaults recovered with gold leaf and a large central chandelier, very impressive ! :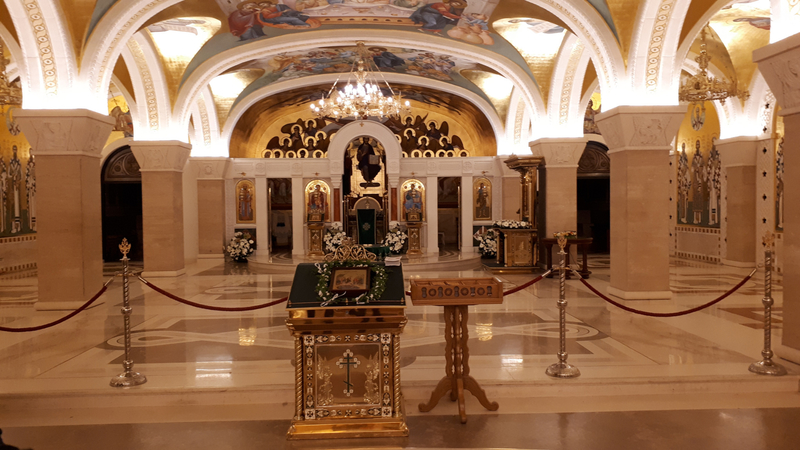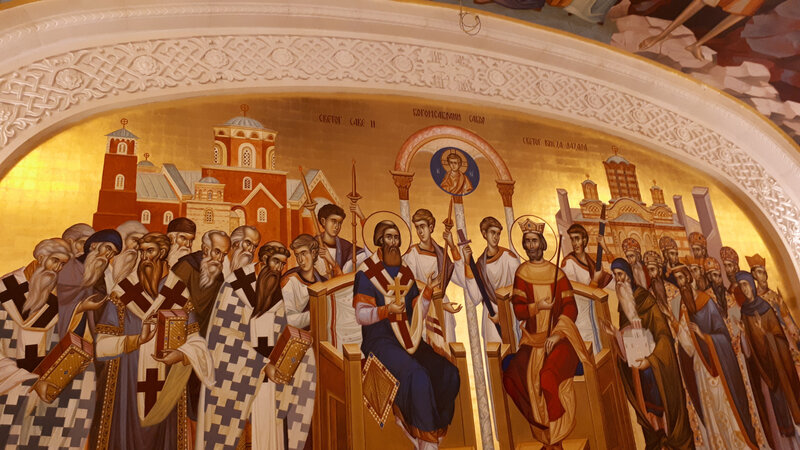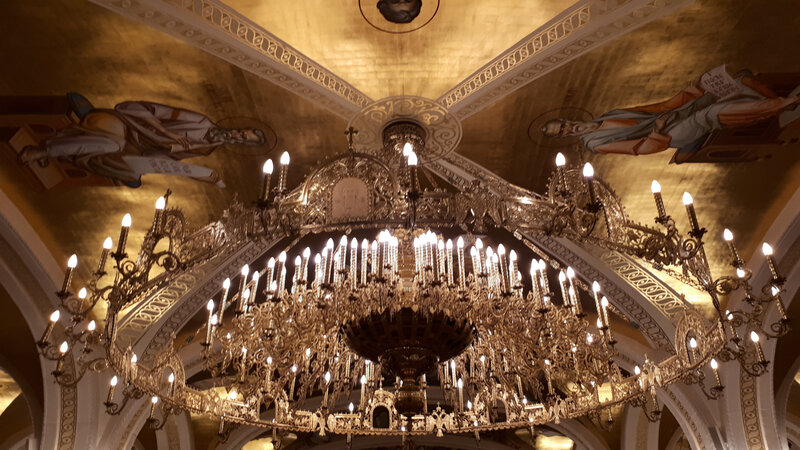 Vue aérienne / aerial view :
Nota :
Les Serbes sont en grande majorité chrétiens orthodoxes et fêtent Noël le 7 janvier suivant le calendrier Julien toujours en vigueur dans l'église Serbe.
A majority of Serbs is Orthodoxe and celebrate Xmas on the 7th of january according to Julian calendar.
Probablement le plus bel édifice religieux de Belgrade, cette église Orthodoxe fût construite de 1837 à 1840 sur ordre du Prince Obrenovic. Elle est située rue Knez Sime Markovica, a proximité de l'ambassade de France.
Probably the most beautiful Orthodoxe church in belgrade, was ordered by Prince Obrenovic and built from 1837 to 1840. This church is located on Knez Sime Markovica street, just near the French embassy.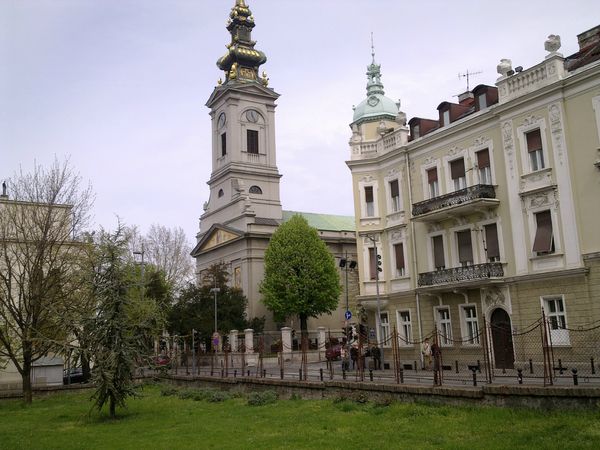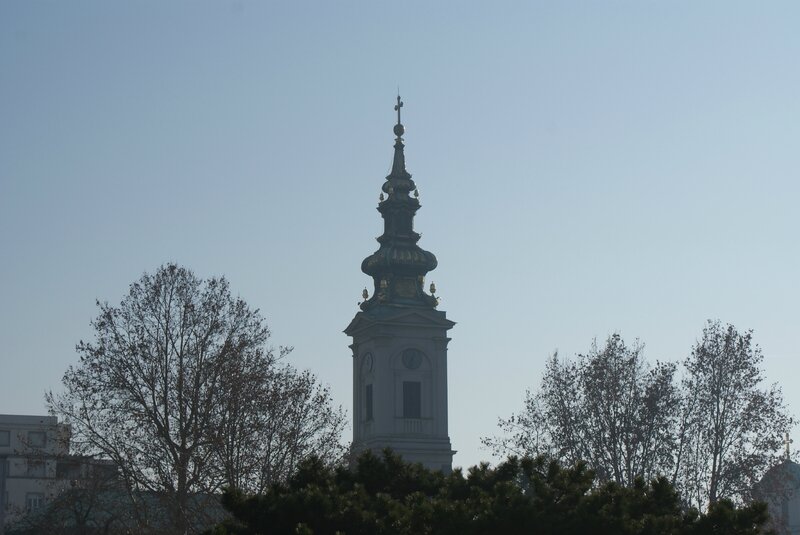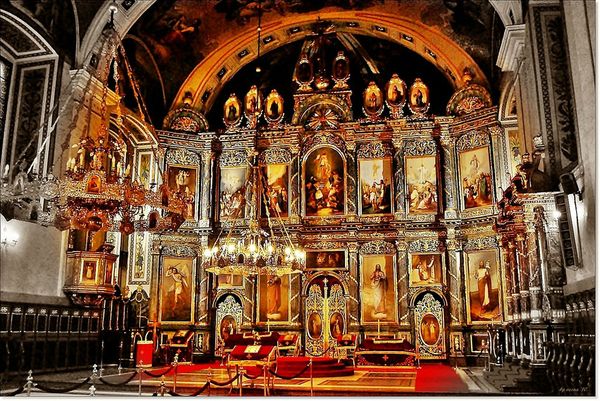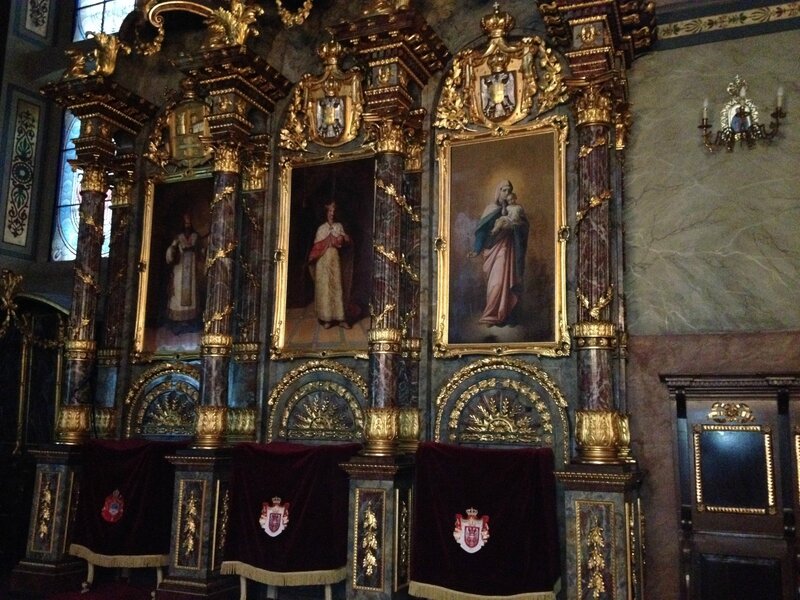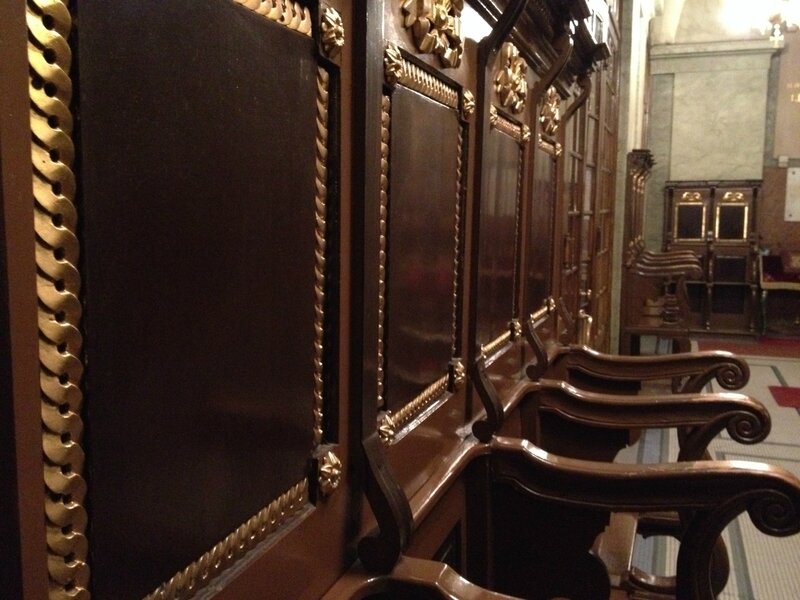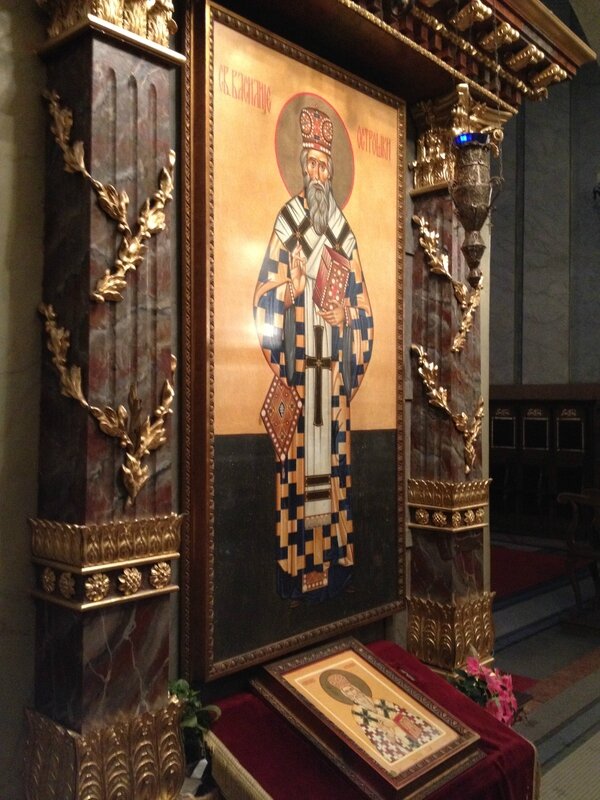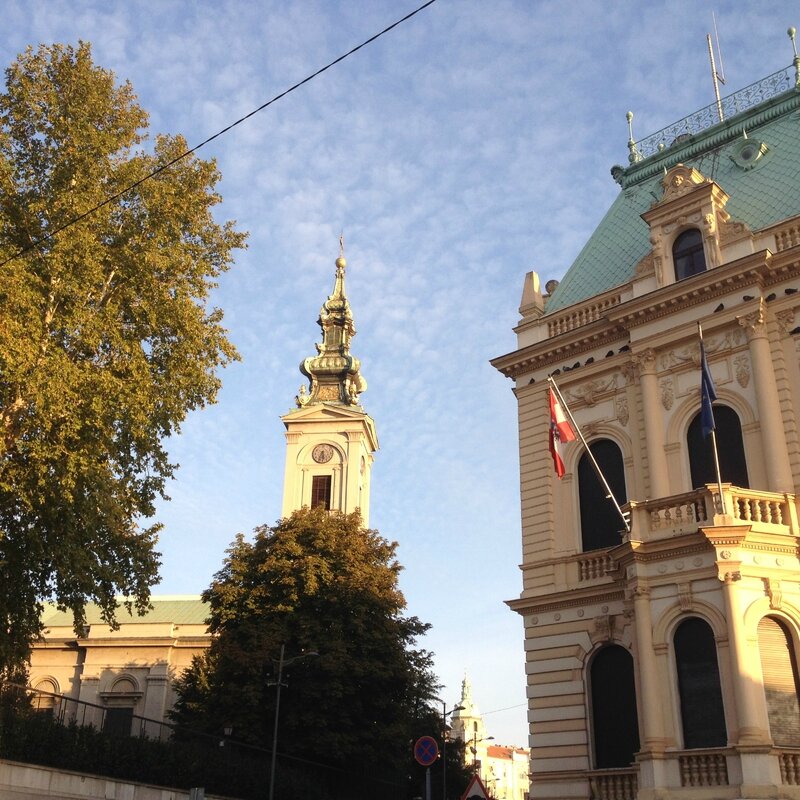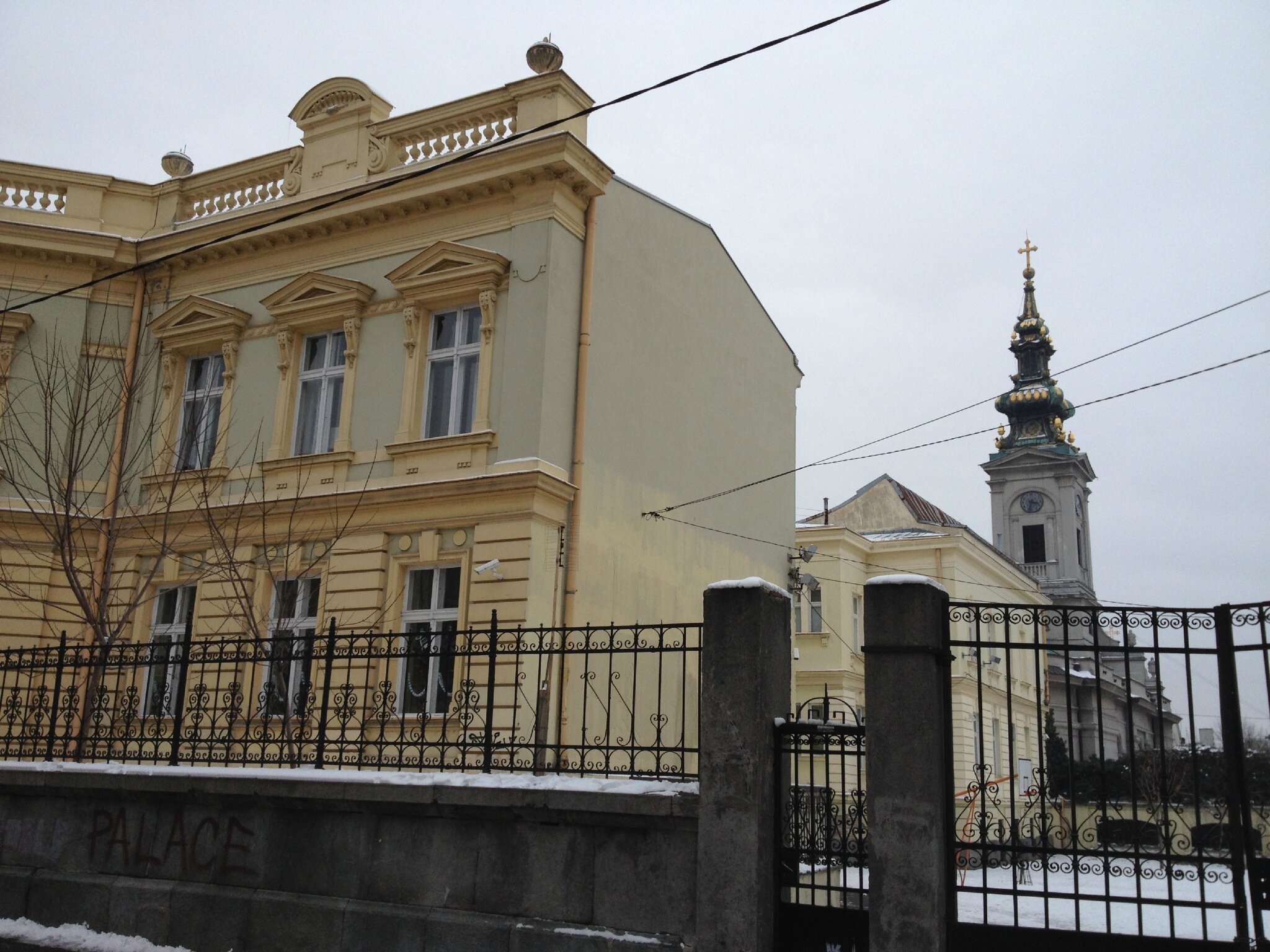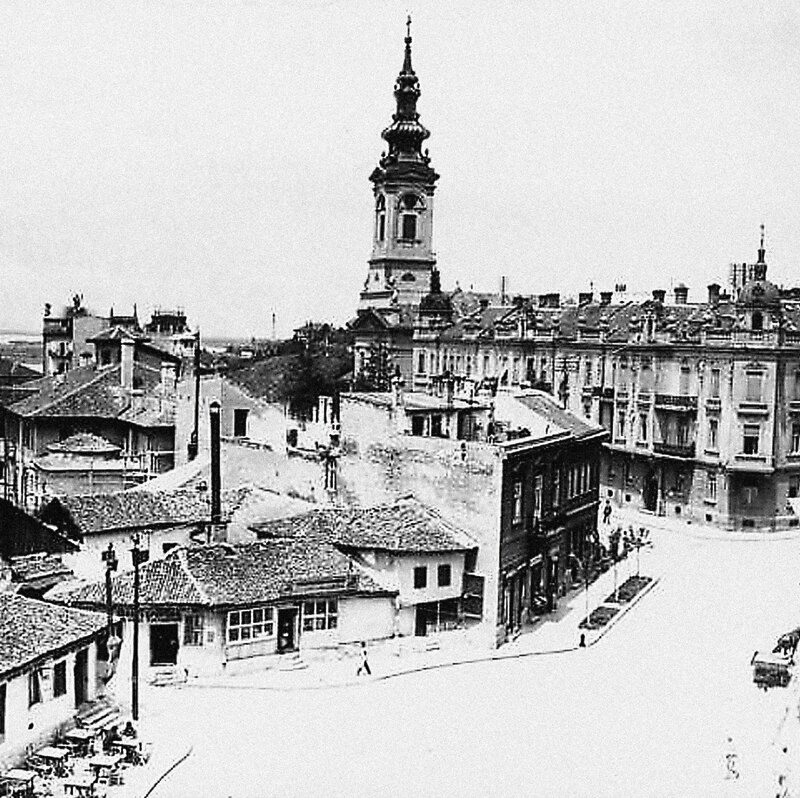 Adresse : Studenski Trg (place des étudiants). Web site : http://etnografskimuzej.rs/
Musée Ethnographique de Belgrade : très joli musée qui montre la grande diversité des costumes anciens des républiques de l'ex yougoslavie (Serbie, Croatie, Slovénie, Bosnie, Monténegro) du XIXème siècle et du début du XXème. Ces collections témoignent de l'héritage des cultures Ottomane et Byzantine. Sont présentés également différents types d'habitats anciens, vieux objets, broderies etc...
Ethnographic Museum of Belgrade. Nice museum showing the great diversity of traditional national costumes of ex-yugoslavia (Serbia, Croatia, Slovenia, Bosnia, Montenegro) from the 19th century and early 20th century. These collections testify about the inheritance and the influence of the Ottoman and Byzantin cultures. Also displayed : tools, ceramics, embroidery, domestic interiors etc...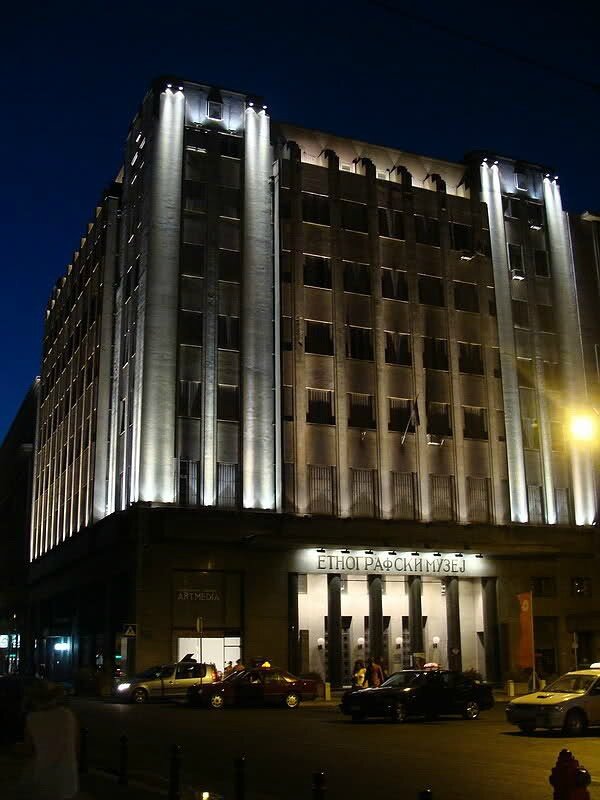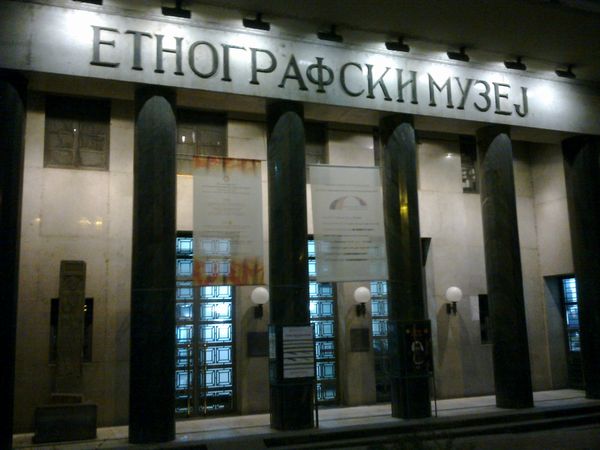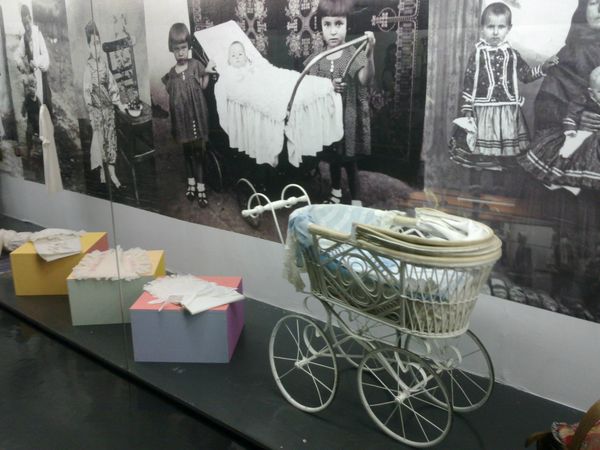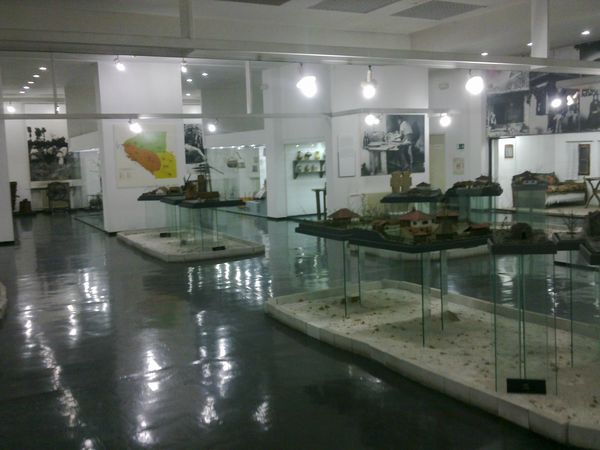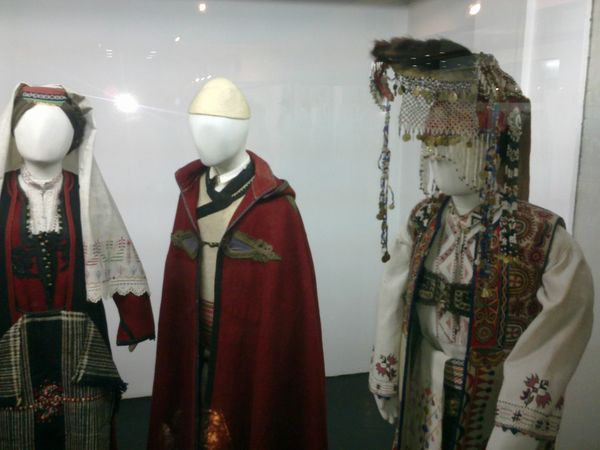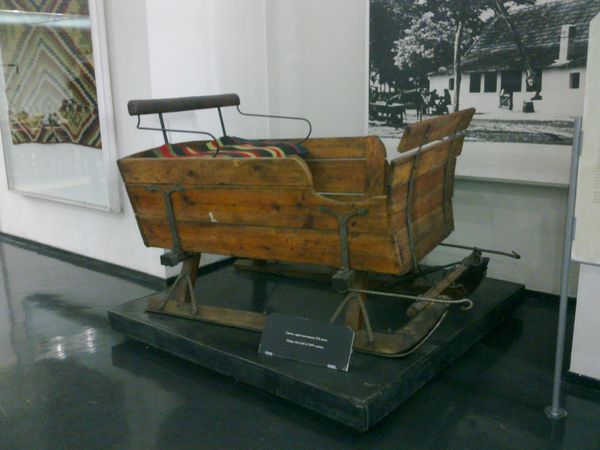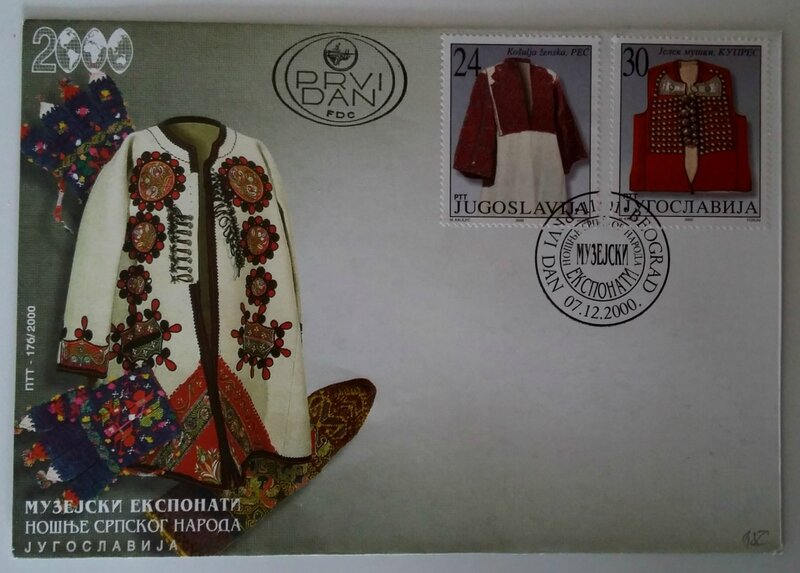 Kalemegdan provient des mots Turcs Kale (forteresse) et meydan (combat). il est fait mention de la forteresse au 3ème siècle dont les premières pierres auraient été posées par des tribus Celtes. Elle domine le confluent du Danube et de la Save. La forteresse de Kalemmegdan a ensuite traversé les siècles, à coups de constructions et de déconstructions, depuis l'empire Romain jusqu'à la fin de l'empire Ottoman. Conquise tour à tour par les Hongrois, les Bulgares, les Byzantins, les Turcs, les Autrichiens...C'est l'endroit le plus visité de Belgrade.
Kalemegdan comes from Turkish words Kale (fortress) and maydan (fight). Fortress is for the first time mentionned in the 3rd century and it seems celtic tribes started to buit it. Located at the junction of the Sava river and the Danube, the fotress was successively built and destroyed from Roman Empire till the end of Ottoman Empire after it was conquered by Hungarians, Bulgarians, Byzantins, Turks, Austrians...It is the most visited place in Belgrade.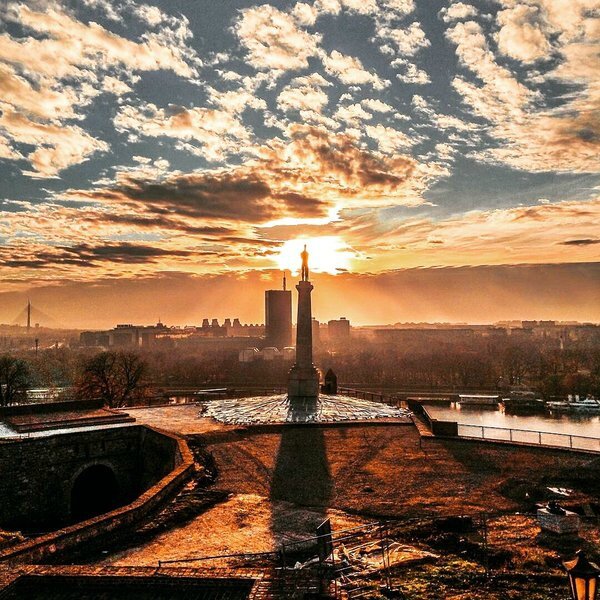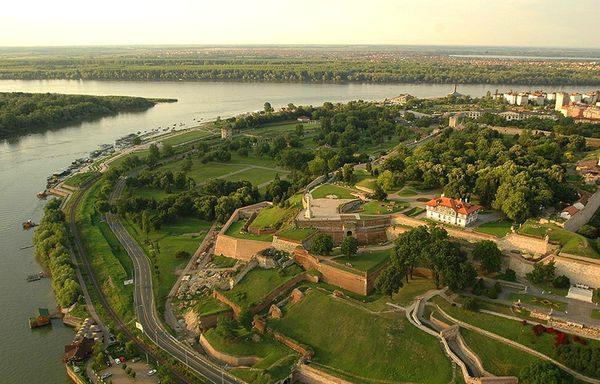 Eglise Sveta Petka à Kalemegdan. Vous pourrez emporter, pour un prix symbolique, jusqu'à 2 litres d'eau de la source qui coule en son sein et dont les propriétés sont supposées bonnes pour la santé, voire miraculeuse.
Sveta Petka church at Kalemegdan. You can buy there, for a very low price, up to 2 litres of water that come from a source inside it, its properties are supposed to be good for health and even miraculous.
Statue du Vainqueur (Pobednik en Serbe), aussi appelé Victor, érigée en 1928, elle commémore la Première Guerre mondiale et par la même occasion la victoire du Royaume de Serbie sur l'Empire Austro Hongrois et l'Empire Ottoman :
Victory statue (Pobednik in Serbian), also called Victor statue, was erected in 1928, it commemorates the First World War and at the same time the victory of Serbian Kingdom over Austro Hungarian Empire and Ottoman Empire :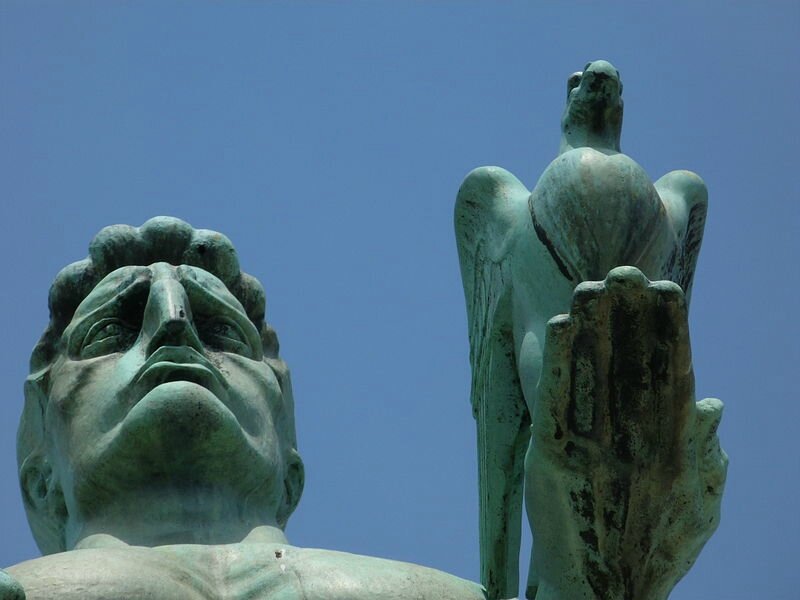 Construction de la statue du Victor / Erection of the Victor's statue :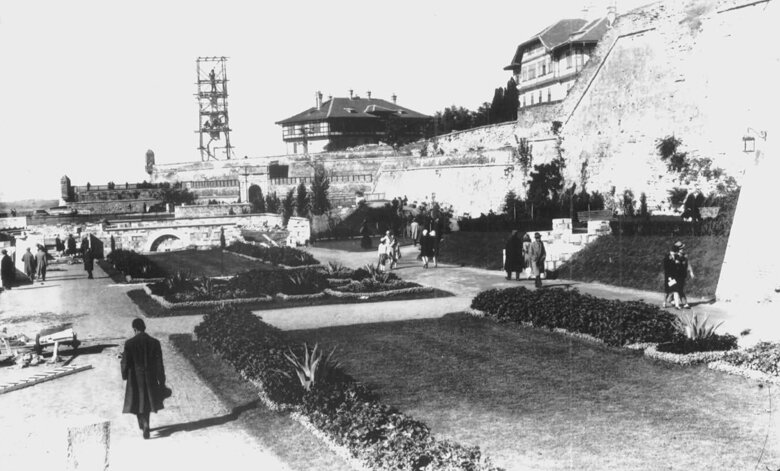 Quelques vues du parc / some views of the park :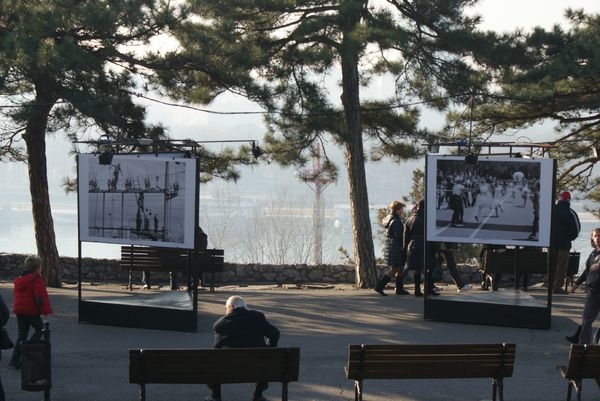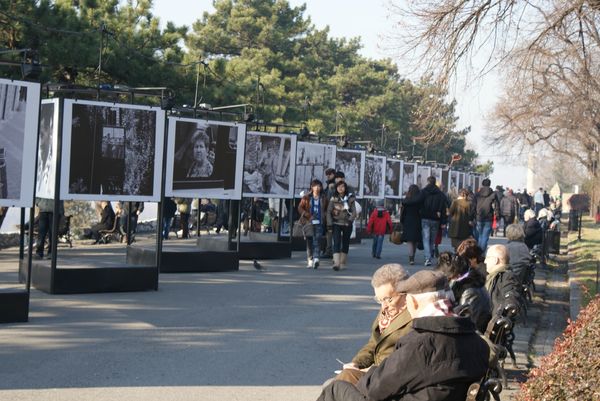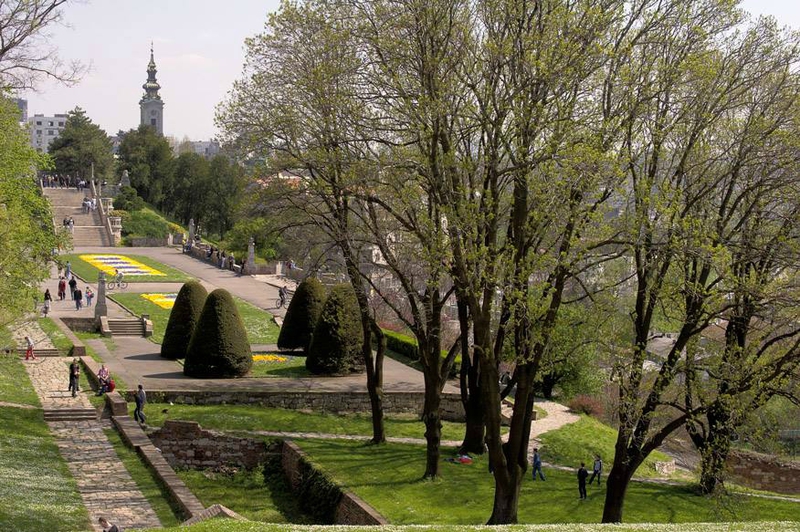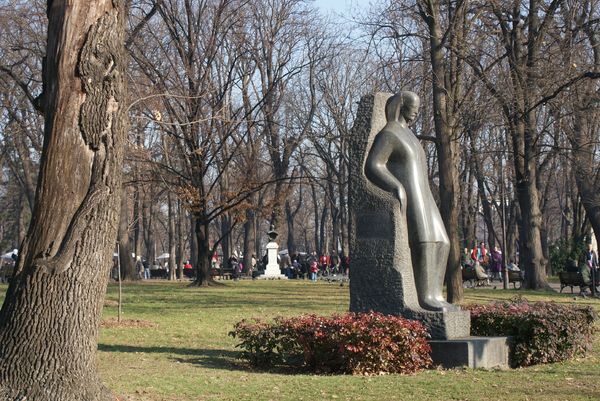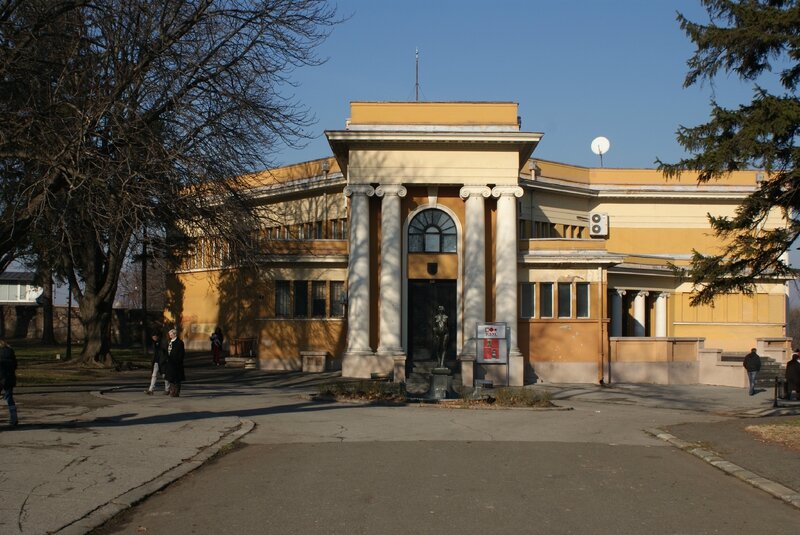 Couchés de soleil depuis Kalemegdan :
Sunset views from Kalemegdan :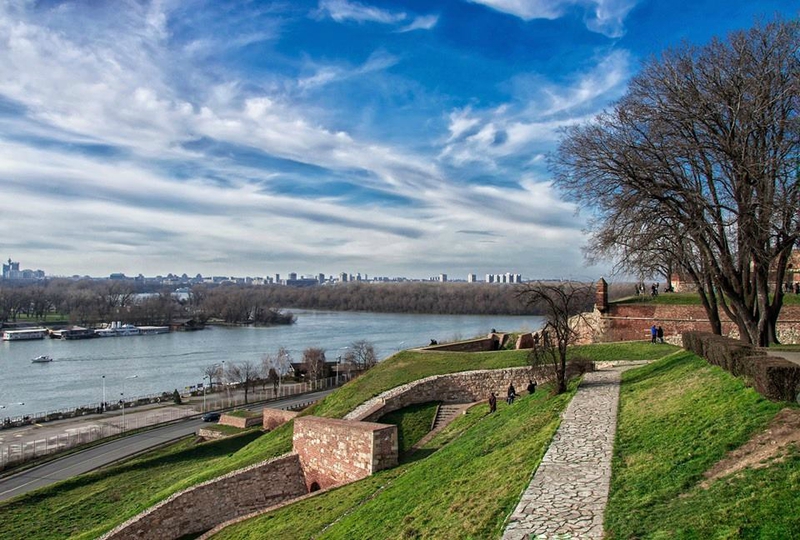 Kalemegdan vu d'en haut / Kalemegdan top view :
Adresse : Ulica Skadarska
Rues pavées remplies de fleurs l'été, tranquille la journée, atmosphère incomparable et brouhaha le soir, ce quartier, l'un des plus vieux de la ville, porte le surnom de "Montmartre de Belgrade", pas ètonnant donc que les quartiers de Montmartre et Skadarlija soient jumelés depuis 1977. Vous y trouverez de nombreux restaurants plus que centenaires comme Tri Šešira ou Dva Jelena, tous les resaturants sont animés par des groupes de musique traditionnelle. Un seul conseil : Mesdames, évitez à tout prix les talons car il est très difficile de marcher sur les pavés arrondis de la rue Skadarska !
Paved streets full of flowers during summer, quiet during the day, unbeatable atmosphere and hurly-burly during the night, some people call this area "the Montmartre of Belgrade" which is also one of the oldest part of the town, nos surprise then that Montmartre and Skadarlija neighbourhoods are twinned since 1977. You can find there many restaurants, some are more than hundred years old like TriŠešira ou DvaJelena, all restaurants have their traditional music bands. I would like to give only one piece of advice : Ladies, forget about wearing heels because it is very difficult to walk on the round stones of Skadarska street !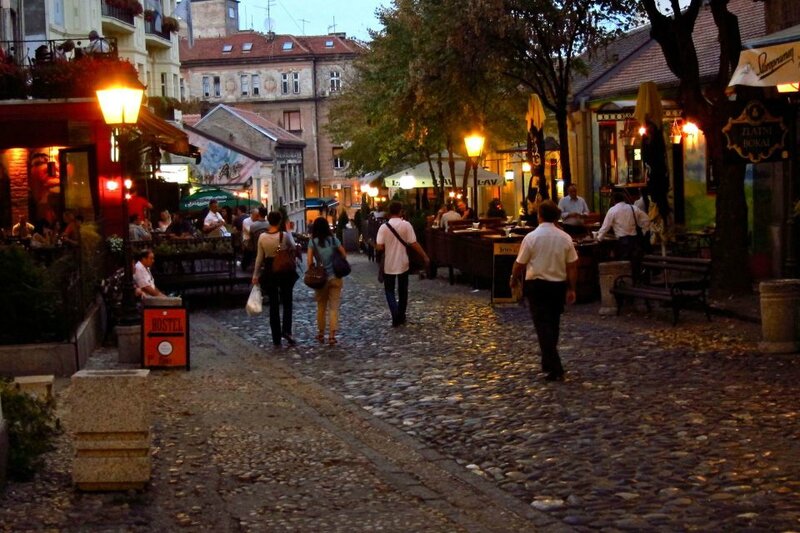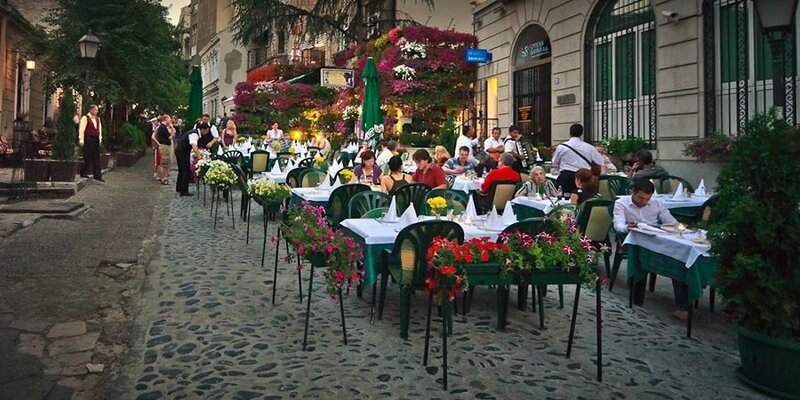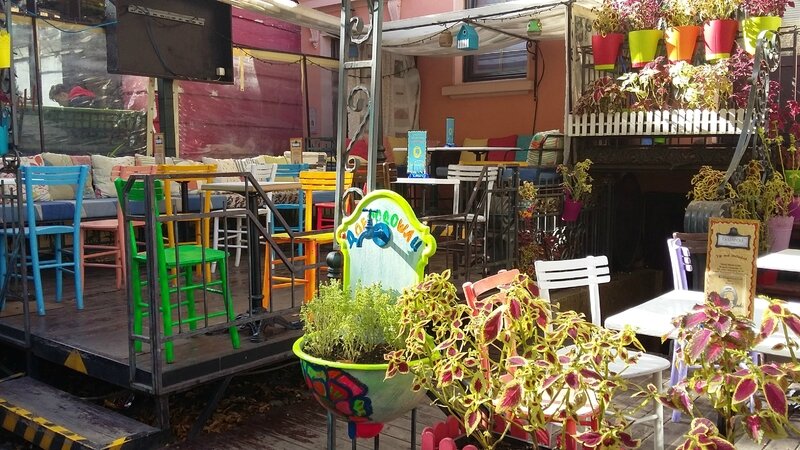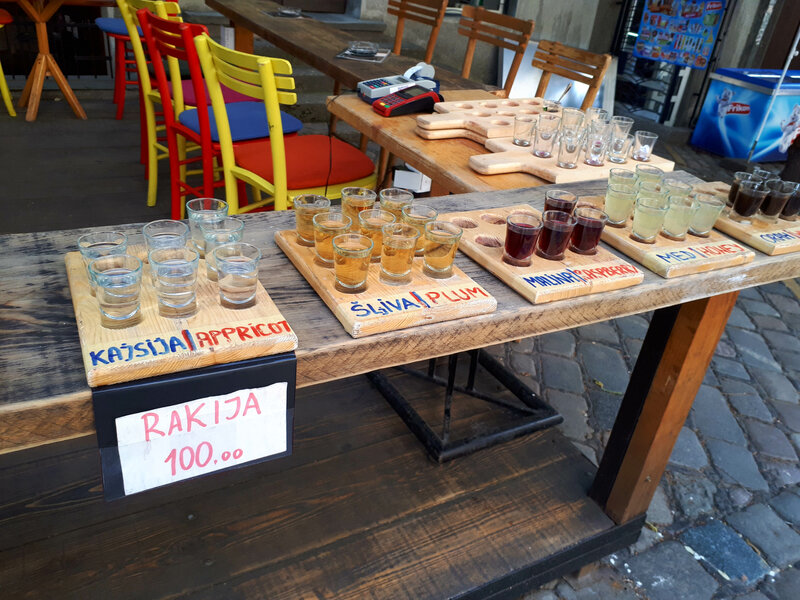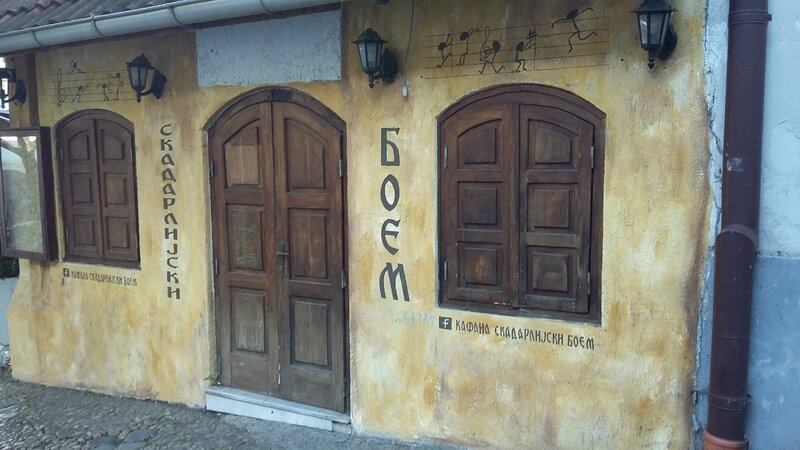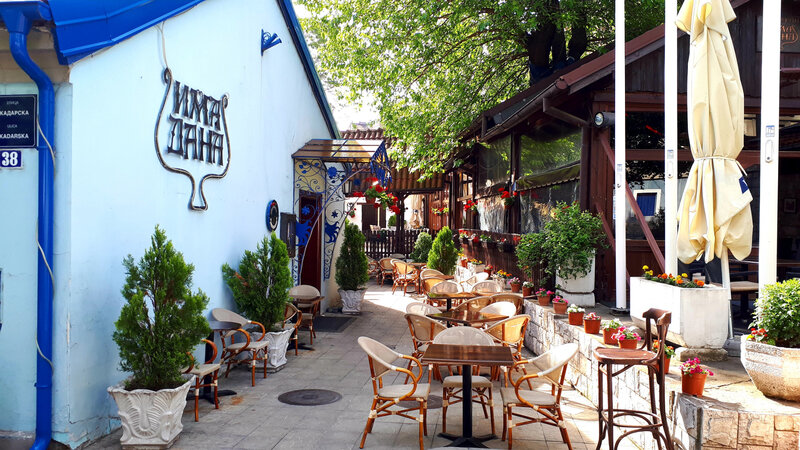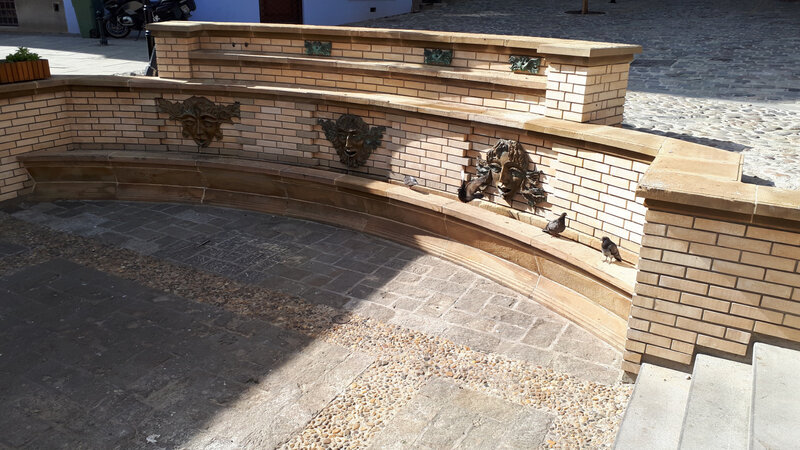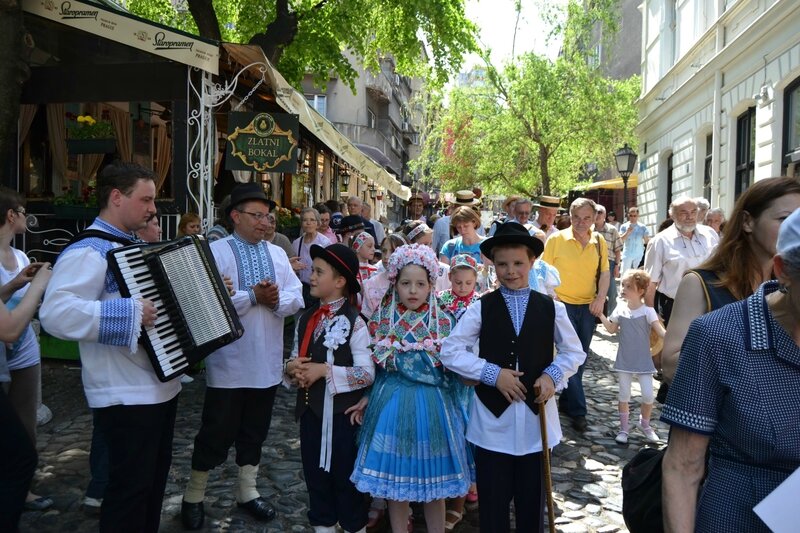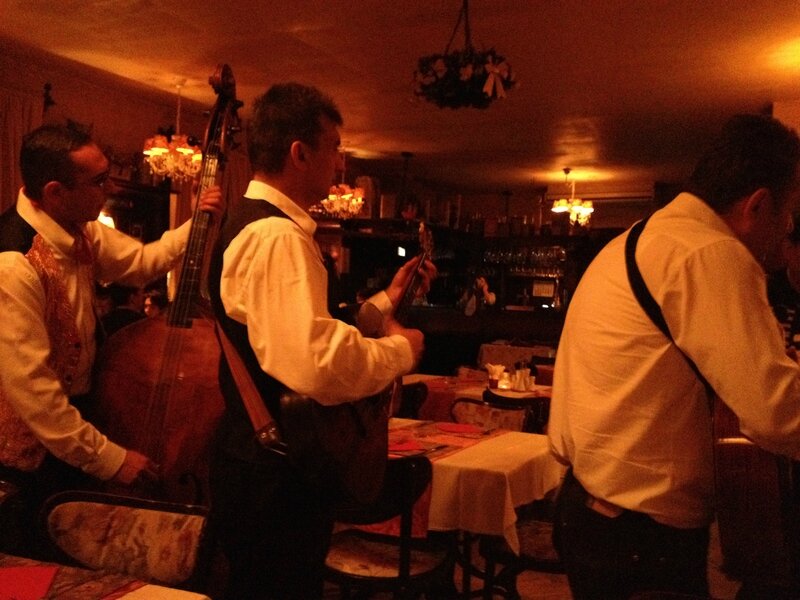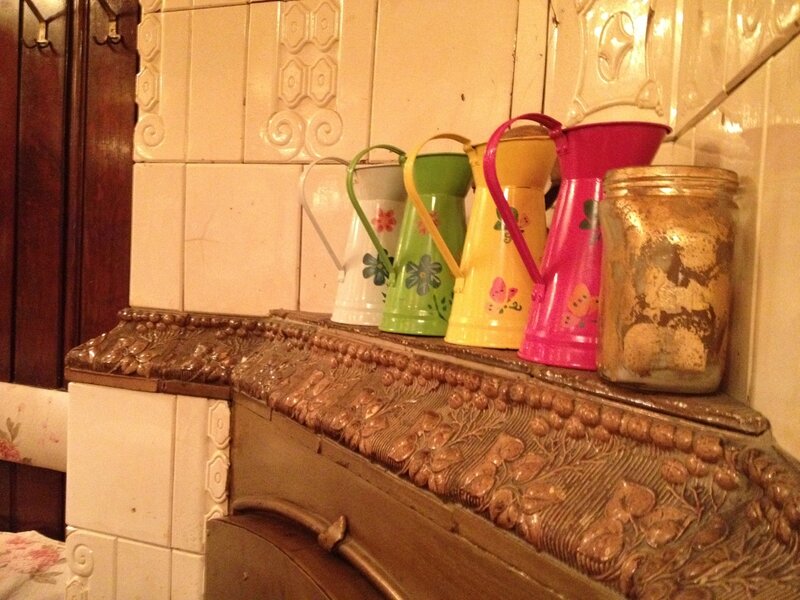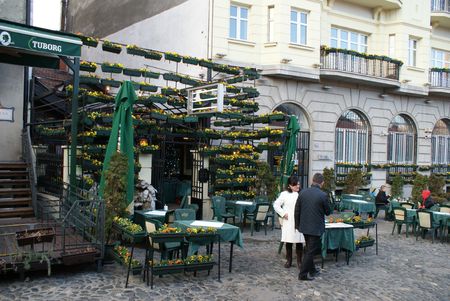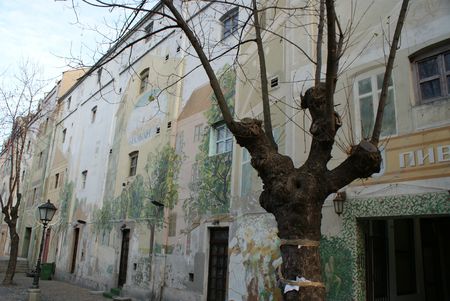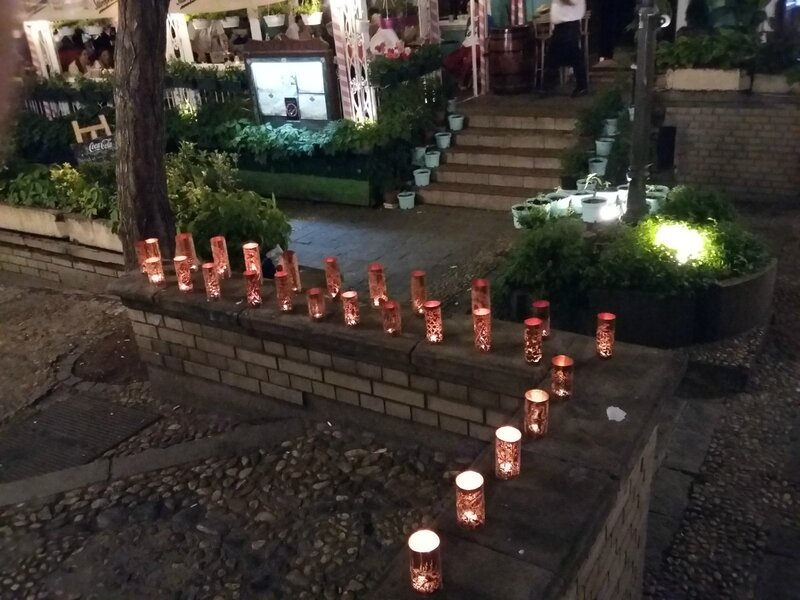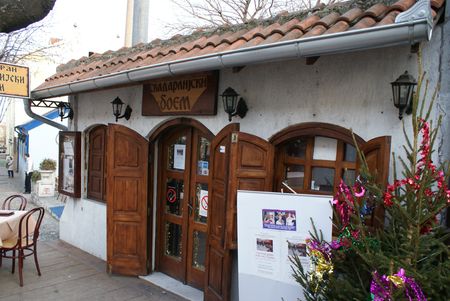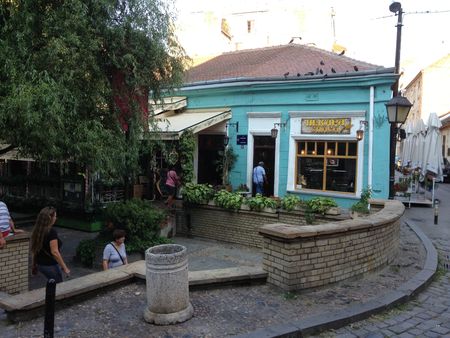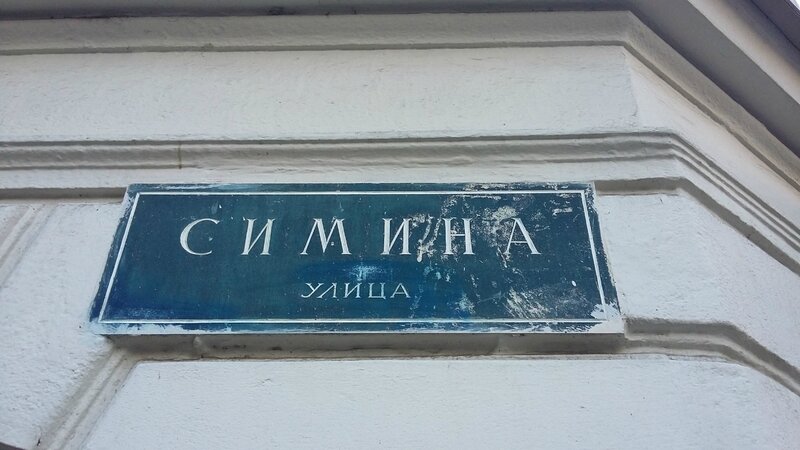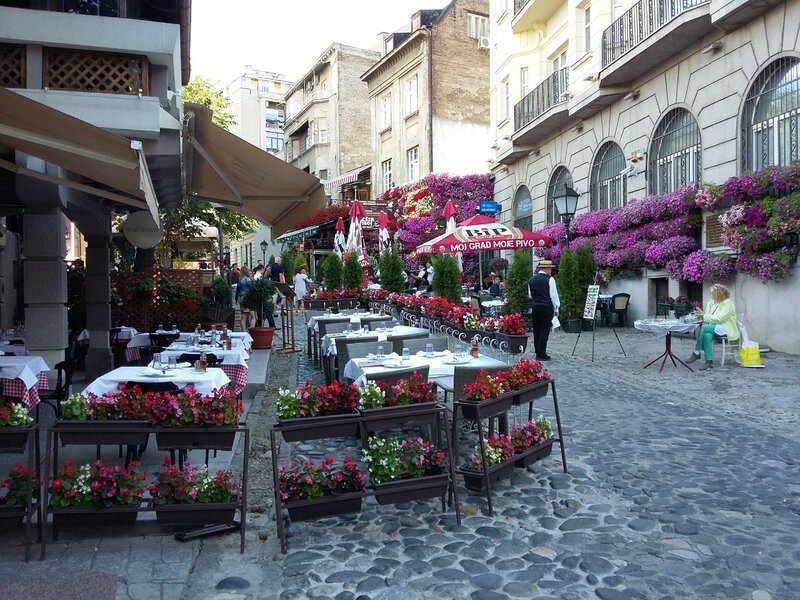 25 mai 1892 : date de naissance de Josip Broz, dit Tito.
Le musée présente des objets personnels ayant appartenu à Tito. Collections archéologiques, d'armes, de peintures et de nombreux cadeaux reçus par Tito tout au long de son règne.
Vous aurez également accès à la Kuća Cveća (la Maison des Fleurs), qui abrite la tombe de Tito, située à proximité immédiate du musée.
Collection de bâtons relais (Zbirka štafeta). Le 25 mai de chaque année, jusqu'en 1987, un passage de relais (relais de la jeunesse) était organisé à travers le pays, à partir de sa ville natale Kumrovec, traversant les villes principales de la République Socialiste de Yougoslavie, pour arriver jusqu'au stade Marakana de l'Etoile Rouge de Belgrade où le bâton, accompagné d'un message, était remis à Tito lors d'une grande cérémonie.
25th of may 1892 : Josip Broz (Tito) birth date.
The museum shows many objects that belonged to Tito. Archaeological collections, guns, paintings and many other gifts that were given to Tito throughout his reign.
You will also have access to the Kuća Cveća (the House of Flowers), where Tito's tomb can be seen.
Adresse / adress : Botićeva 6, Belgrade
Heures d'ouverture / Working hours :
Tous les jours, sauf le lundi, de 10.00 à 18.00 / from 10.00 a.m. to 6.00 p.m. every day except Mondays.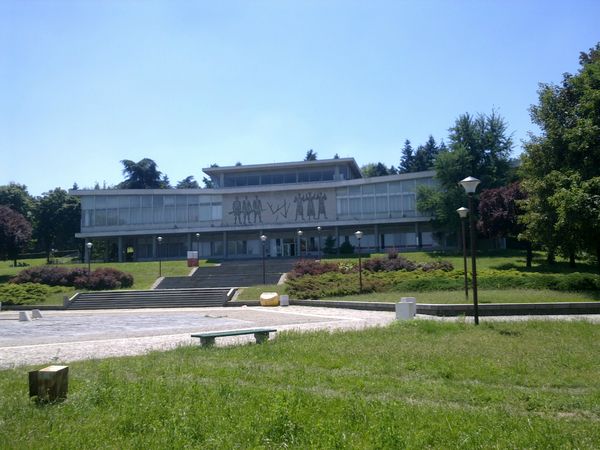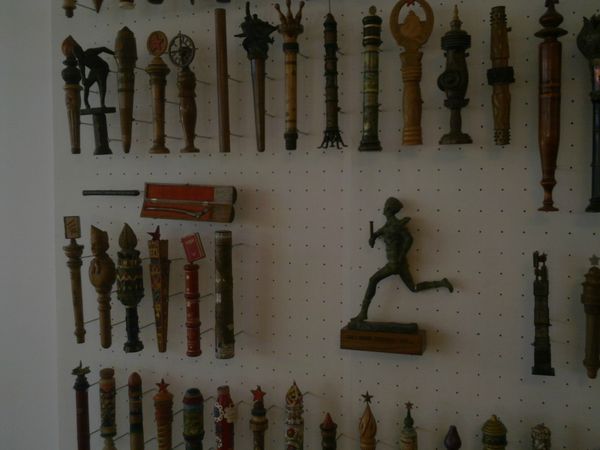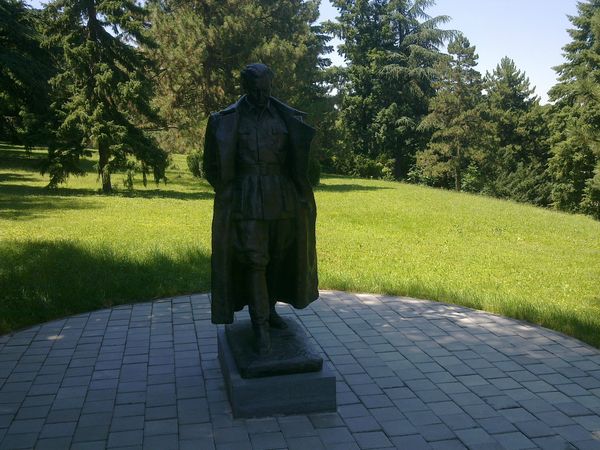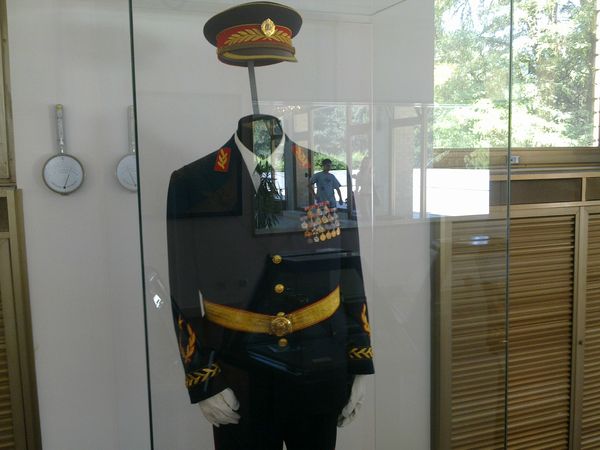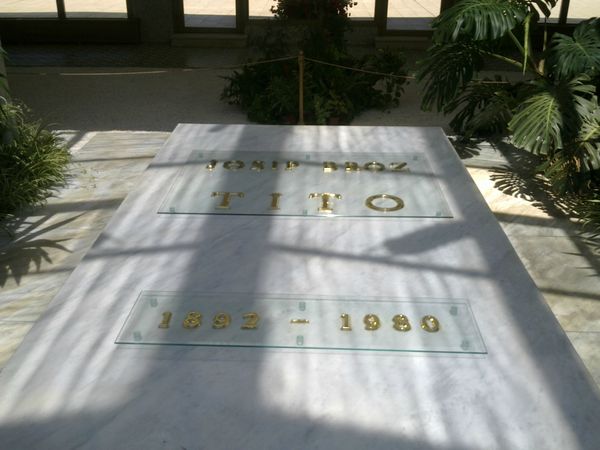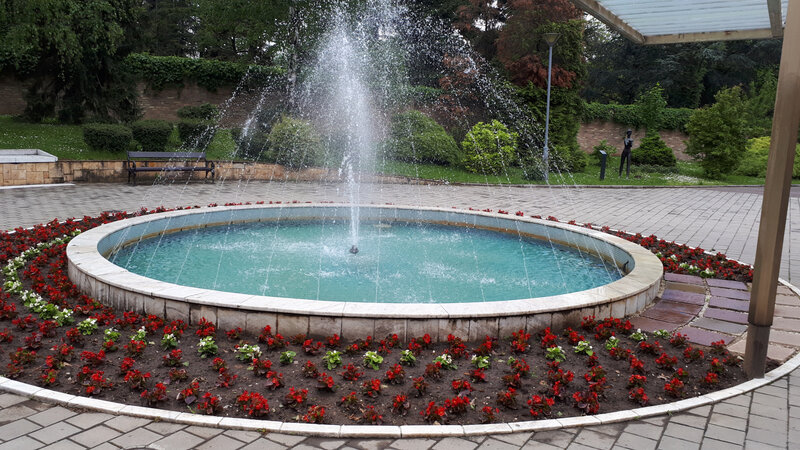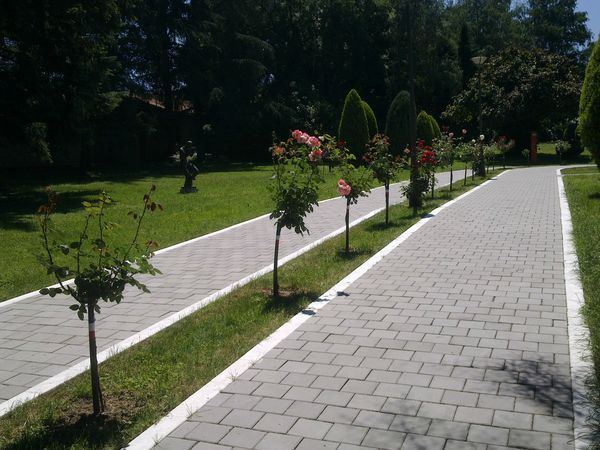 Le 26 octobre 2013, Jovanka, la veuve de Tito est inhumée à ses cotés :
On 26th of october 2013, Jovanka, Tito's widow, is now buried near him :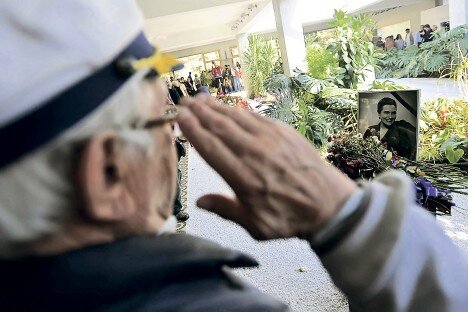 Shopping sur Knez Mihailova (rue du Prince Michel), la principale artère piétonne de Belgrade, avec ces immeubles de la fin du 19ème siècle, ainsi que ses rues adjacentes : Cika Ljubina et Obilicev Venac. Magasins de mode, cafés, librairies... la plupart sont ouverts de 9.00 à 22.00. Et aussi : Office du tourisme, Institut Français, Bibliothèque de belgrade, Académie des Sciences et des Arts...
Shopping on Knez Mihailova (Prince Michael street) : the most famous pedestrian street in Belgrade with buildings from the end of the 19th century, with also adjacent streets Cika Ljubina and Obilicev Venac. Fashion shops, cafes, book shops...most are opened from 9.00 am till 10.00 pm. Also there : Tourists Information Center, French Institute, Belgrade Library, Serbian Academy of Sciences and Arts...