Kalemegdan provient des mots Turcs Kale (forteresse) et meydan (combat). il est fait mention de la forteresse au 3ème siècle dont les premières pierres auraient été posées par des tribus Celtes. Elle domine le confluent du Danube et de la Save. La forteresse de Kalemmegdan a ensuite traversé les siècles, à coups de constructions et de déconstructions, depuis l'empire Romain jusqu'à la fin de l'empire Ottoman. Conquise tour à tour par les Hongrois, les Bulgares, les Byzantins, les Turcs, les Autrichiens...C'est l'endroit le plus visité de Belgrade.
Kalemegdan comes from Turkish words Kale (fortress) and maydan (fight). Fortress is for the first time mentionned in the 3rd century and it seems celtic tribes started to buit it. Located at the junction of the Sava river and the Danube, the fotress was successively built and destroyed from Roman Empire till the end of Ottoman Empire after it was conquered by Hungarians, Bulgarians, Byzantins, Turks, Austrians...It is the most visited place in Belgrade.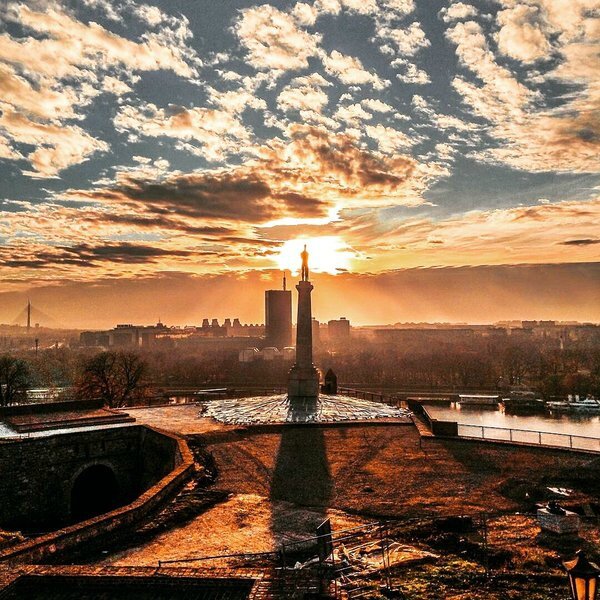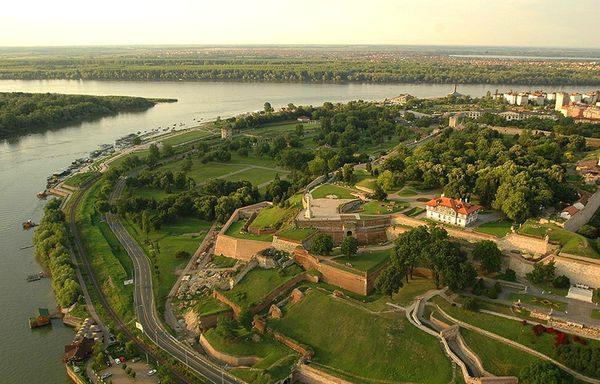 Eglise Sveta Petka à Kalemegdan. Vous pourrez emporter, pour un prix symbolique, jusqu'à 2 litres d'eau de la source qui coule en son sein et dont les propriétés sont supposées bonnes pour la santé, voire miraculeuse.
Sveta Petka church at Kalemegdan. You can buy there, for a very low price, up to 2 litres of water that come from a source inside it, its properties are supposed to be good for health and even miraculous.
Statue du Vainqueur (Pobednik en Serbe), aussi appelé Victor, érigée en 1928, elle commémore la Première Guerre mondiale et par la même occasion la victoire du Royaume de Serbie sur l'Empire Austro Hongrois et l'Empire Ottoman :
Victory statue (Pobednik in Serbian), also called Victor statue, was erected in 1928, it commemorates the First World War and at the same time the victory of Serbian Kingdom over Austro Hungarian Empire and Ottoman Empire :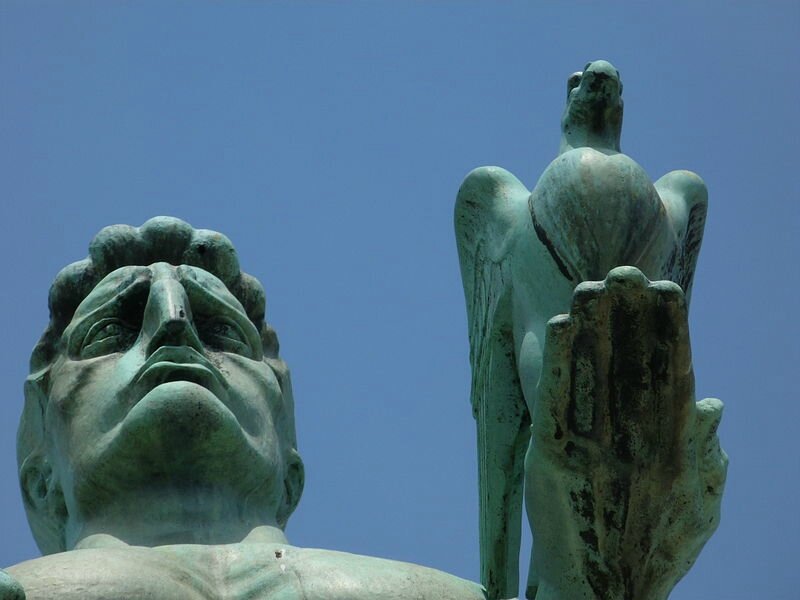 Construction de la statue du Victor / Erection of the Victor's statue :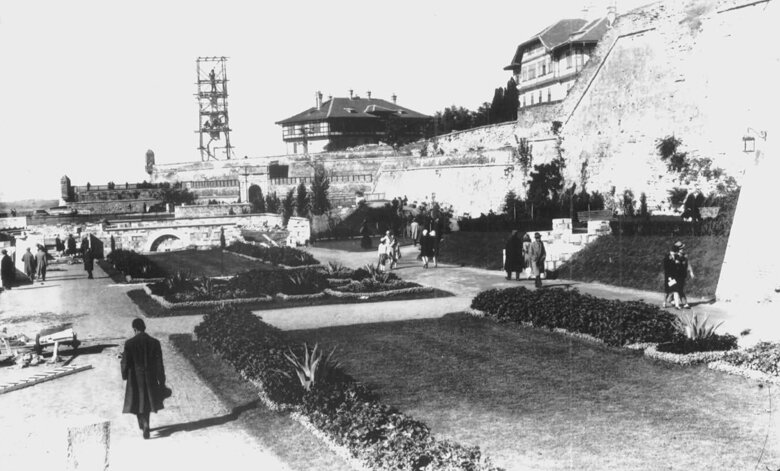 Quelques vues du parc / some views of the park :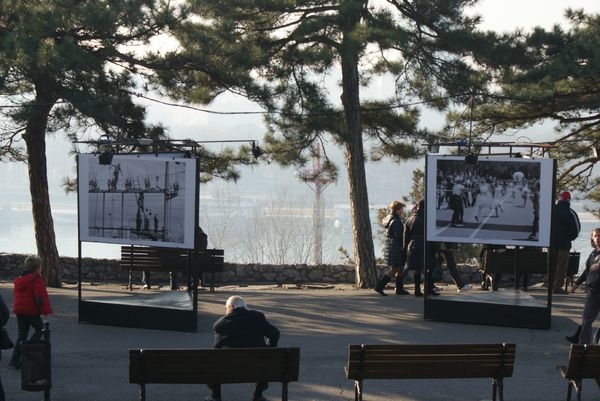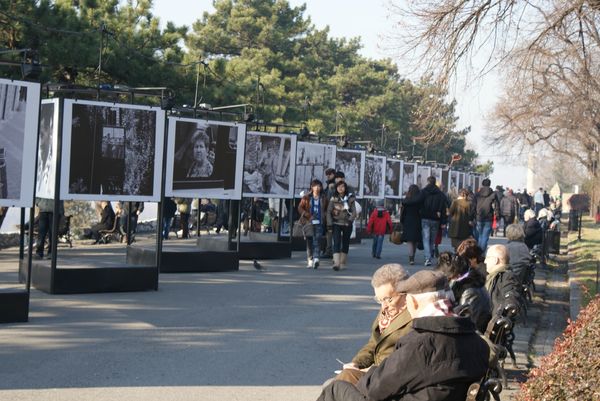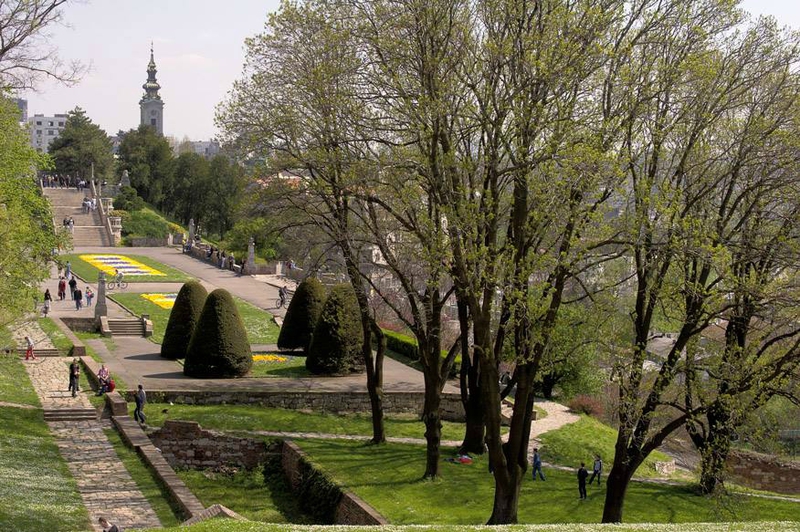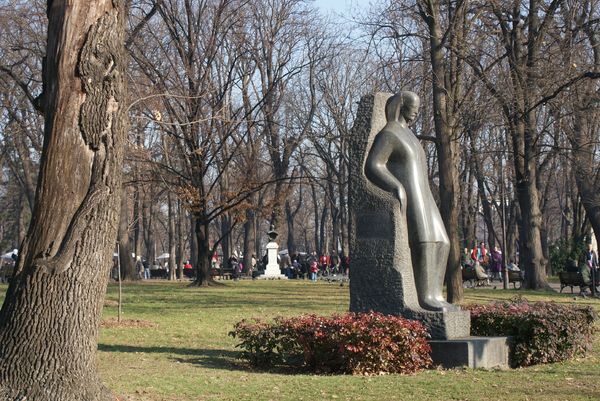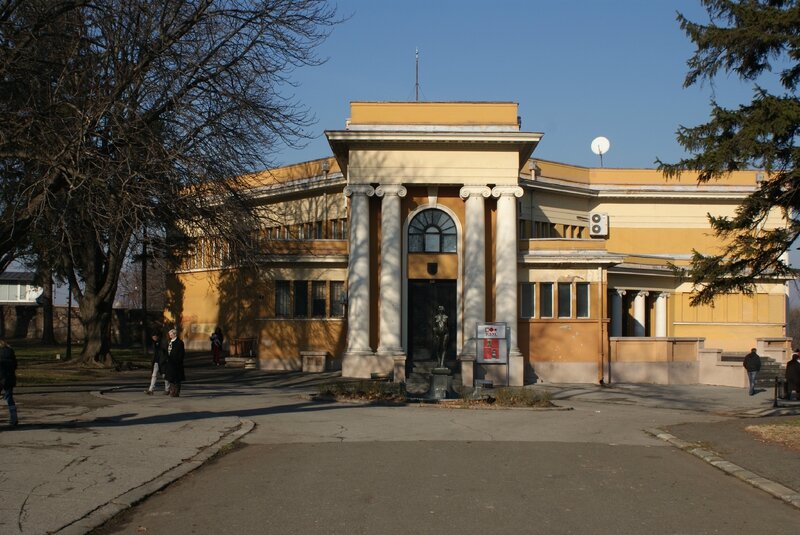 Couchés de soleil depuis Kalemegdan :
Sunset views from Kalemegdan :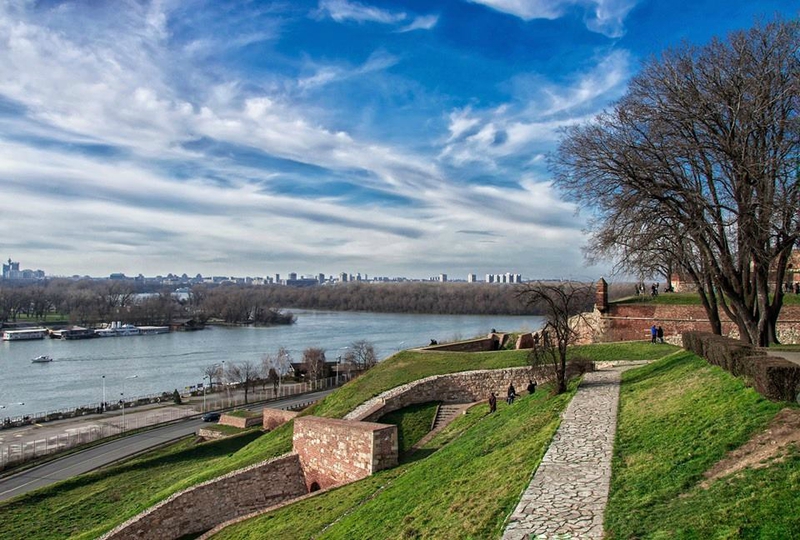 Kalemegdan vu d'en haut / Kalemegdan top view :
Le Parc Tašmajdan est le véritable "poumon vert" de Belgrade, il se situe sur une ancienne carrière de pierre calcaire qui fût jadis exploitée par les Romains qui s'y établirent au début de notre ère. L'endroit fût ensuite transformé en cimetière (1858), puis métamorphosé en parc dans les années 50.
Attraits du parc : église Saint-Marc, statue de Don Quichotte par Jovan Soldatovic, Institut de sismologie, café Giardino, jets d'eau, tables d'échecs etc...
Tašmajdan Park is the real "green lung" of Belgrade located on a former limestone quarry used by Romans when they built the premises of the ancient town.
Park's main attractions : St Mark's Church, Don Quixote statue by Jovan Soldatovic, seismological Institute, Giardino cafe, water streams, chess tables etc...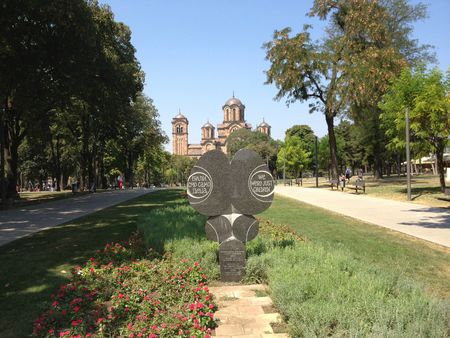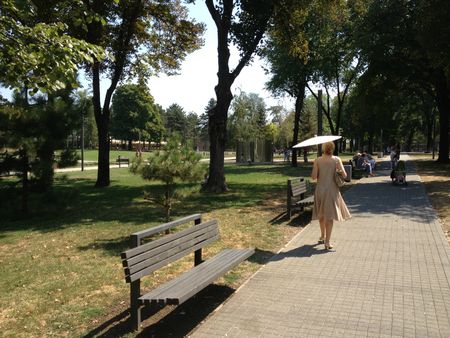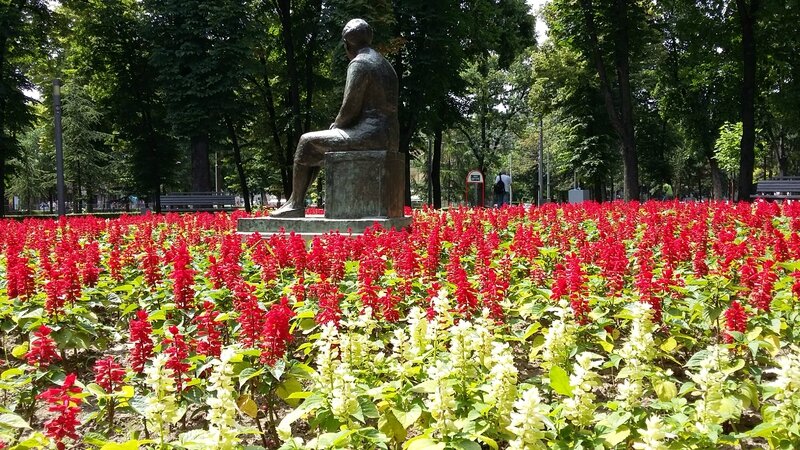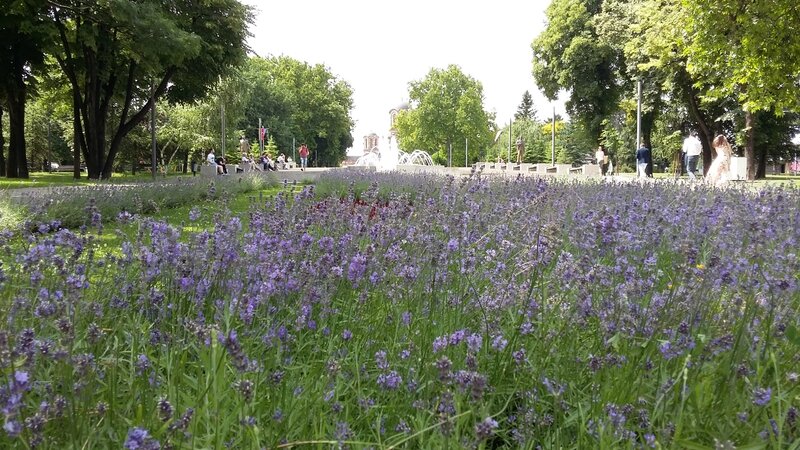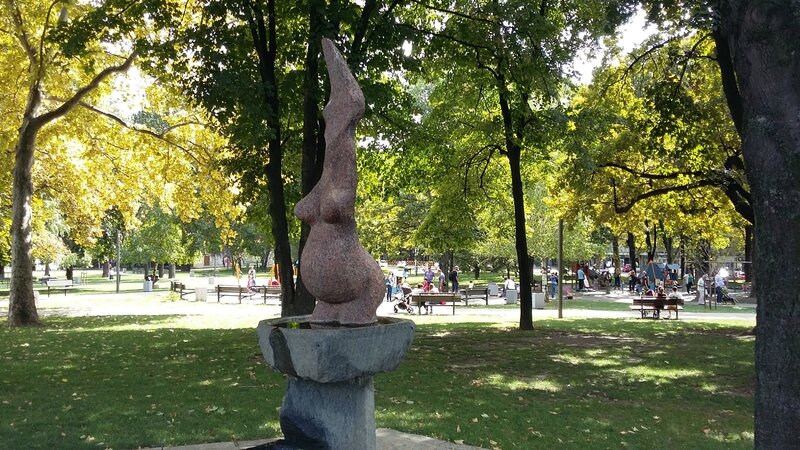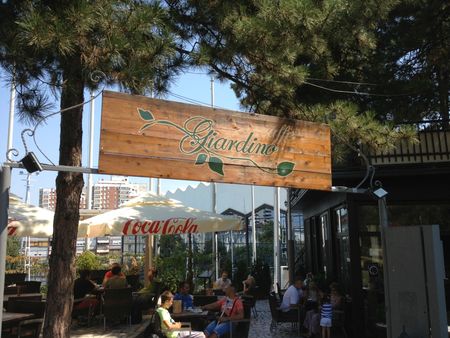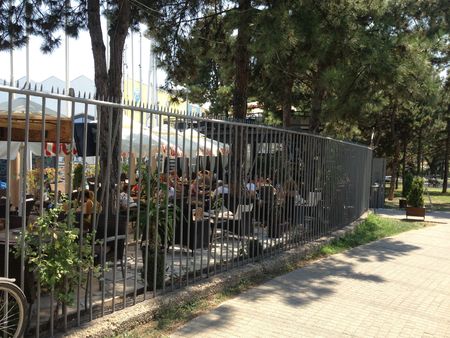 Parc Cyrille et Méthode (Apôtres des Slaves) :
Park Cyril and Methodius (Apostles of the Slavs)
Jardin botanique fondé en 1874, l'entrée principale se situe au coin des rues Dalmatinska et Takovska. Dans cet oasis de paix et de verdure poussent plus de 1 500 espèces de plantes du monde entier. Le parc comprend également un jardin Japonais. Ouvert du 1er mai au 1er novembre (de 7.00 à 19.00).
Botanical garden founded in 1874, the main entrance is located at the corner of Dalmatinska street and Takovska street. In this green and peaceful oasis grow over 1 500 pants from all over the world. The park also includes a Japanese garden. Opened from may 1 til november 1 (from 7.00 am till 9.00 pm).
Entrée / Ticket price : 250 din.