Vous êtes désormais en route vers le centre de Belgrade.
Le trajet sera plus ou moins rapide suivant le chauffeur de taxi, comptez 20 mn environ. C'est variable, certains conduisent tranquillement, d'autres à tombeau ouvert, empruntant parfois les voies d'arrêt d'urgence, ne vous inquiétez pas, c'est de coutume.
Sur la route, vous passerez normalement devant la tour Genex et devant la Beogradska Arena, là où se tiennent les grands événements sportifs et autres concerts.
You are now on the way to the center of Belgrade.
It will be more or less fast, depends on the taxi driver, let's say it will take arounde 20 mn. Some drive very fast som slowly, some will even drive in the emergency lane, don't worry, it is normal.
On the way, you will see the Genex tower and the Beogradska Arena where take place big sport events and concerts.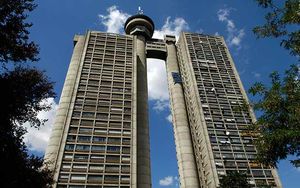 Vous traverserez ensuite la Save (Belgrade se trouve au confluent de la Save et du Danube, la plupart des ponts se situent sur la Save). A cet instant vous pourrez aperçevoir assez rapidement la cathédrale orthodoxe Saint Sava (Sveti Sava) qui domine la ville ainsi que le nouveau pont d'Ada et son unique pilier central.
Then you will cross Sava river (Belgrade is located on Sava and Danube confluent but actually most of the bridges are on Sava river). You will be able to seeorthodoxe church Sveti Sava and the new Ada bridge with its high central pylon.